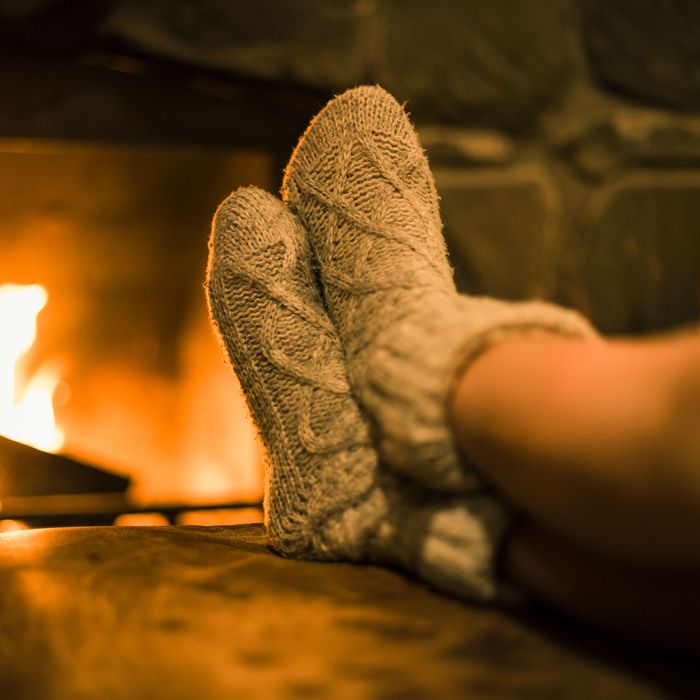 Photo: Johner Images/Getty Images/Johner RF
The days are growing shorter and colder, and staying home wrapped in layers of cashmere is beginning to look increasingly appealing. Give your friends the gift of never having to go outside with the Cut's Cozy Gift Guide — 21 sweaters, throws, and other warm and fuzzy items made for curling up in front of Netflix. Since the whole point is to stay inside, all of these are available from Amazon, meaning you can shop for all of these cozy staples from underneath a warm blanket yourself.
The Coziest Tops
Reviewers love the feel of this pullover cashmere sweater. The V-neck cut is flattering, and the fibers are tightly woven to minimize pilling. Many reviewers remarked on how soft this sweater felt, and a few others said it made for a lovely wintertime gift.
Available in sizes XS to XL.
This sweater from Cashmeren is boxy and oversize, so it's ultracomfortable to wear lounging about. If you absolutely must go out, just tuck it into high-waisted jeans.
Available in sizes S to XL.
As gifts for men go, a classic crewneck cashmere sweater is hard to beat. The thin cashmere ensures that the wearer doesn't get too hot when the radiator is on full blast, but it's still nice and soft.
Available in sizes XS to XXXL.
It's not cashmere, but a chunky fisherman's sweater is another classic gift for men. The fabric on this one is a blend of cotton, nylon, and wool, so it'll be great for holing up indoors, but will maintain some heat if he ventures outside.
Available in sizes XS to XXL
The Coziest Bottoms
These cashmere-blend pants are only $40, with nice details like a cute slit near the ankles. Reviewers rave about how soft they are, with one adding that they're supercomfortable to wear mid-pregnancy — good intel if you've got anyone pregnant on your gift list.
Available in sizes XS to L.
So many great things about these pants: They're made from cashmere sustainably farmed from Mongolian goats. The slim cut feels like a hug on your legs, and the high rise means you can wear them with a cropped sweatshirt or tee. Add the top for a cute matched set.
.Available in sizes S to XL.
Or, if you prefer your pants slouchy, these 100 percent cashmere bottoms also come with a matching top but have a looser, less leggings-esque fit.
Available in sizes XS to XL.
Help a man in your life — or anyone, really — upgrade from regular sweatpants with these 100 percent cashmere lounge pants.
Available in sizes S to XXL.
Flannel pajamas are an essential piece of the winter stay-at-home uniform. They're unfussy, warm, and very soft. And the classic flannel pattern feels seasonal — you can almost smell cinnamon and pine needles while wearing these.
Available in sizes S to XXL.
The Coziest Layers and Robes
This soft and stretchy robe from Eberjey is the epitome of coziness. Details like the wide belt and pockets will make you want to live in this all year long.
Available in sizes S and L.
This cashmere sweater is great to throw on top of your favorite pajama tops. Reviewers loved that it could be worn in almost any situation. "I use it in the house, as a jacket outside, and as a dressing gown when chilly in bed," one reviewer wrote. "I live in it." And at less than $100 dollars for a cashmere sweater, it's a steal.
Available in sizes XS to XXL.
People love this Richie House bathrobe — it has nearly nearly 3,000 reviews on Amazon! There are plenty of colors and patterns to choose from, from a classic gray to leopard print. Plenty of people said the robe was supersoft to wear, while one reviewer noted that it felt more luxurious than a five-star hotel robe.
Available in sizes XS to XL.
Is there anything more luxurious than a cashmere robe? This isn't cheap, but it would make a great mom gift.
Available in sizes S/M and L/XL.
This robe is essential for chilly winter mornings, or really any time of day. The fleece lining keeps you warm and the hood can help block out light and cold temps for a quick mid-afternoon nap. Reviewers say it's Über-soft and warm, and since it's polyester you can simply machine wash and dry it.
Available in sizes M to XXL.
The Coziest Footwear
These Ugg slippers are perfect for walking along cold wood floors in the winter, and the shearling lining will keep your toes warm in even the most frigid of temperatures. "These slippers are always the perfect temperature for my feet," one reviewer wrote. "I love them."
Available in sizes 5 to 12.
Most slippers have a leather or cloth sole that'll instantly get ruined outside. These have grippy rubber bottoms that won't slip around hardwood or linoleum and are lined with genuine shearling for maximum coziness and warmth.
Available in sizes 7 to 18.
Sometimes you want the best of both worlds. Fuzzy socks are super cozy and hug your feet, but slide around on the floor. Slippers also keep your feet warm, but can slip off or cause you to stumble. These Ugg slippers aim to solve those problems, with a fuzzy shearling upper and a leather sole to prevent you from sliding around. Reviewers say you should size up, but the comfort and coziness are well worth this purchase.
Available in sizes 5 to 12.
Are these Dad Slippers™? Sure. Do dads like being cozy, too? You bet. The memory foam insulates feet from the cold and provides more support than a shearling or fleece lining.
Available in sizes S to XL.
These socks are made from 90 percent cashmere and 10 percent spandex for maximum comfort and the perfect fit. They're a little too thick for wearing out and about (unless you're wearing wide rain boots), but one reviewer said that they were perfect for a day spent reading on the couch.
Available in One Size.
The Coziest Shawls, Blankets, and Throws
This cashmere blanket is luxuriously soft and warm, and the neutral colorway will look good at home among pretty much any décor.
This wool blanket is perfect for throwing over your shoulders while you queue up Netflix on your couch. Reviewers love the richness of the colors. (It comes in eight soft neutrals.)
If you buy something through our links, New York may earn an affiliate commission.