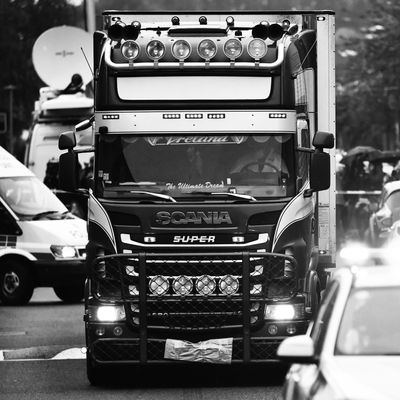 Photo: BEN STANSALL/AFP via Getty Images
It's a case that initially perplexed officials across the world: On October 23, paramedics discovered a refrigerated truck container holding 39 dead bodies in an industrial park outside of London. At the time, how and why they ended up there was unclear. But over the past couple of weeks, officials have been able to answer some of their most pressing questions. While the 39 victims were originally believed to be Chinese nationals, officials have since confirmed that they were from Vietnam and are treating the tragedy as a human-smuggling incident, the New York Times reports. Five people in the U.K. and eight people in Vietnam have been arrested in connection with the deaths, but recent reports indicate that number may soon increase.
Here's everything we know so far.
39 bodies were found in a refrigerated truck container.
At approximately 1:40 a.m. on Wednesday, October 23, paramedics called police to the Waterglade Industrial Park in Grays, England, where they had discovered the bodies of 39 people — 31 men and eight women. The official cause of the deaths has not yet been confirmed, but some outlets are reporting that the victims froze to death. All were pronounced dead at the scene.
On November 8, after notifying the victims' relatives, Essex police released a statement containing the names and ages of the 39 victims, which included ten teenagers. "May I take this opportunity to offer my deepest condolences to the victims' families," senior coroner Caroline Beasley-Murray said. "My thoughts are with them at this unimaginably difficult time."
All victims are from Vietnam.
Soon after the truck was discovered, Essex police announced in a statement that the 39 victims were believed to have been Chinese nationals. However, this was soon contested. On October 25, human-rights activist Hoa Nghiem tweeted that the family of a Vietnamese woman, Pham Thi Tra My, 26, was worried that she was among the deceased. According to her family, My had been attempting to travel to Britain, but had encountered roadblocks along the way, the Times reports. The last the family heard from her was late on October 22, when she sent her mother the text, "I'm sorry Mom, my path to abroad didn't succeed. Mom, I love you and Dad so much! I'm dying because I can't breathe."
Now, Essex police have confirmed that all victims were from Vietnam. Vietnamese and British government officials are currently working to repatriate the bodies.
Officials say the victims were illegally smuggled into the country through a human-trafficking network.
Per the New York Times, a large number of Vietnamese migrants enter Britain by way of human-smuggling networks. The majority of migrants come from the Nghe An and Ha Tinh provinces, which are two of the country's poorest; they're also stricken by environmental disaster and pollution. As a result, many people try to make it from Vietnam to Britain, where they hope to find a better life. As the Times notes, though, many "end up in a dreadful limbo, kept from seeking help by the country's [Britain's] harsh immigration system and living in the grip of a shadowy system of traffickers and the employers who rely on them."
Thirteen people have been arrested.
Upon arriving at the scene on the morning of October 23, police arrested the truck driver, a 25-year-old man from Northern Ireland, on suspicion of murder. Per CNN, a local councillor later identified the man as Maurice Robinson. On October 26, he was charged with 39 counts of manslaughter, conspiracy to traffic people, conspiracy to assist unlawful immigration, and money laundering, NPR reports.
Since then, four other people from England and Northern Ireland have been arrested: 22-year-old Eamonn Harrison, who has been charged with 39 counts of manslaughter, as well as human trafficking and immigration offenses; and three others on suspicion of conspiracy to traffic people and manslaughter, none of whom have yet been charged. Additionally, Vietnamese police have reportedly arrested eight people on charges of organizing human smuggling overseas, according to local outlets.
And more arrests are likely. ABC reports that detectives are currently seeking two brothers from Northern Ireland — Ronan Hughes, 40, and Christopher Hughes, 34 — on suspicion of manslaughter and human trafficking.
This post has been updated.