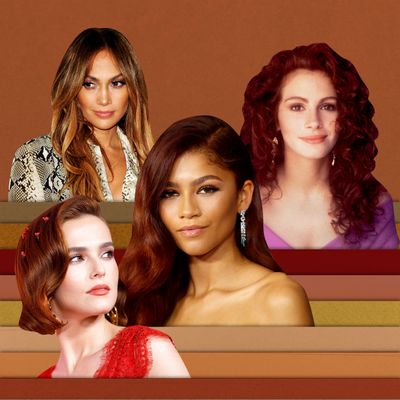 Photo: Getty Images, Shutterstock
As it gets colder, everyone wants to get warmer — hair colorists included. The Cut asked big-time celebrity colorists to share the shades they're excited about for fall and winter. Their answers included a range of tones that sound delicious, like chocolate, caramel, and strawberry. Keep reading to find the one color every colorist seems to recommend, along with the best tips and tricks for making it last.
1. Updated Red
Nearly every colorist we interviewed for this story was seeing red. They love shades like rusted auburn and cinnamon, calling out Zendaya's hair at the Emmys and Julia Roberts' Pretty Women hair color as inspiration. Celebrity colorist Tracey Cunningham, whose clients include Gwyneth Paltrow and Chrissy Teigen, says, "As far as trends go, red is having a big moment right now! Red can work for anyone, it's just a matter of finding the right type of red for you." Madison Cave, a colorist at David Mallett salon, is favoring copper and strawberry tones.
To find the most flattering shade of red, look at your undertones. Golden and darker complexions look great with a bold, blue-toned red. Fair skin looks great with copper, says George Papanikolas, Matrix Celebrity colorist, and colorist Rona O'Connor. If you're afraid of a Raggedy Ann hair color, don't worry — reds have a lot of range and can have twists of mauve or rose, to look less fire-engine red and more like multidimensional brunette or blonde. Abbey Heerwagen at Mare Salon cautions the two colors to be wary of: "I advise staying away from burgundy and eggplant though."
To care for this color, just remember that red fades the fastest. Our color experts all recommended sulfate-free shampoo and conditioner but they also liked glosses, either at home or in the salon every few weeks. "I advise an acid-based shampoo like Matrix Total Results Keep Me Vivid Shampoo to lock in the color, seal the cuticle, and minimize fading," recommends Papanikolas.
"I tell my clients to come in every two to four weeks for a Redken Shades EQ Gloss refresh to maintain the color and extend the time in between full color appointments. This color is easier to maintain in the fall and winter, when you aren't exposed to factors like the sun and ocean," Cunningham suggests.
And Cave likes the take-home glosses from Rita Hazan or dpHUE. She adds, "Ask your colorist if they can custom-mix you a conditioner that will add tone back to your hair after each wash."
2. Multidimensional Brunette
Rita Hazan of the eponymous salon says, "Think chocolate, chestnut, toffee, and auburn, and ask for lowlights to add dimension. Alternatively, you don't have to darken your hair just because it's the fall. Some people want to keep their hair light throughout the year, and that's fine, too."
Lucille Javier of Sally Hershberger salon has similar thoughts: "Right now, I'm excited about doing balayage with caramel hues. It flatters most skin tones by adding richness to the skin and brightening the eye color." She adds that it's pretty easy to maintain, if you do it right. "I like to recommend Davines Momo Shampoo and Conditioner to help prolong the color and keep it looking and feeling luxurious," says Javier.
3. Autumnal Highlights
"I'm excited to warm that up for fall with darker, richer autumn colors, but still incorporating sun-kissed, paper-thin highlights around the face to make it all pop. Lighter brunettes can go with a golden-toned brown, and darker brunettes can go a little bolder with colored glosses," says Jennifer Aniston's colorist Michael Canalé.
He offers a few tips for keeping the colors fresh: "In my hair-care line, I created the mildest shampoo (Cleanse Shampoo) and conditioner (Soften Conditioner) that help reduce oxidation and rebuild the hair from the outside in. I also recommend my gloss that lasts for up to 20 washes. The blue option is best for darker hair tones, and sun-kissed gold is for truer, blonder tones. Most importantly, don't use hot water when washing your hair."
4. Iced Thistle
Colorist Greg Ruggeri of Salon Ruggeri likes a shade of white-blonde he calls "iced thistle," saying, "It's definitely not a customary color for fall; however, I noticed that as summer was coming to an end my clients wanted to stay light and bright, but in a more crystallized way. The end result is like looking through a crystal and seeing the many different reflections. I would suggest this color for shorter hair lengths no longer than a lob; it plays a lot with texture and movement."
Obviously, this involves some wear and tear on your hair, but he has a trick for managing the damage: "When applying a double process I always add Virtue Labs ColorKick to the formula. It's a keratin-based product that helps minimize any damage and keeps the hair at its best. Without it, I would not be able to maintain colors like these as successfully. I also recommend Virtue Labs Recovery Shampoo, Conditioner, and a weekly Restorative Mask."
5. Anything That Feels Authentic
Catherine Deneuve's longtime colorist Christophe Robin has simple advice. "Wanting to look like someone you are not will never work." He is forever into "natural, healthy tones, which don't look fake. The big trend is to be true to yourself." If you want a little change, but aren't sure of what to do, Robin suggests asking your colorist for a few golden tones to brighten up your hair color and give it an instant nice glow.
And, of course, he recommends his own legendary hair masks: "Go for a gentle shampoo to avoid stripping away your color and make sure to use a hair mask (like Christophe Robin Shade Variation Masks) at least once a week. Other than that, the fall season is pretty low-maintenance. Winter is when you need to pick up the pace with oils to lock in moisture!"
6. Mushroom Blonde
It sounds like a new variety of fungi, but Stephanie Brown, a colorist at IGK Salon swears by mushroom blonde. It's a balanced, earthy blend of brown and brown tones, without getting into bronde. "Almost anyone can wear it," she says. "If your complexion has pink undertones, experiment with more golden pieces. If you're more olive, go for a sandier, neutral color."
And keep it glossy with a hair mask: "I have a few favorites. I love Briogeo Don't Despair Repair, It's a 10 Hair Mask, and IGK Antisocial Spray-on Hair Mask."
If you buy something through our links, New York may earn an affiliate commission.