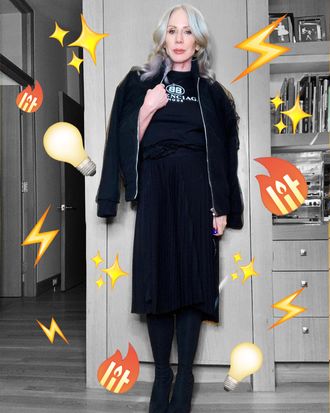 Photo: @heididillon_hfd/Instagram
Follow Me is a weeklong series about personal brands, for better or for worse.
When Heidi Dillon, 66, started posting her outfits on Instagram several years ago, her style was very Real Housewives of Dallas (in fact, you may recognize her from several episodes that aired back in 2016). But when she ditched her long, Texas-blonde hair and went gray, her following took off. Today she's part of a growing group of older influencers, often referred to as "pro-age," who are gaining traction with followers and brands alike. Here, she talks about aging on the internet, being judged by her peers, and why it's a great time to be a boomer on Instagram.
You were popular on Instagram when you were a blonde, but it seems like you really found your niche after you went gray. Was that an intentional strategy, or were you surprised?
Going gray was a pivotal moment in terms of my presence on Instagram, and I had no idea it would make such a difference. People just really liked it. All of these pro-age people started following me, and Richy Hair came to me and asked if I would partner with them because they were starting a line of gray hair extensions. So now I'm their old ladies' spokesperson. Overall, it was a major turning point for me.
What made you decide to go gray?
In Dallas, and probably in a lot of other places, a lot of older women work really hard to maintain a youthful appearance, and part of that is trying to hang on to that blonde babe thing for as long as possible. Some people can pull it off, like Christie Brinkley. But a lot of women can't. My hairdresser in L.A., he calls them "butter faces." You see them from the back and they look great, then they turn around and you're like, "But her face!" I didn't want to have a disconnect between how I look from the back and how I look from the front. I'm 66; I can't change that, and I don't want to pretend. So I went to my hairdresser and said, "Frank, I want my hair gray." And he was like, "Are you sure? That's going to age you." And I was like, "No, my age is aging me."
Now I've been gray for over two years. People still say, "Oh, I loved you blonde. Go back to blonde." And I say, "No, that ship has sailed." I don't even get my hair colored anymore. It's so liberating I can't even tell you. It's another one of those things you can just let go of with all this other crap in your life when you get older.
I know it's a little ridiculous, because age can't be a trend, but older women seem to be having a moment these days. It's a great time to be a gray-haired lady on Instagram.
Yes, it's all very flattering. In spite of this recent #OKBoomer thing, which really ticks me off, I think it's a great time to be an older lady influencer. Older women — us boomers — are so vital now. They're out there crushing it, starting new businesses, doing new things. They've got time and resources to do what they want, for the first time in their lives in some cases.
How did you start building a following on Instagram?
When I first joined, I just used it for the usual stuff. Girls' night out, kid at his recital, things like that. Then an old friend of mine, Tina Craig, who runs Bag Snob, invited me to a luncheon to launch her bag line with Net-a-Porter. I wound up hitting it off with some of the Net-a-Porter people, and I kept in touch with them and went to more of their events. One day, they asked if I would be a brand ambassador. It just fell out of nowhere, and of course I said yes. But then I thought, Well, crap. I guess I have to start posting my fashion looks on Instagram. Because that was part of the contract, to post my outfits and tag Net-a-Porter. I'd never done that kind of thing before. After that, the skin-care line Natura Bissé approached me too.
For a lot of influencers, it's the other way around — they build a following, then the fashion brands come knocking.
Yeah, it's funny. I wouldn't call myself an influencer. I guess I have a little bit of influence in Dallas. But I've always loved fashion. I shop. I buy clothes. And if you're a good customer, then the brands and designers want to know you. People ask me, "How do you know Michael Kors?" And I'm like, "I go to his store. It's not hard."
You also have a pretty distinct style.
I've been passionate about fashion my entire life. I grew up in Minneapolis, and my earliest memories are of my mom taking me to buy pretty dresses. My grandma was a wonderful seamstress, and I would go to the store and get Vogue patterns and pick out fabrics. At high-school dances, I was wearing Saint Laurent dresses, only made by my grandma.
Now I categorize my style as "Viking warrior diva." I used to do mixed martial arts and I'm from a Norwegian background, so I like a badass-y, freedom-warrior look. That's my core.
Do you dress differently now that you have a much wider audience that looks at your outfits?
I don't think so, but the photos have definitely gotten better. I actually started taking photos — selfies, really — of my outfits long before I put anything on Instagram. I wanted to keep track of how I put things together, so I kept them on a private Pinterest page for my own reference. When I became a Net-a-Porter ambassador, I got a tripod so I could take better pictures, but now I mostly work with professionals. I've worked with some really good photographers in New York, Dallas, and Malibu. I post their photos on my account and put the DIYs in my stories.
In terms of how I dress, I try not to be influenced by the influencers. A lot of them have a look, like they're running around New York with their little blazer and their pouch bag from Bottega Veneta. And it's cute, don't get me wrong — I do that look sometimes. I don't have a pouch bag, but it's a good slow-jam, everyday look. I just like to be more unexpected.
Sometimes women — especially older women — are criticized when they're highly visible, especially if they seem to enjoy it. Obviously, that's ridiculous, but I'm curious about whether you've encountered that criticism and how you've dealt with it.
I've certainly been accused of seeking the spotlight, but here's what I think about that: There are some people who go out of their way to get attention, and there are other people who just attract attention. And I'm the latter — I attract attention. From the minute I moved to Dallas, 26 years ago, I attracted attention. I didn't mean to; I just don't follow rules. I'm all for following laws, of course, but as far as I'm concerned, there are no rules — or rules are stupid. And some people find that threatening and will pass judgment. But one of the good things about being an older woman is that I have less patience for things that are of no interest to me.
Do you ever feel a certain pressure to live up to this image that's on Instagram? Like you have to be that put together all the time?
Honestly, putting together an outfit and getting dressed is one of the pleasurable parts of my day. I do that no matter what's on my schedule, every single day of the week. It gives me pleasure. And if it didn't, I would stop doing it.