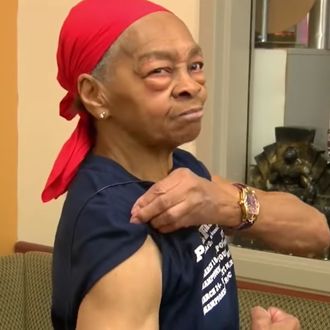 Willie Murphy.
Photo: 13WHAM ABC/Youtube
Add a new entry to our list of inspiring grandmas: 82-year-old Willie Murphy, a powerlifting champion who fended off a drunk stranger who made the ill-advised decision to break into her home.
According to WHAM-TV, the intrusion happened last Thursday around 11 p.m., when an inebriated man started pounding on Murphy's door, demanding that she let him in. Murphy, who was getting ready for bed, told the local station that she called the police, but she didn't initially respond aggressively. That is, until the man broke through her front door, at which point the 2018 World Natural Powerlifting Federation Upstate New York champ came out.
Per the Democrat and Chronicle, Murphy — who weighs 105 pounds and clocks in at five feet tall — attacked the intruder with a stool with so much force that it broke. While he lay disoriented on the floor, she poured shampoo in his eyes, and then jumped on him and started jabbing him over and over with a broom.
"I was whaling on that man," Murphy told the Democrat and Chronicle. "'Cause I said to myself, 'If it's my time to go to hell, I'm taking him with me!'"
In fact, the police arrived as Murphy was delivering her last blows to the intruder, who was taken away by ambulance. Meanwhile, the four police who arrived on the scene stayed behind and asked to take selfies with Murphy and her broom. "Ms. Murphy is tough as nails & fended off the intruder," reads a tweet from Rochester's police department, featured alongside one of the photos.
Though Murphy could press charges against the man, she decided against it — she thinks he's paid for his crime. As she told the Democrat and Chronicle, "I already sent him to the hospital."