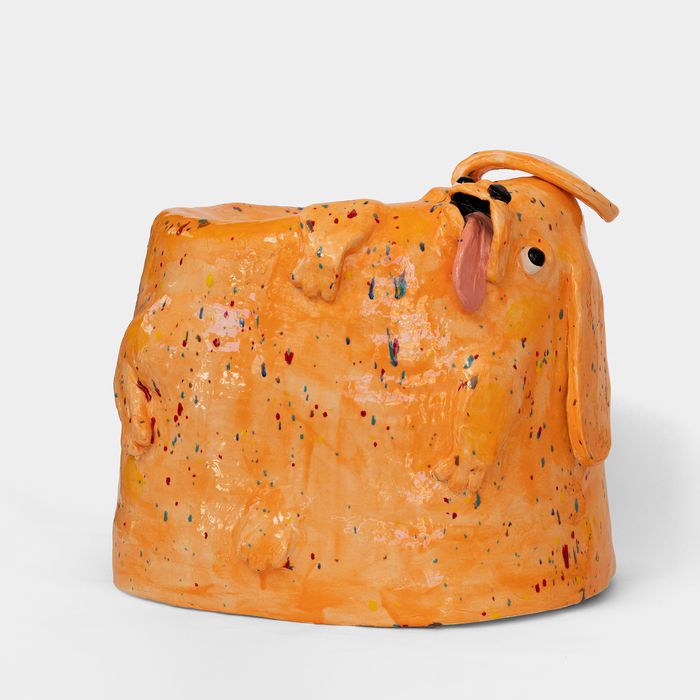 Clown Dog Chair by Katie Kimmel.
Photo: Courtesy of The Future Perfect
At its most basic, creating ceramics means working with mud and water, getting clay everywhere in the process. Now, 32 international artists have united to embrace and experiment with the medium's messy and unpredictable nature for a group show at The Future Perfect, "Mess: Expressionism and Experimentation in Contemporary Ceramics." The artists have clay in common, but their one-of-a-kind pieces seem to share little else. Some are glazed, others retain their gritty and porous texture; certain are only slightly larger than a mug, while others tower over viewers.
To curate the concurrent Mess exhibitions across The Future Perfect's three locations in New York, Los Angeles, and San Francisco, gallery director Laura Young approached Tom Morris, author of New Wave Clay, with the concept for a show that displayed ceramics' current playfulness and recent explosion in the design world. Young and Morris were able to cement the ideology and name of the exhibition — the Future Perfect's website describes the show as being "by nature iconoclastic, celebrating the people that blend and outsize the traditional rules of the discipline and the sense of joy that defines contemporary ceramics today." They've certainly brought together an eclectic mix of artists from around the world — Japan, Belgium, Scotland, Korea, and South Africa, to name a few.
"All of a sudden I had this flash of new things that I'd never seen before, simply because I live in a different place and traveled to different places than [Morris] does," Young says. "So when we combined our forces it just became this really magic show. There's a lot of really incredible work that a lot of people in New York have never seen before."
Some notable pieces include stonewear sculptures from Roger Coll, whimsical chairs from Katie Kimmel, and vessels from Jongjin Park, who creates his layered, almost flaky, works with porcelain and regular kitchen paper towels.
Young says she's probably most excited about showing Magnus Maxine's flowers, which examine themes of violence against those who identify as fem or female.
"The pieces are humongous; they are indoor/outdoor; they're sloppy but not too sloppy," Young says. "They feel magnificent in their stature."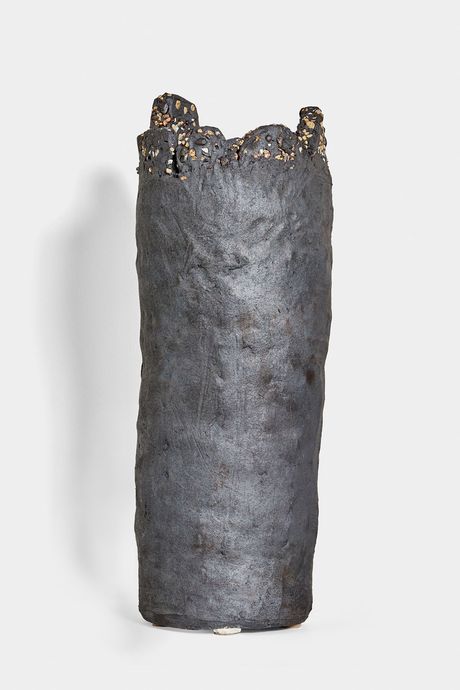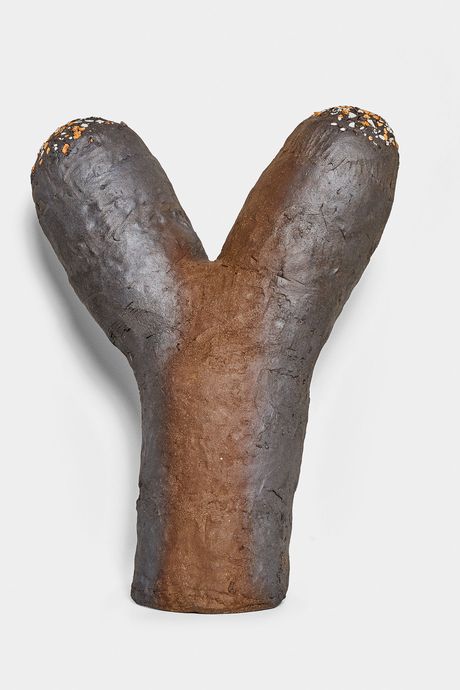 "Mess" also alludes to the intimate relationship between the artist and their pieces in a medium that is prone to a high rate of failure. A single air bubble can explode in the kiln, destroying months of work in an instant.
"These are pieces that an artist is able to create 100 percent on our own, without having to ask the help of a manufacturer or assistant," Young says. "That is putting a lot of heart and soul into the work that is being presented."
"Mess: Expressionism and Experimentation in Contemporary Ceramics" runs in New York, Los Angeles, and San Francisco through January 2020.