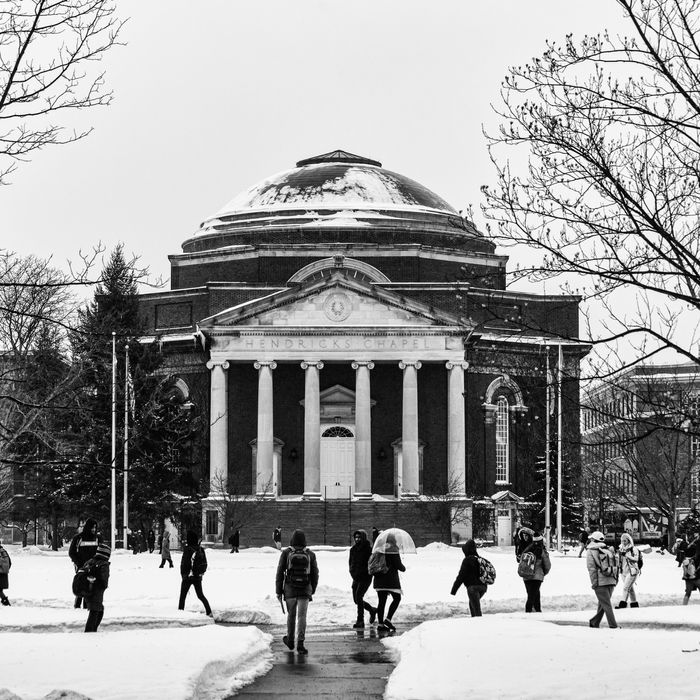 Photo: Kenneth C. Zirkel/Getty Images
Syracuse University is in crisis after a series of at least ten racist incidents occurred over the past two and a half weeks. In a number of disturbing events, students have encountered graffiti targeting black, Asian, and Jewish students, and a black female student was verbally accosted by fraternity members. Student protesters have staged a sit-in at a campus health center for a full week to draw attention to what they feel is an inadequate response from university administrators.
That latest incident, in which a group of students in a library received the Christchurch shooter's violent manifesto without their consent via Apple Airdrop, has "triggered a panic," one student told the New York Times. "We can't sleep. We can't think." Some professors have canceled classes and parts of the campus have been effectively locked down, as students feel afraid to leave their dorms. All social activities at fraternities have been suspended for the rest of the semester, and now the FBI is helping with the investigation, which has drawn the attention of Governor Andrew Cuomo.
Here's everything we know about what's happening at Syracuse:
When did this series of racist incidents start?
On Thursday, November 7, students in the Day Hall dormitory woke to find racial slurs written in bathrooms on two floors, including a message that was derogatory toward black people. Multiple black students reported having their name tags ripped off from their doors. On one floor, designated the "international living-learning community," a slur toward Asian students was found. Students who reported the graffiti to the Department of Public Safety at Syracuse told campus newspaper the Daily Orange that when they met with campus safety officers and with the Dean of Students after the incident, they were asked not to share what had happened. Administrators did not notify the campus at large until the evening of Monday, November 11, when a school VP Robert Hradsky sent out an email describing the graffiti at Day Hall. In the email, he wrote that the administration regretted "not communicating more broadly."
What prompted the student sit-in?
Students critical of what they saw as the university's attempts to cover up the incident organized a day-long sit-in under the name #NotAgainSU on Wednesday, November 13, to demand more severe action to condemn racism on campus. They created a list of demands sent out in a school-wide email, including the expulsion of anyone involved in the Day Hall vandalism, mandatory diversity training for faculty and staff, and open forums for students to communicate with the school's Board of Trustees. They then decided to stay overnight after meetings with Syracuse Chancellor Kent Syverud and other administrators.
Protesters have been sitting-in ever since, and have had multiple visits from New York state legislators. Participants plan to be there over the fall break holiday, which starts next week. Some teachers have decided to hold classes in the Barnes Center rather than make students choose between the sit-in and attending. Students have staged an open mic night and a karaoke night as well as teach-ins and a self-defense class.
What other incidents of racism have occurred since?
Between November 14 and November 16, multiple swastikas have been discovered drawn on campus, as well as more instances of anti-Asian graffiti. Racial epithets were reportedly also hurled at a Chinese student and at black students in separate instances.
On the night of November 16, the Department of Public Safety reported that a black female student was verbally accosted on campus by people who used a racial slur. An investigation determined that the offenders were members and guests of a Syracuse fraternity, reported by the Daily Orange as Alpha Chi Rho. On Sunday, November 18, all fraternity social activities were consequently suspended.
The latest incident occurred on Tuesday, November 19, when the Christchurch shooter's manifesto was Air-dropped from an unknown person to a group of students studying in Bird Library. It was first posted online late Monday night on a forum about Greek life at Syracuse. As the email circulated, Professor Genevieve García de Müeller, who is Mexican and Jewish, received a threatening anti-semitic and racist email telling her to "get in the oven where you belong." Campus police said there was "no credible threat" associated with the manifesto.
Why are students and supporters posting #NotAgainSU?
This is not the first incidence of racism on campus at Syracuse in the past year. Last April, two videos surfaced of Theta Tau fraternity brothers making racist, sexist, anti-Semitic, homophobic, and ableist remarks on tape at pledge events. The fraternity chapter was permanently expelled and 15 students were suspended. But some students, faculty, and alums say that Syracuse has endured a longer history of racist incidents, and that the administration has continuously failed to adequately address a hostile campus culture. In the fall of 2014, a group of students called THE General Body staged an 18-day sit-in to protest a list of grievances against the administration, including Chancellor Kent Syverud, regarding lack of transparency and support for diversity.
How has the administration responded?
On November 19, Syverud released a lengthy response to student demands. In a memo that accompanied his statement, he agreed to make revisions to the student code of conduct in response to criticism that it did not previously have a zero-tolerance policy for hate speech. He did not address comments made by Governor Andrew Cuomo in which he criticized the school's response, and said the Board of Trustees should hire an outside investigator. As of yesterday, the FBI has joined the school's current investigation of the incidents.
However, Dr. Jenn M. Jackson, an assistant professor of political science, said that increasing outside surveillance on campus "may cause additional anxieties for students of color." She told the Cut that many students are questioning why the administration did not cancel classes after the shooter's manifesto was disseminated, or why fraternities were suspended rather than expelled. "There is a tension where it seems the administration is fearful of being sued by frats or affecting the University's reputation," she said. "Meanwhile Black, Latinx, Asian, Jewish, and international/immigrant students are afraid to leave their rooms."