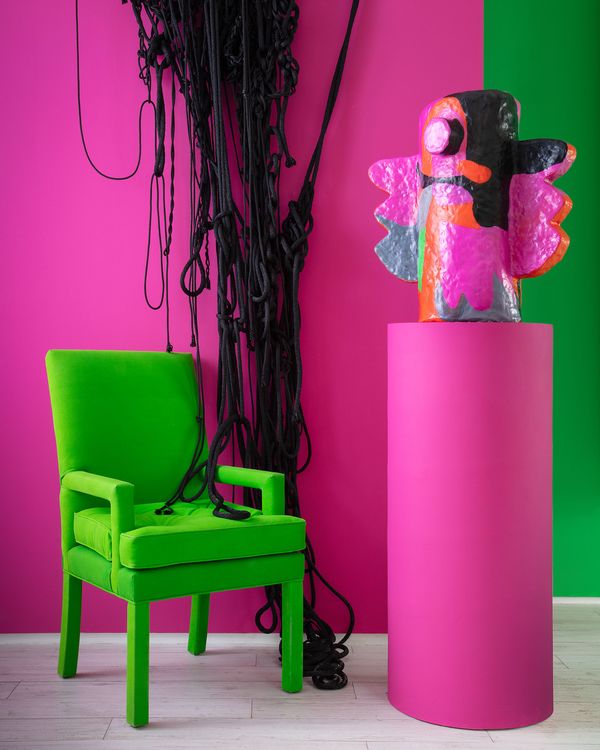 Installation view of
The Dinner Guests
at Fort Makers. Left:
Grass Green Painted Chair
by Fort Makers artist Nana Spears and
Interweb 1
by Fort Makers artist Tamika Rivera. Right:
Polly Mind-Meeter
mask by Fort Makers artist Naomi S. Clark.
Photo: Photography by Joe Kramm. Courtesy of Fort Makers.
On the Lower East Side, in a brand-new gallery space, a surrealist painting has been brought to life. This gallery–stroke–concept store is the new home of artist-run design studio Fort Makers and its latest (and second-ever) exhibition here on Orchard Street, The Dinner Guests.
Whimsical and peculiar, the dreamlike show takes inspiration from the decadent dinner parties hosted by surrealist artists and writers, most notably Salvador Dalí and his wife, Gala. The central piece is, naturally, the dining-room table; it's set for six guests, each of whom is represented with a unique sculpted mask.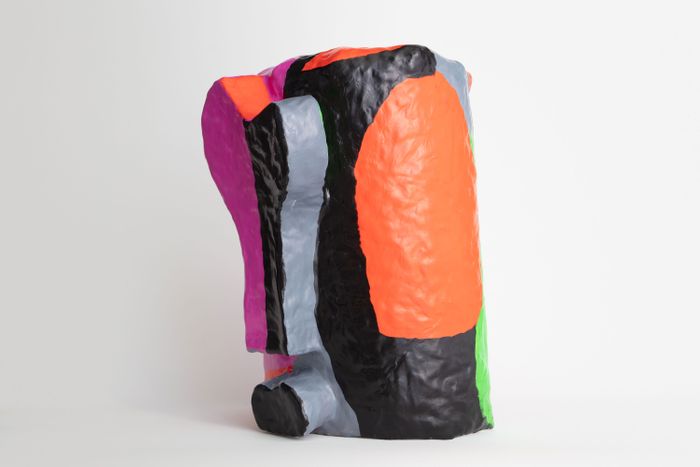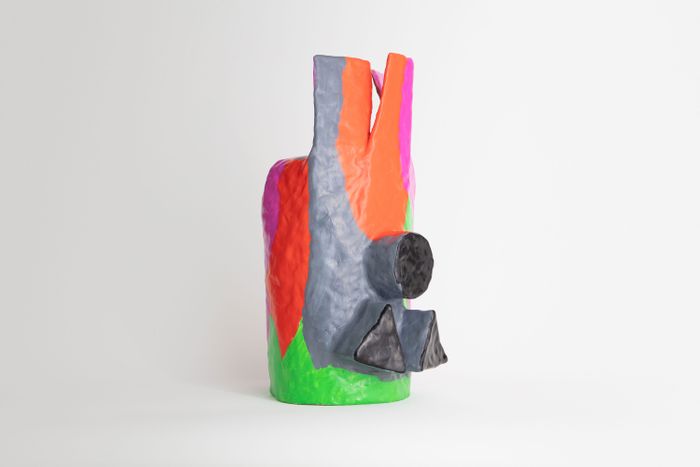 Fort Makers creative director Nana Spears explained, "The dinner party came about in wanting to have all of these guests activated, and we love creating spaces that have purpose."
Inspired by a combination of Max Ernst's masks, Diego Rivera's papier-mâché work in Mexico City, and the abstract shapes used by Joan Miró, artist Naomi S. Clark created the "family" of mask sculptures, called the "Mind Meeters."
Each is displayed atop a fuchsia-colored cardboard pedestal, adjacent to the walnut table. Spears had only one request for creator Noah Spencer: that each table leg have its own, singular design.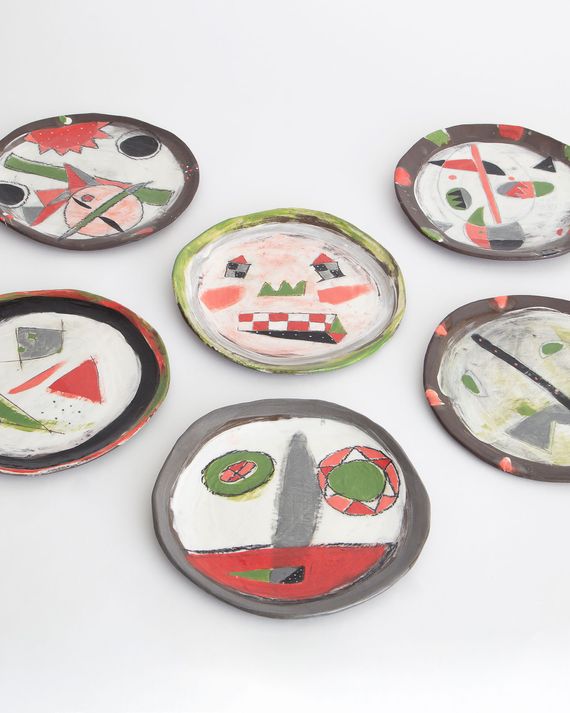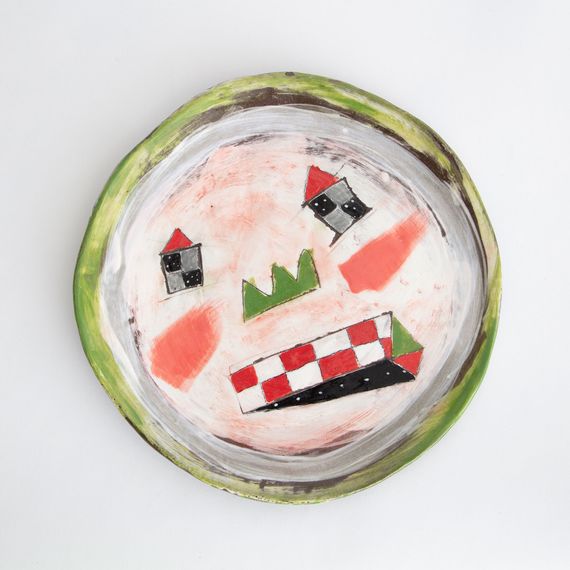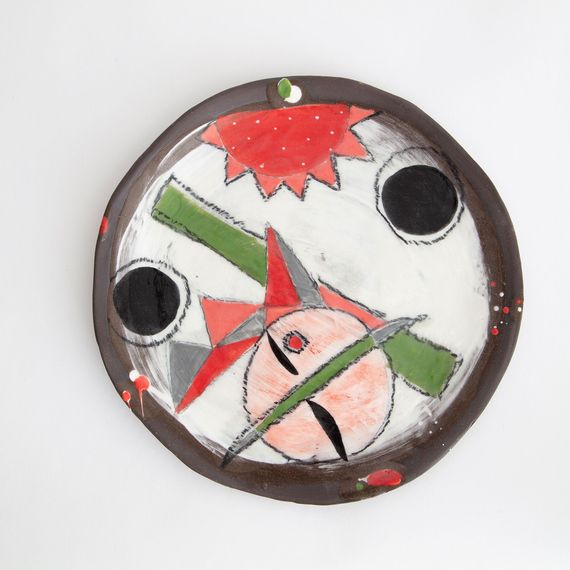 Shino Takeda created place settings for the six fictional characters. The clay plates smile — or grimace — up at you, bright abstract faces glazed on their surfaces, and the utensils have smiley-faces to match. The 12 glasses were handblown by Romina Gonzales and Jason Bauer; six water cups, made to look like reverse sunsets, and six whimsical, slanted wineglasses. Around the dinner table, green-painted canvas chairs await their dinner guests.
"I like the idea of sitting in a painting," Spears said. "Like, this is a painting around us. And so to me, it just felt right to do a solid green."
The rest of the color palette is vibrant — grass green, poppy red, cloud gray, fuchsia, and black — colors Spears chose after seeing them in a Harold Ancart painting. She explained that the colors were not typical of most abstract paintings, which only adds to the unusual space. "[There was] something about the colors being very almost garish," she explained, "like clashing, fighting each other, but not fighting because everything seems kind of happy in here. We like to keep it happy."
The abstract shapes inspired by Miró also appear in the form of metal sconces backlit against two bright-green panels. "We definitely have always wanted to take shapes out of [Miró's] paintings and make them three-dimensional, even though he did that," Spears said. "He was really good at creating a language. So he's the biggest inspiration for that, for us to try to create our own language, and it's come about in all these different ways."
Other details around the room are in keeping with the theme. Tamika Rivera's multicolored webs hung in the window of the gallery, like a lens through which curious passersby can spy. Luminous blown-glass objects shaped like worms and arches sat on boxes with silk tablecloths. Inspiration for the textiles was drawn from one of Dalí's famed dinner-party settings, depicted in Taschen's 2016 photo book Dalí: Les Dîners de Gala, which Spears displayed at the last minute in the entryway window.
After spending a little time in the gallery, I felt like I'd stumbled through the looking glass and was waiting for Harry Belafonte's "Banana Boat Song" to start playing from somewhere. It was great.
Despite all that, you're brought back to reality by a line of Noah Spencer's wooden ducks. "I feel like it's always fun in abstraction to put one thing that resembles reality," Spears said. "And you question, Why is that the realistic thing in the show?"
The Dinner Guests invites visitors to engage with several mediums and modes, handmade by contemporary artists that resonate with those from the past. But don't mistake this for mere facsimile. "Art is not born in a vacuum. There are always those past artists [to reference]. For me, I just love art so much that I can't ignore those voices. I have to call them out. I don't always know if that's a good thing. Because some people might be like, Are you just a hack? But I don't think that. I think that we're continuing conversations that really want to be continued. Abstractions still exist, and people continue to think about that and the beauty of it. For me, there's usually an artist behind the spark of an idea."
Continue scrolling for more highlights from The Dinner Guests, at 38 Orchard Street through January 20.
A previous version of this post incorrectly listed the address of the gallery, and has been updated to reflect the correct location: 38 Orchard Street.