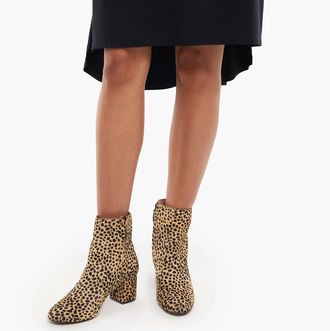 Photo: Courtesy of the Retailer
The fashion industry has finally, blessedly, literally just in the last two months, started paying attention to sustainability. The New York Times wrote that the hottest trend of last season was "eco-bragging rights." But while brands are focusing on the environment, the human side of sustainable fashion has been a bit left out of the conversation as of late. Many activists argue that true sustainability means paying garment workers fairly and not abusing the planet. To bring the conversation around to wages, two sustainable brands based in Nashville, Able and Nisolo, have started a campaign: The Lowest Wage Challenge. It's just what it says on the tin: They're asking brands to spotlight what they pay workers by publishing their very lowest wages.
There's a lot that the public doesn't know about how the fashion industry impacts the planet, but we tend to know even less about the supply chains that produce our clothes. The documentary The True Cost estimated that less than 2 percent of garment workers make a living wage (a salary that allows you to meet your basic needs, which is not the same as minimum wage). You'd think that only a brand that pays its workers equitably would be willing to launch a lowest-wage challenge, but Able and Nisolo (who describe each other as competitors) aren't perfect. Able has one factory in Nashville, and four in Ethiopia. Two of the five factories employ workers who are making below a living wage, as calculated using the MIT Living-Wage Calculator, WageIndicator, and Trading Economics.
"For better or for worse, consumers often applaud brands for their transparency when brands share things like the average wage in their factories or the labor cost that went into making a garment," Nisolo founder Patrick Woodyard told the Cut. "But it can take a factory worker 1.5 years to earn what a large fashion-brand CEO can make on their lunch break, so sharing such metrics isn't necessarily that transparent and certainly doesn't always achieve an objective of protecting workers."
Most brands don't even talk about their average wages, let alone the lowest ones. Think of Everlane's factory pages — they don't list wages, just show you pictures of the factory. That's more than many brands, but it doesn't paint an accurate picture of what's going on inside the supply chain. Of course, garment workers and leather workers don't cover the full supply chain of either brand, but publishing their wages is still a big step.
The goal of the Lowest Wage Challenge is to encourage other brands to start talking about what they pay. It's a hard sell for a brand that isn't transparent to begin with. But Able's founder and CEO Barrett Ward says, "You don't have to be perfect before you can be honest." Just talking about the wages is a start — it doesn't mean the brands have to change them right away. And publishing the wages doesn't mean you have to change them.
A list of brands participating will be published on December 5. All of them will be audited to ensure their wages are accurate. The auditing group, Accountable, was developed by Able, but is now a third-party nonprofit.
Both brands are confident that others will join the campaign, because being honest and transparent worked for their businesses. "Apart from being the 'right thing,' there is an economical and brand loyalty advantage toward directing your customers toward vulnerable discussions," Woodyard and Ward said in a joint statement over email. The two brands are asking for their customers' help in spreading the word, so that "lowest wage" becomes a sustainability metric that's as common as "organic" or "fair trade."