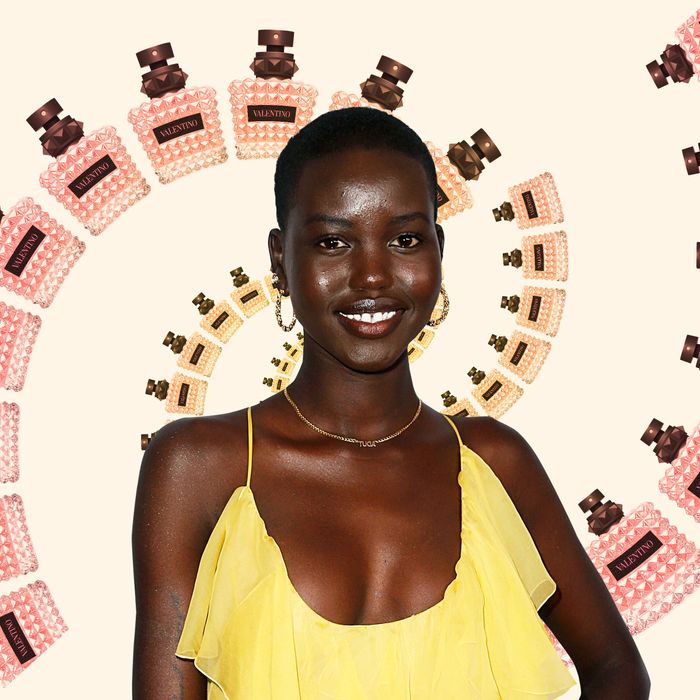 Adut Akech.
Photo: Dominik Bindl/Getty Images
Scientific studies confirm that, of all the senses, smell offers the best recall. In Scent Memories, the Cut asks people about the scents they associate with different times in their lives.
Next up is model Adut Akech, one of the faces of Valentino's new Born in Roma fragrance, which is inspired by the historic city and comes in two versions: Donna, a warm blend of vanilla bourbon, jasmine, and pink pepper, and Uomo, a spicy mix of sage, smoked vetiver, and salt. Akech was born in South Sudan, raised in Kenya and Australia, made her Fashion Week debut in 2016, and has since walked for nearly every major designer. The Cut caught up with her to talk laundry, burgers, and public bathrooms.
My first scent memory is: This fragrance-perfume-incense thing that my mom used to wear. She still wears it now. I don't know what goes in it, it's so hard to explain, but it just smells so good. Every time I go home my mom is wearing it and it reminds me of my childhood days.
Love smells like: Food, my bed, my mom, my sisters — all the things that I truly love.
My favorite food smells like: Burgers. I'm obsessed with them, it's a problem. I went vegan— I'm not vegan anymore — but I went vegan for a little bit and the first thing I ate after was a burger.
Friendship smells like: Me cooking in the kitchen. I love cooking for my friends and having them come over and we just sit down and hang and eat and we play games. I have my famous shrimp curry that they always request and they love it. I always wonder if I'll have some left at the end and there never is.
Vacation smells like: A pool and the sun hitting your skin. It smells like the beach, and ocean water. It smells like sleep and nobody disturbing you.
My home smells like: Sweet fragrances and my Valentino, for sure. You could probably smell it from the hallway. I spray it every day before I leave the house, and not a little bit, a lot of bit. I spray it on my skin before I put on my clothes and then after as well, just in case it wants to leave; I have extra backup. And in the past week, my home also smells like a whole bunch of fresh, clean clothes because all I've been doing this week is laundry.
Monday mornings smell like: Depression. You wake up and you immediately start to question yourself: Do I need this money today? Can I live without this? I hate working on Mondays, but I think everyone does. I just don't want to see human beings. During the weekend, I rarely see a lot of people because it's my chill time, and then you come to Monday and you have to adjust to having to see people again.
If I could have one smell on my hands forever, it would be: The smell of a whole bunch of flowers, crushed into one. Like a full bouquet just smashed together.
If you buy something through our links, New York may earn an affiliate commission.