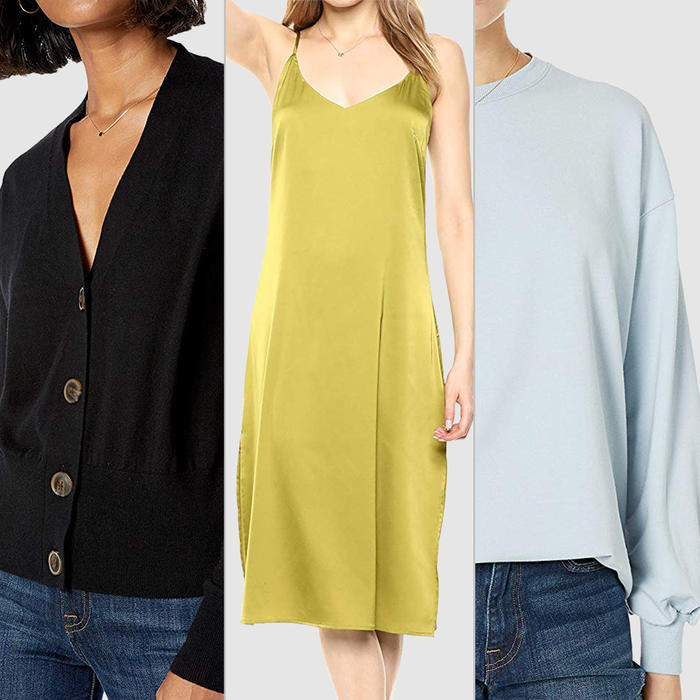 Photo: Courtesy of Amazon
This time of year, the holidays are starting to get on everyone's minds — and before long, we'll be well in the swing of the festive party season. But before we fully switch into celebration mode, some wardrobe prep can be helpful. More specifically: grabbing a few dressed-up basics now that you can pair with endless combos of party looks later.
In that spirit, we asked our stylish copywriter Tori Young to choose her favorite easy-to-wear pieces that you can mix and match with glitzy party attire from now straight through to New Year's Eve. These are the essentials, from Amazon's Staples by the Drop range, that work dressed up, dressed down, or however you like in between. Even better, they're all $50 or less. Scroll on to shop our favorites.
This is a dress that could truly get down at a holiday soiree. As in, a glass of berry-garnished champagne would go great with this. I'm very into slip dresses lately, as I've decided less is truly more in all regards, and silkiness ranks above all else. As far as holiday outfits go, this piece is safe to pair minimally with some shiny ear bling and call it a night. Instaglam, as I tend to say.
I'd rock these babies around the tree all night long. I love pants that let me jump and dance and sit cross-legged without feeling like my seams are about to burst (looking at you, my beloved mom jeans). Pair these with a brighter, more outgoing top (and maybe a fun shoe situation) and you'll make your fellow holiday party-goers proud. These pants were made for dancing, so that is what we'll do.
My new thing for winter is wearing all cardigans as tops, preferably tucked into a flowy skirt or pant. I adore the big buttons on this one — gives it that extra personality and makes me feel less like a kindergarten teacher, which is how one can easily feel in a cardigan. This would add to a holiday mom jean and heels look with some big ol' hoop earrings to boot. Cozy, yet collected.
I am here for this light winter blue! Color me campy, but I adore a holiday moment that fully gives into the season's colors. This top looks so cozy I could live in it, but I could also accessorize it to death and waltz into any holiday party with complete confidence. The sleeve detail is perfection, and with an added chunky necklace and patterned pants, this sweater is a yes for me.
A button-down is one of my most cherished treasures throughout the year due to complete versatility: buttons open, buttons closed, sleeves up, sleeves down. It may not seem like an obvious holiday choice, but trust me, the opportunities are endless. It's so easy to throw on and still feel put-together, compared to something like a basic tee. I'd button this all the way up and pair with some fun flare bottoms and big earrings. The bigger the better. The front pocket gives an extra detail that helps amp up this classic basic, so you can easily add color elsewhere and not have to try too hard.
These are potentially more for an indoor moment, but wow, do I love a pop of color on the feet. Everyone needs at least one pair of red slide sandals because they scream "fun but powerful." Their color is literally called Fiesta Red, so they're meant for a party! The microsuede helps mute these just enough so they don't feel incredibly loud, and the heel is tall enough to make a difference, but manageable enough for the dance floor. I'd wear these with a midi wrap dress or even during an all-black moment, which we all know is the classiest of holiday style moves.
If you buy something through our links, New York may earn an affiliate commission. We update links when possible, but note that deals can expire and all prices are subject to change. All images courtesy of Amazon.
This is paid content produced for an advertiser by New York Stories. The editorial staff of The Cut did not play a role in its creation.