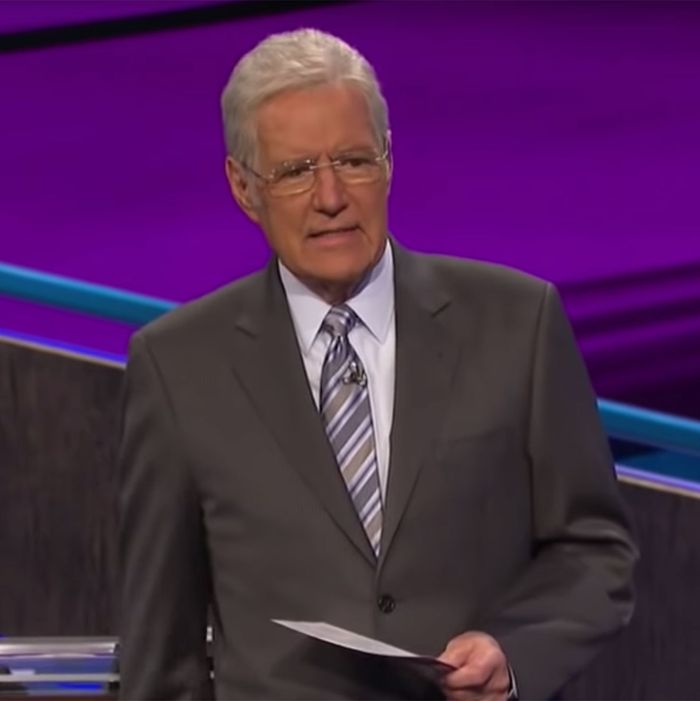 Oh no Alex, sweetie, please don't cry.
Photo: YouTube
It is Tuesday morning, which means there are three and a half more work days to get through this week; three and a half more days to spend trying to soldier through projects and professional interactions, only to be stopped in our tracks, stunned into heavy, emotional silence by the memory of this video of longtime Jeopardy! host and everyone's sweet Canadian father Alex Trebek tearing up during Monday night's episode of "The Tournament of Champions."
The emotional moment took place during Final Jeopardy. The prompt was, "The title of a groundbreaking 1890 expose of poverty in New York City slums, these three words follow 'How the'." The correct answer was, "How the Other Half Lives," — sorry, "What is 'How the Other Half Lives?'" — but contestant Dhruv Gaur, a student at Brown University, bet $1,995 of his $2,000 on the answer, "What is 'We ❤️ you, Alex!'"
"That's very kind, thank you," Trebek said, choking up. Oh no, Alex.
Trebek, 79, has hosted the trivia game show for 35 years. In March, he announced that he was diagnosed with stage-four pancreatic cancer. "With the love and support of my family and friends, and with the help of your prayers also, I plan to beat the low-survival-rate statistics for this disease," he said in a video message, adding that he did not plan to retire from the show yet. In September, he told Good Morning America that he is undergoing a second round of chemotherapy.
"Sorry for West Coast spoilers, but I'm really glad I got the opportunity to say to Alex what everybody at the tournament was thinking," Gaur wrote in a series of tweets after the taping. Before Final Jeopardy, Gaur said, Trebek shared with contestants that he was reentering treatment for pancreatic cancer. "We were all hurting for him so badly," Gaur wrote. "When Final Jeopardy came up, I could've tried to puzzle it together, but really, just kept thinking about Alex, and thought he should know."
It is simply too early in the week for such an emotional moment.