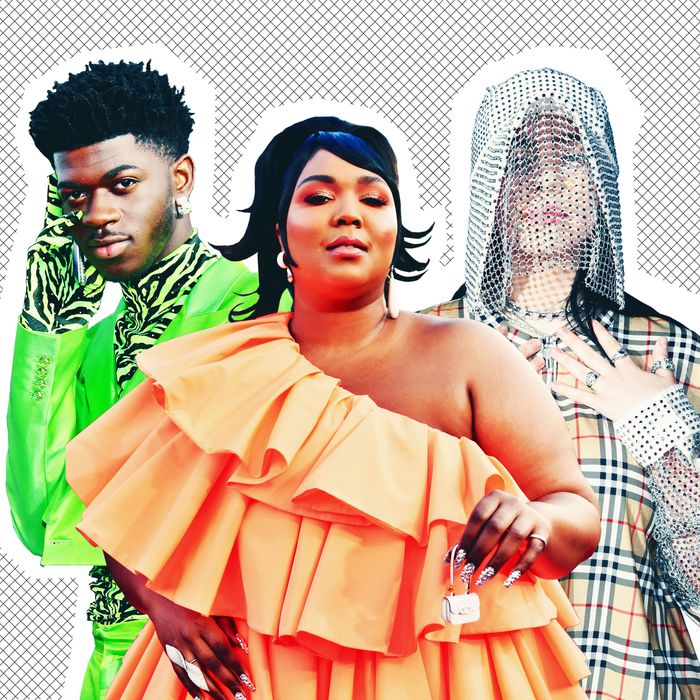 The AMAs red carpet was way more fun than we expected. Lizzo carried a doll-size Valentino bag so small that it would fit into the infamously tiny Jacquemus one. (What was in it???) Billie Eilish also wore a statement accessory: a vaguely Handmaid's Tale–esque bedazzled Burberry hood. Lil Nas X, meanwhile, was impossible to miss in a slime-green Christopher John Rogers suit. If there was one trend from the night, that seemed to be it — Selena Gomez wore a similar hue. Check out the best looks below, from Post Malone and Diplo looking totally kind of hot in cowboy hats to Billy Porter working yet another cape.
Least Number of Worries Carried: Lizzo
If you thought tiny bags couldn't get any tinier, think again. Lizzo carried the world's smallest Valentino bag on the red carpet — even smaller than the smallest Jacquemus accessory. The good news is that she can fit every resulting headline, viral tweet, and Instagram post in there. It even has its own Twitter account now.
Flashiest Handmaid: Billie Eilish
Billie Eilish likes to cover up on the red carpet, and this chain-mail Burberry veil from designer Riccardo Tisci's spring 2020 runway show certainly helps.
Best Slime Dress: Selena Gomez
Slime has made it out of Instagram and onto the red carpet. Selena Gomez's liquid dress is just as mesmerizing, mostly because we haven't seen her in a while.
Best Slime Suit: Lil Nas X
Unlike Selena Gomez, Lil Nas X has never been subtle a day in his 20 years of life. His blinding suit and zebra turtleneck (complete with opera gloves — classy!) was designed by fellow 20-something Christopher John Rogers, who just won the Vogue/CFDA Fashion Fund award for Best Emerging Designer. Before that, Rogers was designing equally eye-catching looks for Michelle Obama.
Most Recently Showered: Kesha
The bath-leisure trend lives on! Not mad about it.
Best Boob Suit: Tyra Banks
The "boob suit" trend is also alive and well, it seems.
Most Ready for a Holiday Party: Taylor Swift
Taylor Swift seems like the kind of person who really loves a holiday party. Who can blame her?
Totally Kind-of Hottest Cowboys: Post Malone and Diplo
A controversial opinion, but it's hard to argue with these heeled boots.
Biggest Pete and Ariana Energy: Anwar Hadid and Dua Lipa
It's actually a little freaky: The high ponytail, the dark circles, the bleached blonde hair. They've even got similar sleaze-meets-Barbie style. These are all compliments, by the way.
Biggest Freedia: Big Freedia
Big Freedia's Nike sneakers are cut off in this image, and they're pretty great, but also unnecessary to illustrate just how big this fit is.
Best Use of Cape: Billy Porter
After his gigantic cape moment at the Golden Globes last year, Billy Porter is now a cape professional. As he would say, capes pretty much always "fuck everybody up."
Hottest Overall: Megan Thee Stallion
Hotness is literally her trademark. What would her close personal friend Anna Wintour say about this look?