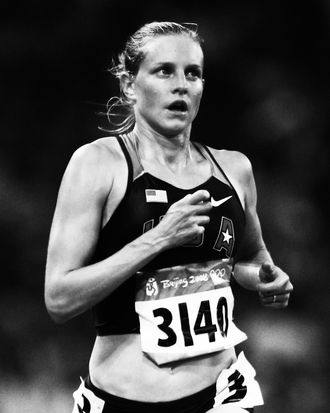 Photo: Alexander Hassenstein/Bongarts/Getty Images
Less than a week after runners Mary Cain and Kara Goucher accused their former Nike Oregon Project coach, Alberto Salazar, of mental and physical abuse, another woman has come out with her own allegations.
Amy Yoder Begley was an Indiana state-champion runner before joining the Nike team in 2007. Within months, she was targeted by Salazar for her weight, as Cain was. According to the New York Times, Salazar demanded she be leaner, tried to control her relationships with her teammates, and complained about her laugh being annoying.
Yoder Begley says Salazar frequently flip-flopped in his criticism of her. "If I had a bad workout on a Tuesday, he would tell me I looked flabby and send me to get weighed," she said. "Then, three days later, I would have a great workout, and he would say how lean I looked and tell me my husband was a lucky guy. I mean, really? My body changed in three days?"
Salazar accused Yoder Begley of not following her nutrition plan and made other comments about her body. "He was obsessed with her butt," Goucher told the Times. "He would always talk about how it was hanging out of her shorts."
The allegations were also confirmed by Steve Magness, Salazar's assistant coach from 2011 to 2012. "I remember Salazar saying something like, 'Her ass was hanging out of her uniform,'" he recalled to Sports Illustrated. "In that moment, he added, 'I'm done with you. I'm tired of fighting this weight issue. We're done.' Amy countered by saying she hadn't gained any weight. Alberto said he didn't care what her weight said. 'I know you've gotten bigger.' There was this conversation on if her jean sizes had gone up because her butt was bigger. It was the [most] bizarre thing ever."
Cain made similar allegations against Salazar, saying he had pressured her to maintain an extremely low weight, which caused her to break several bones, stop getting her period, and develop disordered eating that led to suicidal thoughts. Salazar addressed the allegations in a statement to Sports Illustrated:
My foremost goal as a coach was to promote athletic performance in a manner that supported the good health and well-being of all my athletes. On occasion, I may have made comments that were callous or insensitive over the course of years of helping my athletes through hard training. If any athlete was hurt by any comments that I have made, such an effect was entirely unintended, and I am sorry. I do dispute, however, the notion that any athlete suffered any abuse or gender discrimination while running for the Oregon Project.
Meanwhile, Nike has said an investigation into the accusations is underway.