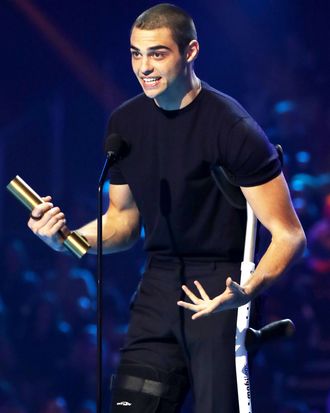 Photo: Christopher Polk @POLKIMAGING/NBCU Photo Bank via Getty Images
Like a throw pillow with an inspirational quote on it, actor Noah Centineo is cuddly, easy to read, and makes us all feel better about ourselves. Some enjoy his kind earnestness, others just really love apocryphal motivational quotes, and others still just like to look at him, ignoring the dribbles of wisdom he intermittently dispenses.
Last night was no different. At the People's Choice Awards on Sunday Centineo went on crutches to the podium to accept his prize for Comedy Movie Star of 2019, won for his role in The Perfect Date. "I guess I'm funny?" he said to the audience, "I didn't know that." He went on, "This never gets easier, to anyone watching at home. It's always so nerve-racking, you're like, Uhhh, oh my god, people! And I've got to talk and I've got to say things!" Then he thanked some people. Then this:
If you didn't catch it, that was Noah Centineo saying, with thrilling sincerity, "Before I go I just want to say, it matters not what you've done but what you do with what you've done for others."
Who is he quoting? No one. Everyone. Himself. What does it mean? That it doesn't matter what you do. Because no matter what, Centineo will be there to catch you, with a social media post or sound bite as illuminating as it is circular in logic. I leave you with some recent tweets to light your way. Bless.