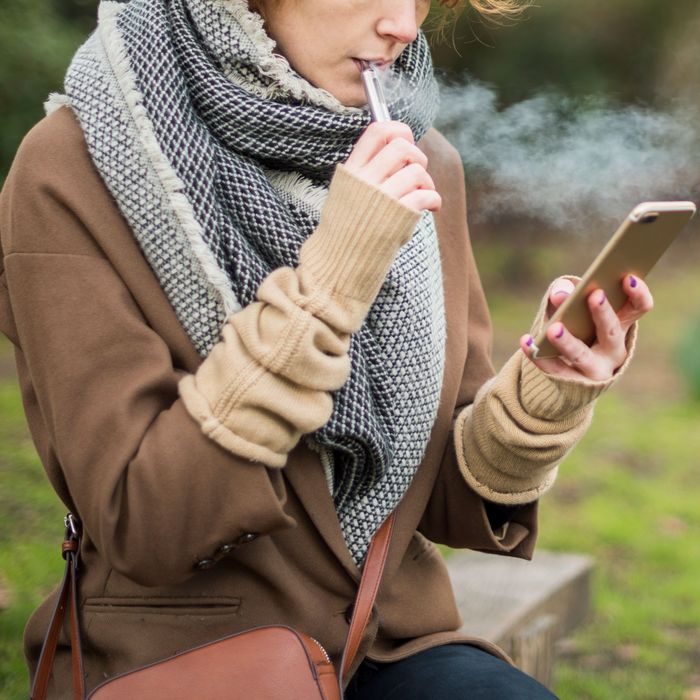 What app is that?
Photo: © Jon Cartwright/Getty Images
Apple announced Friday that it would remove 181 vaping apps from the App Store, in response to a rash of deaths and illnesses seemingly linked to an additive in certain vaping liquids. Which seems fair enough, only … what is a vaping app?
In a statement to Axios, Apple described the vape boom as "a public-health crisis and a youth epidemic." So far, 42 people have died and over 2,000 others have developed a severe lung disease that leaves the lungs looking like they've weathered chemical warfare.
"We take great care to curate the App Store as a trusted place for customers, particularly youth, to download apps," the company said, adding that it had "updated the App Store Review Guidelines to reflect that apps encouraging or facilitating the use of these products are not permitted."
But to return to our point: What exactly is a vaping app? These days, seemingly every electronic item has an attendant app — your vibrator! your Theragun! — even if the reason for its existence remains a mystery. Does a vaping app monitor your usage and scream at you when you vape too hard? Sponge up all your mouth data for largely unspecified purposes? Both?
Let's discuss.
Bluetooth vape apps
Back in August, e-cig giant Juul launched a Bluetooth-equipped, Android-compatible device in the U.K., the app for which could both keep tabs on vaping rates and lock the device. Pax, which manufacturers Bluetooth-equipped weed vapes, has apps that let you control dosage and flavor on your device, plus lock it against "unwanted usage."
Social vape apps
The apps Apple seems most concerned about, however, are the ones that act as information-sharing hubs — these are the places you would go if, say, you wanted to post a photo of yourself blowing large clouds of vapor out your nose like a dragon, for the enjoyment of your fellow vape fans.
Vape Boss, for example, connects vape enthusiasts; helps users locate nearby vape shops; and enables photo and tip swapping — basically, it's a "social media platform … but only for the Vape Community," and it no longer lives on the App Store. In that same vein, there's also Vaffle, which seems to have escaped Apple's sweep. (I was able to download it to my phone this afternoon.) Vaffle is a sort of Instagram that caters heavily to vape lovers and anecdotally, has become a burgeoning "hot spot for YouTube vape stars." Apparently, these "vape influencers" have been worrying about their futures on standard social-media platforms.
Technical vape apps
Then there are the apps that help users cook up their own liquid recipes and, in certain cases, share them with other users — you can see where, with the fears about bootleg cartridges, these would present cause for concern. (These include apps like VaporSuite, and E-Liquid Calculator, which exist only in the Android realm.) Others in this category allow consumers to tinker with and build coils to control a device's temperature; these, according to Axios, were targeted for removal, although the genre seems difficult to regulate. For example: Apps like Ohm's Law, which appears on a number of "best vape app" lists, apply to a wider array of electronics.
So what happens if I search "vape" now?
What remains after Friday's App Store purge appear to be apps primarily devoted either to medical marijuana, or quitting smoking. The new policy basically builds on an announcement Apple made in June, when it stopped accepting new vape apps.