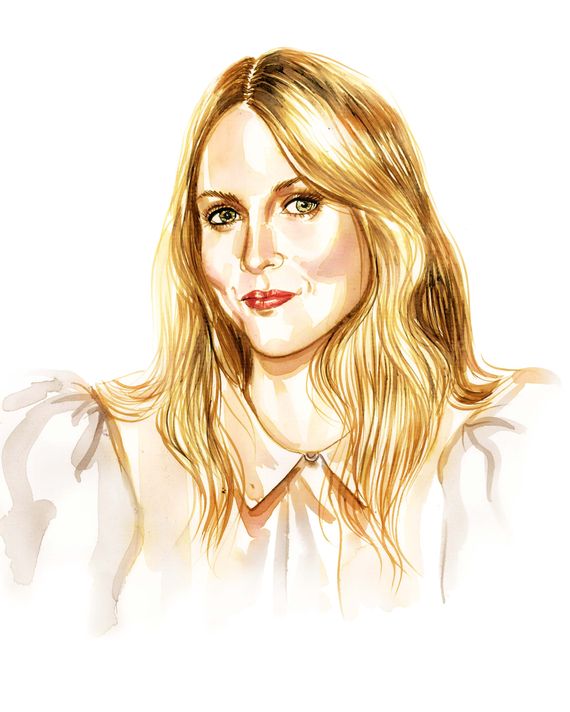 Illustration: Samantha Hahn
There's no one right approach to makeup or skin care; everyone does it a little bit differently. In You Do You, The Cut talks to women about what they put on their faces and bodies, and why.
Publicist Becca Parrish can't remember a time when she didn't love food. "I've always been a hearty, enthusiastic eater, and I loved restaurants," says the founder of Becca PR, whose clients include West-Bourne and King restaurants, Casa Dragones tequila, and Tourists hotel in the Berkshires. "I was always the one who read up on the new places and chose where my friends and I were going to go to dinner." The Florida native first experienced New York's fine dining when she traveled from Atlanta with a client, and those meals sealed her fate. When she first moved to New York, her only food client was Starbucks, but she soon found herself immersed in the restaurant world, working with the likes of Marcus Samuelsson, Eric Ripert and Tom Colicchio. In December 2004, she opened her own agency. Parrish spoke with the Cut about drinking water, her skepticism toward lasers, and the merits of sleeping in an elasticized bra.
On her beauty philosophy in three words: "Keep it easy" — because who has time? And the more you futz, the worse you look, especially as you get older.
On her morning routine: Rinse my face in cold water, gently slap my cheeks to get the blood flowing, put on Vinters Daughter, maybe an eye cream if I have one, moisturize with Image with SPF 50.
On the one wellness belief she's really taken to heart: I drink a ton of water and have my entire life. I do think it's helped my system run clean.
On her best piece of beauty advice: I tell my daughter, your face begins at your forehead and ends at your breast line. Wish someone had told me that. I sunburned the hell out of my chest in high school, because I grew up in Florida, where tans were cool.
On the beauty practice she never bothers with: I don't do facials enough, or drink smoothies, ever. I drink red wine and eat meat, though less than I used to, and I will not deny myself anything just because my face might look better if I avoid it. Deprivation on a level like that is not worth it.
On the beauty practice that everyone should try: Sleeping in an elasticized bralette. Eberjey makes one, as does Only Hearts. I once dated a doctor who suggested that wearing an elasticized bra at night keeps your breasts perky. That was 18 years ago, and I must say I'm grateful.
On her nighttime routine: Shu Umera cleaning oil because it's an all-in-one: It takes off mascara brilliantly. I use cotton rounds to ensure it's all off. (I realize this may not be ecofriendly, but I've cut back to one.) I've been using La Mer for 20 years; my skin just soaks it up. Once I'm in bed, I put this organic peppermint avocado ointment from Cap Beauty on my feet and hands.
On her dream beauty mentor: Ricky Lauren, the wife of Ralph Lauren. She is a natural beauty, with life and sun and children and love on her face. It's there to see. She is so thoughtful and gracious, which, of course, makes her even more beautiful. Her hair is legendary, like a golden sunrise. She's a knockout, by any measure. I don't know how old she is. I like women who own their age but still look incredible. Being comfortable in your skin at any age makes you attractive. And by attractive, I mean: People want to be around that comfortable knowing and ease.
On what beauty in the future will be: More natural, we can only hope. I like how Oprah says that to lie about your age is to deny your very existence. We all want to look good, but those face-correcting apps and all the fake lips you see walking down the street strike me as sad, and a waste of time and money.
On what she's afraid of: Getting so old that I can't see whiskers on my face. I hope a kind child or grandchild will help.
On her biggest beauty disappoint: I'm not convinced lasers or that stuff works, but maybe I haven't committed enough consistent time to getting it done.
Her stance on bangs: Bangs are a pet for your face. They require attendant affection: washing, drying, trimming, training. They're annoying AF. They're also flattering and can make you look put together. I'm a casual person, in both my hair and how I dress. Bangs upped my game for a while but ultimately proved too big a commitment. As my friend Adam Sachs said: No woman cuts bangs for a man.
On what she would tell her 12-year-old self about beauty: Little Bee: don't get that sunburn even though your friends are and you think it's cool. Don't squirt that iodine in that bottle of baby oil and slather it on your body. (Thank goodness my face was spared.) Don't spray that hydrogen peroxide on your hair so it turns a hideous shade of orange. I've always been aware of the fact that I had nothing to do with the way I look — my parents do. So … appreciate what you have and don't spend a lot of time worrying about things you can't change. Beauty is defined not by your appearance but by your heart.