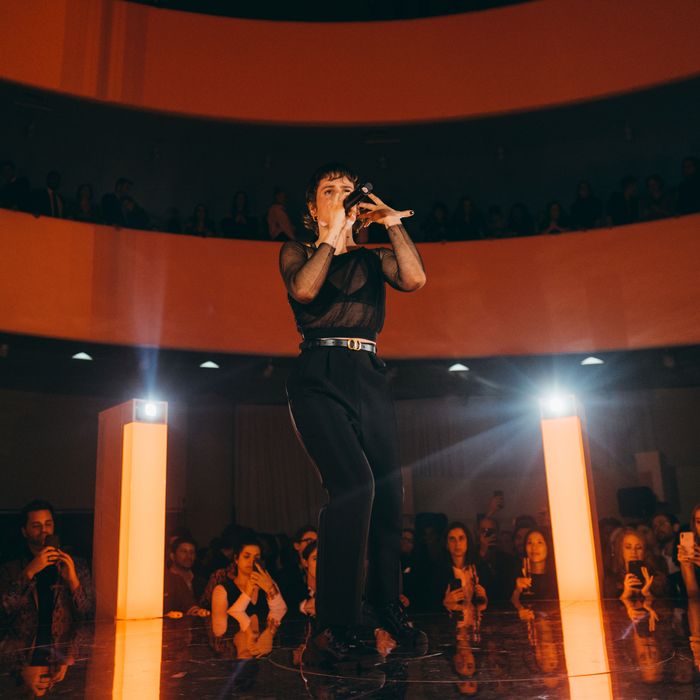 The headliner of the annual Guggenheim International Gala preparty was Christine and the Queens. I did not know of Christine and the Queens when I walked into the Guggenheim on Wednesday night, but I have been listening to her music on repeat since. The French singer-songwriter, whose real name is Héloïse Letissier, gave a dynamic performance that had one superfan in tears by the end. Letissier and three backup performers danced across the stage through six songs, not just bopping along but jumping and spinning across the stage. Not really an activity you'd imagine doing in custom Dior, but she did it.
Actually, she had two custom Dior outfits, one for the red carpet and one for the performance. But they were similar. On the red carpet, she wore a collared sheer top with a bustier and black trousers. Onstage, she wore a different mesh top with a bralette (very Kristen Stewart). It took the craftsmen at Dior a combined 270 hours to make the blouse, bustier, and trousers. During her performance, Letissier talked about how "I was slightly scared, after all fashion is scary to me" and how fashion can be a tool to "fit in … or not." In a sea of black tie tulle dresses, Letissier's menswear-inspired look struck just the right balance of fitting in and standing out.
Maggie Rogers was standing on the first floor dancing wildly to the performance. After the performance, guests — including Nina Dobrev, Greta Lee, and Aurora James — were given free reign to wander the first three floors of the galleries, and sip Champagne while looking at Brancusis. But the highlight was the Christine and the Queens performance. See an exclusive look into the making of her outfits below.