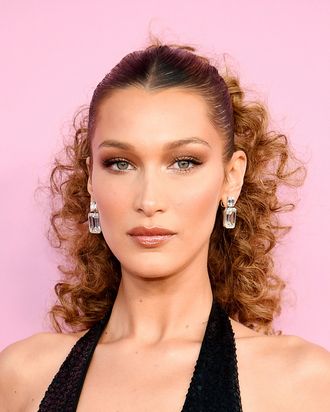 Bella Hadid.
Photo: Dimitrios Kambouris/Getty Images
Pretty much as soon as she started modeling in 2014, Bella Hadid has had a dream career. It didn't take long before she was working with Karl Lagerfeld and appearing on the cover of magazines. But, the model revealed today, she was "crying every single morning" when her career first took off, when she was still a teenager.
During a discussion at the Vogue Fashion Festival in Paris, Hadid said, "I would cry every single morning, I would cry during my lunch breaks, I would cry before I slept. I was very emotionally unstable for a while when I was working 14-hour days for four months straight as an 18-year-old. I think I just wanted to breathe a little bit. And so it kind of put me in a spiral."
Hadid says now she wants to set a good example for her fans and also talk about mental health. "I feel guilty for being able to live this incredible life, have the opportunities that I do, but somehow still be depressed," she said.
Hadid is not the only model to speak out about the sometimes-grueling conditions; it's a conversation that's been going on for several years now. In 2017, casting director James Scully accused two Balenciaga casting directors of abusive behavior. The incident allegedly involved 150 models waiting in a stairway for three hours, with no lights on, while the casting directors went to lunch. At a Yeezy show on Roosevelt Island, a model collapsed after standing for hours in the hot sun waiting for the show to start. In 2018 at the height of Me Too, models shared stories of abuse on Instagram. Hadid's story tracks with the industry's record (although most other models don't have the same wealth, status, or platform).
One positive experience for Hadid? Walking for Rihanna's Savage x Fenty show this year. Amazingly, she says it was the first time she felt "sexy" on a runway, "because when I first did Fenty, I was doing other lingerie shows and I never felt powerful on a runway, like, in my underwear." You hear that, Victoria's Secret?