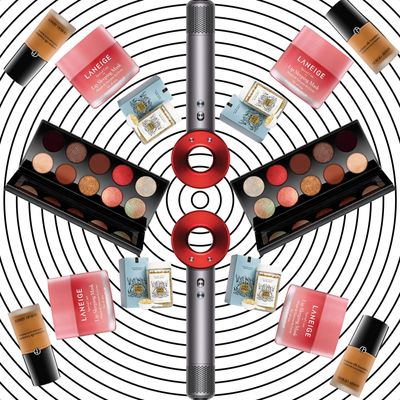 Photo: Courtesy of Sephora
The best way to browse Sephora's biggest sale of the year is to call in sick, stay at home, and really focus. Put your iPhone on airplane mode, because there are very big savings that need your attention. This is the time to stock up on the beauty products you've been wanting to try, or to start your holiday shopping.
From November 7–11, every product at Sephora is on sale using the code HOLIDAYSAVE. Your savings will differ depending upon your Sephora Beauty Insider status, Rouge members get 20 percent off, VIB get 15 percent off, and Insiders get 10 percent off. To do some of the work for you (and also because you can use your code as many times as you want), we've rounded up some of our favorites. Here are all the products the Cut's beauty editors are advising friends to buy.
A Set of 5 Fenty Lip Glosses
While you're waiting to see which true friend of yours gifts you Rihanna by Rihanna this year, prepare with this adorable kit of Rih's nonsticky mini Gloss Bombs. Inside the tin you'll find fan-favorite Fu$$y sitting next to four brand-new shades you won't find in full-size form: Pretty Please (fuschia), Hot Chocolit (a seasonally appropriate brown), Confetti (iridescent opal), and Cheeky (bright red-orange), all with the sizeable doe foot and lip-conditioning formula you know and love. —Erica Smith, beauty writer
The Foundation That Everyone Loves
My mom just started wearing foundation this year. I know, she has perfect skin and it's very annoying. I've given her samples of practically every fancy one, but this is a favorite. I agree — and so does everyone at the Cut. If you want super-glowy, radiant skin with little effort, you need this. It's so easy to apply that I don't even use a Beauty Blender, just my fingers. —Kathleen Hou, beauty director
Opulent CBD-Infused Bath Salts
I have no idea if this Epsom and Himalayan salt blend calms my mind when I pour it into my bath, but it certainly keeps me in there longer than usual. Sure, I could thank the CBD, but I think it's the essential oils and flower petals. Arnica, calendula, eucalyptus and citrus oils give the water a soothing, almost milky quality that adds a subtle coat of moisture to my body. My own jar is currently dwindling, so this is a not-so-subtle hint that someone needs to gift me with more. —Jane Larkworthy, beauty editor-at-large
Delicious, Travel-Sized Beauty Gummies
I'm really happy for you and whatever bottle of beauty gummies you're currently on, and I'mma let you finish, but these two Hum Nutrition varieties are the best-tasting of all time. In addition to stocking up on some of the full-size bottles for personal purposes, consider buying a few of these little travel kits as general gifts for any last-minute additions to your list. I dare anyone to taste a Hair Sweet Hair (berry fruit roll-up goodness) or Glow Sweet Glow (tangerine-creamsicle goodness) and not forever think fondly of you. —Erica Smith
A Crowd-Pleasing Lip Mask
Want to try the best-reviewed product at Sephora? Here it is: A lip balm with nearly 5,000 five-star reviews. It's truly better than all the other ones I've tried — not sticky, waxy, or greasy. We are coming up on peak humidifier season, so turn yours on, slap on your Laneige, pop in your mouth guard, and wake up with very, very soft lips. It even works on those annoying cracks I get on the edges of my lips. —Kathleen Hou
Hair Care Without Harmful Ingredients
My stepdaughter is the poster child for clean living, to the point that she was going weeks between washing her hair. Nope, couldn't let her do that, so the answer is this clean hair brand. The four steps of this process might take a little longer than rubbing a bar of clean soap on her head, but it'll keep her hair healthy and shiny for days, maybe even weeks. —Jane Larkworthy
An Eye-Shadow Palette to Give Your Friends
One of my favorite past times is watching Instagram time lapses of Pat McGrath's beautiful eye shadows being applied to close-up shots of strangers' beautiful eyes. This palette is packed with ten of those glittery, high-shine, and shimmery shadows in the toasty, cinnamon-adjacent shades you gravitate toward when the weather outside gets frightful. And, like all of Mother Makeup's luxurious palettes, this one looks so good it doesn't even need gift-wrapping. —Erica Smith
The Best Way to Fake a Good Night's Sleep
I am too lazy and forgetful to wash off a mask. All it takes is one call to my mom, one engrossing group text chain sharing photos of poufs, or one episode of Succession for me to space out and then realize I've left the mask on for twice the recommended time. I think the founders of Summer Fridays understand, which is why they created this leave-on mask with big, instantly gratifying benefits like brighter, glowy, less-tired-looking skin. One of my colleagues called it "a small miracle." And you can only buy it at Sephora or Summer Fridays own brand site, so it makes sense to try it now. —Kathleen Hou
A Fun Fragrance Tester Kit
If I ruled the world, every fragrance brand would have a starter discovery set. Testing a bunch of scents at a store — where they're competing with each other and plenty of olfactory distractions — is no way to really test drive a new fragrance. This newish brand, straight from London, takes classic notes then electrifies them with an element of surprise. Case in point: Ylang Ylang Espresso. Someone who loves scent in a slightly unorthodox way really needs this gift. —Jane Larkworthy
A Groundbreaking Hair Dryer
Photo: Courtesy the vendor
There's no time like the present (during a limited-time sale, on the cusp of the stressful holiday season, at the end of a harrowing year) to finally gift yourself the world's coolest hair dryer. Thanks to its intelligent heat control, lightweight build, and soothing sound, you can confidently file this splurge as a long-term investment in the health of your hair, wrists, and ears. (The gorgeous red case filled with magnetic styling attachments doesn't hurt either.) —Erica Smith
The Most Glow-Inducing Moisturizer
Some people think looking glowy is a competition and they want to win. If that sounds like you, then you'll need this, the Bill Belichick of moisturizers. It's that rare skin-care product that makes you look radiant without any makeup. Every friend I've suggested this product to texts me later with the equivalent of a "Whoa," often expressed in raindrop emojis. —Kathleen Hou
A Set of Supersoft Makeup Brushes
A makeup brush is like a crisp, white shirt. You don't think much about replacing it, even when it's starting to show signs of fraying. But then you do, and you're so happy. Now, multiply that by five! The handles of these makeup brushes are designed to mimic how your fingers move across your face. I'm not sure I agree with that, but the hairs are supersoft, a tactile joy. Their matte-black design is so chic, you might resist wanting to actually use them, so ask Santa to throw in the brand's Cleansing Pad, too. —Jane Larkworthy
If you buy something through our links, New York may earn an affiliate commission.