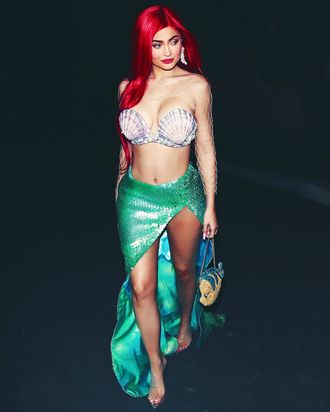 Photo: THEREALSPW/SplashNews.com
Based on anecdotal evidence gleaned from finally leaving my apartment in the evenings over the past week, I remain confused as to when Halloween is and, moreover, when it is not. Last night, a Wednesday and technically October 30, I was genuinely scared multiple times on the subway platform as I did not expect to see my fellow passengers encased head to toe in theme-park-style fast-food-item and Miyazaki-character costumes.
The celebs, however, are clearly aware that, as my editor put it, "we are trapped in a garden of earthly delights." Certainly we are. Here are the best (not quite) Halloween costumes of the holiday season.
Kylie, not merely content to dress her daughter Stormi as herself, has been celebrating Halloween pretty much nonstop, so far as a Playboy bunny and The Little Mermaid's Ariel. But nothing, NOTHING can scrub the image of her in Handmaid's Tale chic from my sputtering brain.
Ariana Grande has entered the fray with a face-meltingly good look. The pop star's costume is inspired by an episode of The Twilight Zone from the '60s called "Eye of the Beholder," specifically a character who undergoes a series of plastic-surgery procedures in order to look "normal" … and winds up terrifying her millions of Instagram fans instead.
Ciara and husband Russell Wilson went as Beyoncé and Jay-Z. Ciara's imitation of Bey is strong, but what really pulls the look together, for me, is her inundating us with photos of the same outfit from different angles, all decidedly fierce.
Normani did right by Naomi Campbell circa 1991.
LeBron James makes a strong case for winning Halloween. It's all in the details.
"I object!" —Kim Kardashian West, future lawyer.
Cardi B dressed as Batman villain Poison Ivy.
Lizzo took a DNA test — turns out, she really is 100 percent that bitch.
Kourtney Kardashian: a cowgirl? Dolly Parton–inspired?
Khloé Kardashian had an elaborate Cruella de Vil costume. (True went as a Dalmatian.)
Hailey Baldwin won't let the critics who accuse her of being a "fake Christian" for celebrating Halloween get in the way of her dressing up as Lola from Looney Tunes.
Bella Hadid went with a classic: Catwoman.
May this video of Gigi Hadid showing off her flawlessly executed costume — Jim Carrey from The Mask — give you the energy to push through this final Halloween weekend, after which we can hopefully return to our normal lives.
This post has been updated.