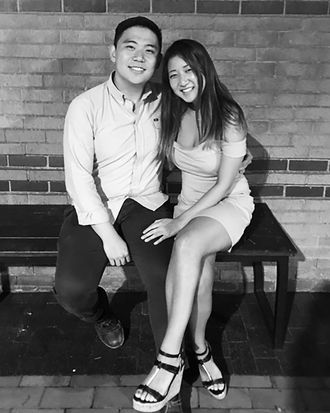 Alexander Urtula and Inyoung You.
Photo: Suffolk County District Attorney's Office
Two years after Michelle Carter was convicted for sending text messages urging her suicidal boyfriend to kill himself, Massachusetts has another texting-suicide case on its hands. In late October, former Boston College student Inyoung You was charged with involuntary manslaughter in connection with the death of her boyfriend, Alexander Urtula, who officials say took his life after You repeatedly urged him to kill himself. When announcing the indictment last month, Suffolk District Attorney Rachael Rollins said that You's behavior was "wanton and reckless and resulted in overwhelming Mr. Urtula's will to live." But You contests this statement: She says that she tried to stop Urtula from killing himself, and has made public text messages that corroborate this claim. On November 22, she pleaded not guilty to the charges against her.
Here's everything we know about the latest texting-suicide case.
Inyoung You is facing charges in connection with the suicide of her boyfriend.
On October 28, Rollins announced at a press conference that Inyoung You, a 21-year-old from South Korea, had been charged with involuntary manslaughter in connection with the May suicide of 22-year-old Alexander Urtula. According to prosecutors, You and Urtula dated for 18 months, during which time You "made demands and threats," exercising "total control" over him. On May 20, just an hour and a half before Urtula was to graduate from Boston College, he jumped to his death from a parking garage. Authorities believe You was with Urtula at the time of his death.
Following Urtula's death, Joy Moore, the interim vice president for student affairs, sent a letter to students informing them of the tragedy, calling Urtula a "gifted student who was involved in many activities." Per the letter, Urtula was studying biology and had been working as a researcher in a New York hospital; he also was involved in the school's Philippine Society.
"While today is a day for celebration, we ask you to take a moment to remember Alexander, his family, and friends in your prayers during this most difficult time," the letter reads.
Officials say You was "physically, verbally, and psychologically abusive" toward Urtula.
At the indictment, Rollins said that You was "physically, verbally, and psychologically abusive" toward Urtula — and that You only became "more powerful and more demeaning" leading up to Urtula's eventual suicide. Per prosecutors, in the two months prior to Urtula's death, You sent him 47,000 text messages, repeatedly telling Urtula to "go kill himself" and that "the world would be better off without him." And prosecutors allege that You was aware of her influence over Urtula: They say that she knew about his "spiraling depression and suicidal thoughts," but that she paid them no attention. However, You has contested this statement, along with many other arguments the prosecutors have made.
You claims she tried to stop Urtula from taking his life.
On November 22, You pleaded not guilty to involuntary manslaughter, CBS affiliate WBZ 4 reports.
In the weeks after You was indicted, outlets were unable to reach her or her counsel for comment on the charges against her. Earlier this week, though, a public relations firm representing You released the last text messages she and Urtula exchanged before his death. In the messages, first reported by the Boston Globe, You repeatedly asked Urtula for his location.
"who'd u run into or talk to? whose room did u go to? hello," she wrote in one message. In response, Urtula responded, "I'm not talking to anyone. I won't ever again. I'm happy I got to spend my last night with you. I love you inyoung until my last breath."
Upon receiving this message and others that suggest Urtula was about to do something drastic, You's texts became increasingly panicked.
"ALEX. WHAT SRE YOU FUCKING DOING. IF U FUCKING LOVE ME STOP. IF U EVER FUCKING LOVED ME STOP," You replied. She went on to text him repeatedly, receiving no response.
The case has drawn comparisons to the one involving Michelle Carter.
The cases do bear a resemblance to one another: In 2017, Carter was convicted of involuntary manslaughter for sending her depressed boyfriend hundreds of text messages encouraging him to commit suicide. In fact, Rollins addressed the similarities in the October 28 press conference, though she argued that the evidence against You is much more damning.
"I think the facts will show in Carter there was very limited physical contact prior and some very egregious language in the instance or moments leading up to the death," she said. "We have quite frankly, I would say the opposite of that. We have a barrage of a complete and utter attack on this man's very will and conscience and psyche by an individual to the tune of 47,000 text messages in the two months leading up."
You's scheduled trial date isn't for another year.
At You's arraignment on November 22, her bail was set for $5,000; if she makes bail, she will be forced to surrender her passport. (You lives in South Korea.) But she won't be going to trial anytime soon. According to a local CBS affiliate, You's trial date was set for November 2020.
This post has been updated.