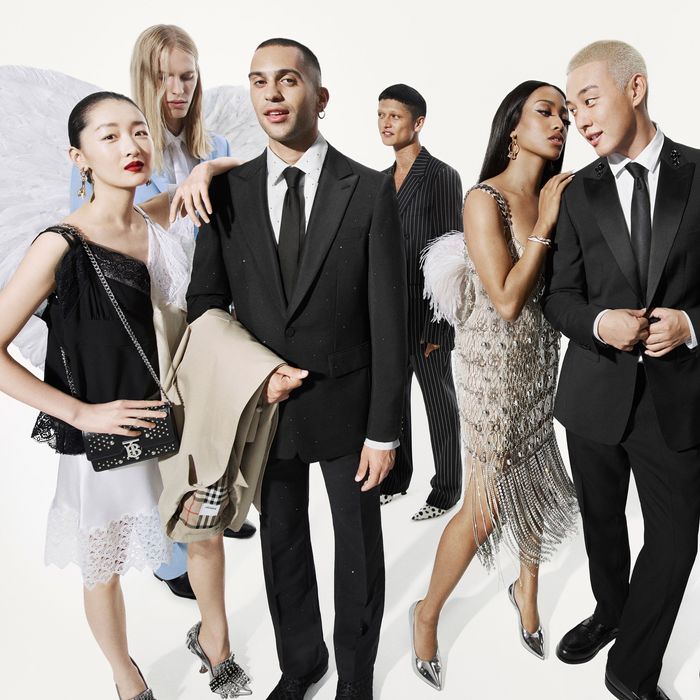 Photo: Courtesy of Burberry/Mert Alas and Marcus Piggott
It's almost Thanksgiving, and in my world that means hanging on a couch in elastic-waistband pants. Same goes for the entire month of December. But if you're in Burberry's world — the world they constructed for their festive campaign this year — it means something a little different. It means wearing a white silk dress to go and see Santa, and you are Carla Bruni in this scenario.
The festive campaign is Riccardo Tisci's first for Burberry, and also the first shot by iconic photography duo Mert Alas and Marcus Piggott. It stars Bruni, along with a host of brand ambassadors including Sasha Pivovarova, Italian singer Mahmood, and Ikram Abdi Omar. It centers around the question, "What is love?" Deee-lite's song of the same name scores the video.
"This for me is the real spirit of the season," Riccardo said in a statement. "It's one of my favorite times of the year — when I can stop, reflect, and reconnect with those who make me feel happy and at home, no matter where I am in the world." Watch the full video below, complete with Bruni, Santas, a guy dressed like Mr. Tumnus, and more.