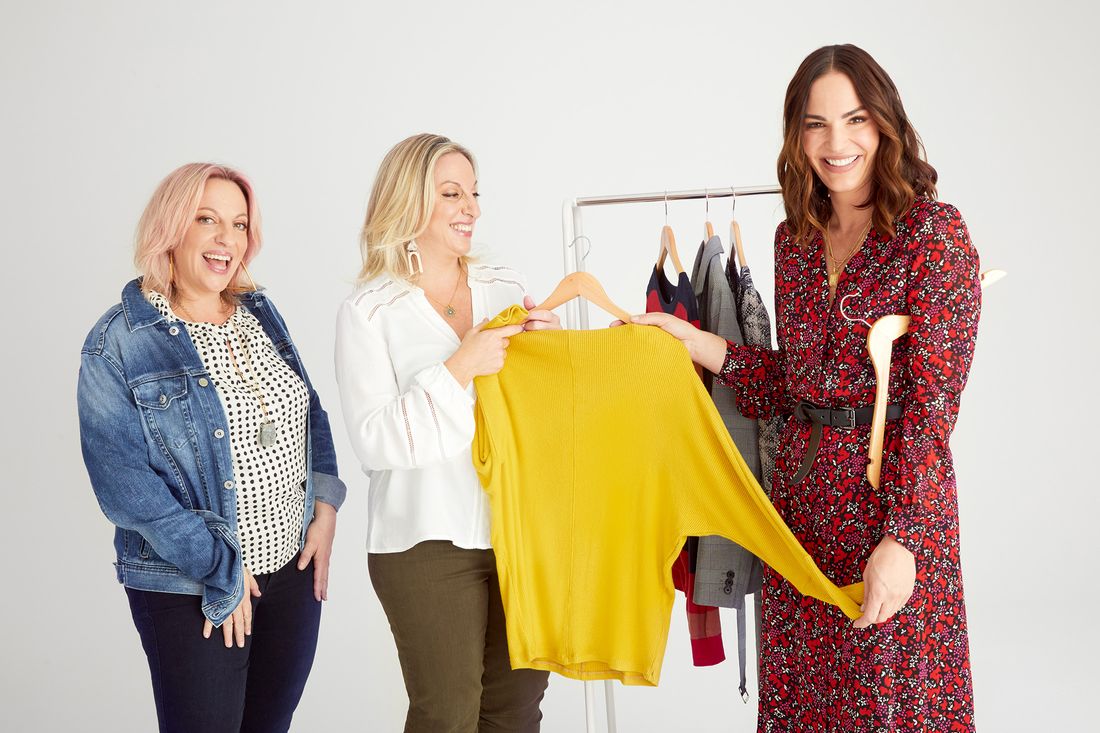 Tali Edut (left) and Ophira Edut (center), known as The AstroTwins, get dressed by Stitch Fix stylist Layne Cross.
Photo: Tory Rust
At this point it's no secret that astrology is having a moment — and not just among the crystal-charging New Age set. (Just try asking a room full of cool, creative women how their Mercury retrograde is going, and watch what happens.) Smart, powerful women are increasingly turning to astrology to gain deeper insight into themselves, and to help guide their most important choices. It's also no secret that, like fashion, beauty, and other traditionally feminine modes of empowerment and expression, astrology is routinely under-estimated as trivial or hopelessly woo-woo.
But if some still have their doubts about astrology, there's definitely no underestimating the movement Tali and Ophira Edut are building. As The AstroTwins, the identical twin sisters have grown a fanatical following among millennial women for their insightful astrological readings and irreverent social media presence. And their personal coaching sessions are the secret engine that powers many big-name executives and celebrities. Together, they've helped change the narrative on astrology, taking it out of the realm of the dusty and arcane, and making it more stylish, more relevant, and a lightning rod for women's potential and power.
It's that mission to connect women with their full potential that The AstroTwins share with Layne Cross. As a lead stylist at Stitch Fix, the personal styling service for everyone, Cross hand-curates the clothing, shoes, and accessories that help her clients meet every part of their lives with confidence. Recently, Cross gave Tali and Ophira a firsthand glimpse of that transformative power with a styling session so good, it made one of the twins a little emotional (the perfect pair of jeans will do that to you). Read on as the three talk about how they use style and the stars to evolve toward their best selves — and how they help others do it, too.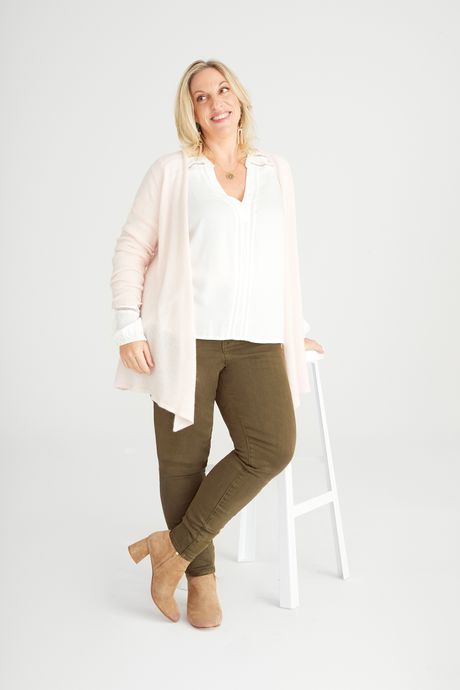 Layne: I'm so interested in what you do, not just as astrologers, but as life coaches. How did those worlds come together for you?
Tali: There's so much one-size-fits-all advice out there, but astrology is both personalized, yet general enough that you don't feel bad for being a certain way. It's a tool you can use to inform yourself about who you are, your strengths, and how to best approach your challenges.
Ophira: Astrology is a framework of how you exist in the world, and gives you permission to be who you are. Once you feel grounded in yourself, and have some tools to guide your decisions, that's where the confidence really comes from.
Layne: How have you seen your clients' lives evolve as a result of your coaching?
Ophira: We do a lot of work with executives, using their charts to identify their archetypes — the strengths they can play to, pitfalls to avoid. From that, we're able to give them very powerful advice where they need it most. We give so many business people, especially women, guidance on everything from leading a team, to personal branding, to learning not to spread yourself too thin, timing a career or family move — all those areas that are so impactful.
Layne: At Stitch Fix, we help people find confidence through style, and we see how that change can bring a 360-degree magic to your life. What's the link for you between confidence and style?
Tali: They're so closely linked for me — when I don't love what I'm wearing, it's hard to feel good. A lot of people dress by mood or energy, but your chart plays a role, too. Everyone's sun sign rules their outward expression. So as a Sagittarius, I tend to like something a little edgy or out-there. You can also pay attention to your Venus placement, since Venus rules your sense of beauty and aesthetics. A Venus water sign might like to wear something a little gauzy or ethereal, while an earth sign might feel great in a neutral color palette, creams, or tans.
Layne: As a stylist, I think a lot about that personalization and meeting people where they are, and giving something that fits not just their body, but their style. 
Ophira: I think there's a lot of intuition in what you do, too, because it's not always easy to get the fit and style right! Like the shirt you picked for me had that edgy-boho vibe, and the pants are this great cut and olive green color I always feel drawn to, but maybe wouldn't have actually tried without that little nudge.
Tali: For me the jeans were the amazing part of this. I'm that person who hates trying on jeans, I find it so dispiriting. You can scroll forever, or try on a hundred pairs and never find the right ones! So to have you just deliver me this pair that feels amazing, that fits my curves just right — I actually had a little emotional moment!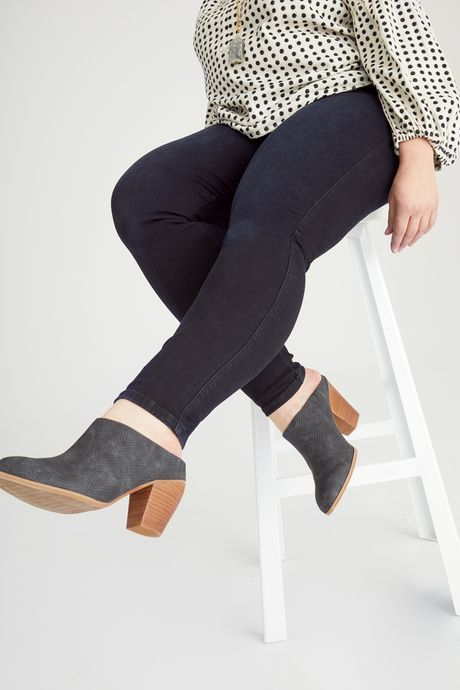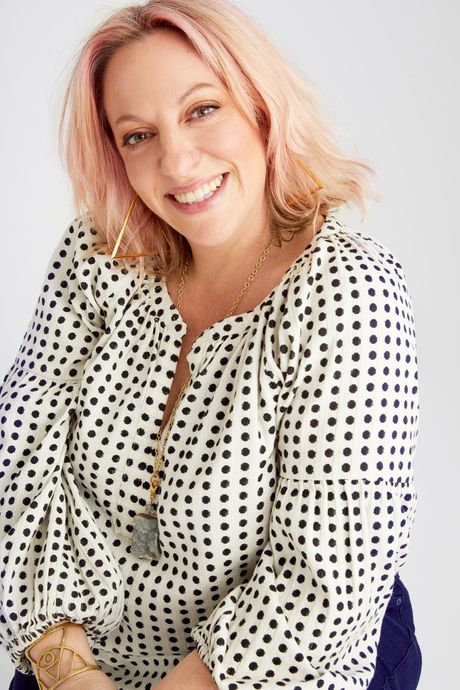 Layne: What are some of the most powerful influences in people's charts?
Ophira: Everyone should look up their north and south lunar nodes [Ed. note: You can do so here] The south node is your comfort zone — an area where you feel very competent, where you tend to get praise, but it feels flat because it's the easy road. There's no challenge for you there.
Tali: Your North node is your destiny point, an area of life where you feel a little out of your depth; there's a learning curve, but it's hugely rewarding if you can get comfortable there. For us, our south node is in Cancer, so we feel very comfortable with feminine energy, nurturing. Our north node is in Capricorn — which rules masculine energy, the world of business and entrepreneurs. Obviously for us as we build our business, we think about marrying those two sides of ourselves, and it's extremely powerful when they come together. Many women find their lives opening up when they begin to build competency in their north node — I call it the zone of miracles.
Layne: I love that. As a stylist I always aim to help clients take that next leap that makes them feel like a better version of themselves, not something totally unfamiliar.
Tali: Fashion and astrology are both these codes to the world that help you express and present yourself the way you want, whether to other people, to yourself, or within your career.
Ophira: And it's true that fashion and astrology are both undervalued in the world, but we actually don't mind that. We do have an increasing number of male clients, but there is something about fashion and astrology that women especially seem drawn to, and it's something we bond over and draw power from. We hope the patriarchy never figures it out!
Inspired to give your wardrobe a refresh? Experience convenient and accessible personal styling now:
This is paid content produced for an advertiser by New York Stories. The editorial staff of The Cut did not play a role in its creation.