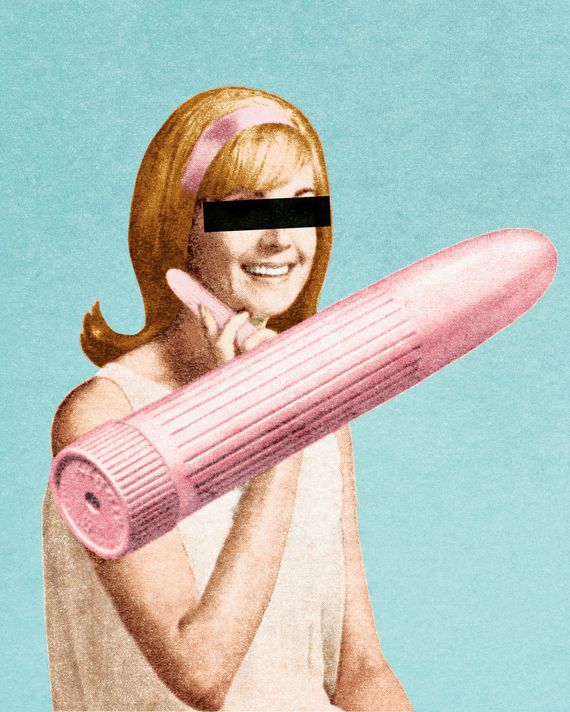 Photo: CSA-Printstock/Getty Images
I had gone to our town's sex shop several times, usually accompanying a friend who was too embarrassed to go alone. The last time I'd been to Fascinations, I'd proudly led a group of my friends through the aisles, searching for a gift for our friend Casey to celebrate her eighteenth birthday. Everyone assumed I knew everything about sex toys, and I played along, recommending vibrators I knew nothing about. Truth be told, aside from a pack of novelty penis straws, I had never purchased anything at a sex shop. But I was about to be the hottest girl on the internet. I had to have the best toys, and I had to know how to use them. This was the chance to redeem myself.
I entered the store, grabbed a basket, and in true awkward fashion, began throwing things in without more than a cursory glance. Butt plugs? Get the pink ones. Dildos? The more the merrier. This weird thing that looks like an alien dick? Add it to the pile. I was doing it. I was buying sex toys! Within ten minutes, my basket was overflowing, and a pair of nipple clamps hung out of the bottom like a dragging leash. A customer gave me a sideways glance.
Yeah, I'm the girl buying all the dildos. Jealous?
The checkout guy at the counter gave me a look.
"You know you got two of these, right?" He held up a small silver vibrator that looked more like a meat thermometer than a sex toy.
"That was intentional," I lied.
"Do you want to join our frequent shopper club? You'll earn a lot of points for…all of this." He waited with his fingers on the keyboard
"Hell yeah I do," I blurted out. I winked at him. Fuck. Why did I do that?
He raised his eyebrows and hit a button on the computer. "What's your last name?"
"What?"
"For your account. Your last name?"
"Oh," I hesitated. "That's okay. Thanks."
"So you don't want to join?"
"Uh, no."
He let out a breath. Oh God please let this be over.
"Okay that'll be…" He whistled. "$941.23."
Oops. That was more than I wanted to spend. I glanced at his face. Well, I couldn't really put anything back now, could I? I charged it to my shiny new Business Visa, grabbed my bags, and ran out, vowing never to return.
When I got home, I dragged the black bags of toys into my room and dumped them next to the pile of blankets and colored pillows. I spent forty minutes watching YouTube tutorials on how to make my bed look as crisp as a bed in a hotel, pulling the sheets tight and folding the edges of the pillow cases. I hung dark, heavy curtains on all the windows, both to block the sunlight and because I didn't want my neighbors to hear the weird sounds of my vibrating alien dildos.
I turned on my lamps and draped colored scarves over the shades like I had seen sex workers do on TV. I laid out my newly purchased and freshly washed toys on a dark blue towel, lit candles, and poured my Starbucks into a gold-rimmed mug. I put my lube in a gold-flecked soap dispenser, and Purell hand sanitizer in its silver-flecked twin.
I chose a Wednesday night for my premiere. Wednesday was best because camsites are busy, but not so busy that if I horribly embarrassed myself, I wouldn't be able to pop back up a day later and recover. Wednesday is a good day to take risks.
I knelt on my bed and turned on my computer. I scrolled through other girls on Jasmin one more time. They glowed, perfect and sophisticated, sitting in nicely furnished rooms with polished bodies. Purple Vixen drank whiskey and listened to jazz. Lulu twirled slowly in front of a mirror. They were confident, self-assured, sensual.
So was I.
I turned on Kesha while I fixed my hair and makeup. I thought about winter break my senior year of high school, when a bunch of friends and I had rented a cabin in the mountains. Late in the night, in the basement of the cabin, I had stripped off my shirt, strutting around the room in my bra while two boys chased me with ropes to tether me to a pole. The two boys, eyes thirsty, pinned my arms back as other boys stared. All the other girls were ignored, on the sidelines, unless they chose to kiss me, to participate in my game. I remembered Amanda coming over to kiss me, giggling shyly, her mouth on mine while my eyes locked on Sam's across the room. That feeling of power, surveying my domain, a domain I held in check with my breasts and my lips and my eyes.
I turned up Kesha. Tik Tok, bitches. Time to shine. I adjusted my boobs and took a breath. I didn't have a plan, but I didn't need a plan. I just needed sustained eye contact and a probing question. I gulped an undignified swig of coffee and accidentally spilled some down my stomach. Good thing it was bare.
I hit "broadcast."
What happened next was…nothing. My video stream went live and my chat room remained empty. I knew from my research that when a new girl starts on a site she can expect to have somewhere between five to ten people filter in and out of her room. If she's good, and doing something fun, maybe a dozen or so would stay and watch. But I was different. Men loved me, remember? Where were my worshipping fans?
A few viewers came and went, and I tried to engage them in conversation. Their usernames popped up on a list on the right side of my screen, then vanished as they clicked away. I babbled, calling out the usernames of everyone who popped up in the chat room, even if they only stayed for a second. "Hey, Scissor Watcher! Hey…Mevlin? Melvin?" I felt like a failing street performer: "I promise! I'm doing something cool! Just don't leave!"
There I was, uncomfortably talking to xFloridaMAN5 about why I thought Florida was probably better than California (I'd never been to Florida), and was he actually from Florida or did he just really like Florida, and did that stem from something in his childhood, when the screen flashed, "YOU ARE NOW IN A PRIVATE CHAT WITH iNTERESTEDparty."
Oh fuck.
A private chat is basically the same as a public chat, except it's just the camgirl and one other person. They're the only one sending messages, and they're the only one who can see her video feed, unless someone pays an additional fee to spy on it. In privates, users don't normally have their webcams on, but occasionally they'll turn them on to flash their dick or very rarely a glimpse of their face.
Often, viewers who do privates don't want anything sexual. I paid Purple Vixen to "voyeur" on her privates, and I had spied on one where she watched her client play Rock Band for six hours. Of course, she was the only one who could see him, and I watched her eyes remain riveted to a point just below her webcam.
"Oh wow, you're playing so fast!" She shimmied, her eyes unmoving while her body jiggled.
"Bonus points!"
"What song are you going to play next?"
She did this for six hours.
In my chat room, I was trying to get to know my first viewer.
iNTERESTEDparty: I have a pool, but I hate it.




iNTERESTEDparty: Do you like pools? They're so expensive.
There I was, decked out in lingerie, my room all brotheled- out, and this dude wanted to talk about pool maintenance. Like the Rock Band guy, iNTERESTEDparty wasn't interested in sex. He wanted to talk. Just talk. And so I proceeded with what would become the twenty most boring minutes of my camming career.
We talked about pools. Like, did I know how many different filters there are, and they all cost so much, and he didn't even want a pool but his wife made him get one, and chlorine is actually really bad for your skin, and did I know you never end up swimming as much as you thought you would?
Oh, I knew. I knew this wasn't exactly what I had imagined doing when I signed up to be an Internet slut. I was telling him about the time I took a baby octopus out of the ocean and kept it as a pet in a hotel pool, which I thought was an adorable story, but I guess was actually dumb because suddenly he ended the private show, and I was thrown back into public chat midsentence.
It was jarring. Had he run out of money? The site linked directly to a viewer's credit card so it seemed unlikely. Had he been jerking off…and finished? To me talking about pool filters and dead baby octopi?
I checked my cash balance.
Sixty-three dollars. Not bad.
I felt weird.
I began saying hello to the room again, calling out the random usernames of passersby. They popped up on a list in dark red, blinking away almost as fast as they appeared. I wondered what they were thinking as they clicked past me: not hot enough, ugly hair, too young, too much of an octopus murderer…
Then without warning, whoosh, I was sucked into another private with randomperv1.
"Oh hey, Perv. I like your name." I smiled and bit my lip. "Tell me something about yourself ?"
Randomperv1: you got butt plugs?
Of course I did. I had a whole freaking array of butt plugs in various sizes. And they were pink. Gorgeous. What size did he want?
As I displayed my assorted plugs, I suddenly worried that he might pick one of the big ones. I backpedaled. "Let's start small and work our way up, shall we?"
Genius. Now I'd have him on the hook longer. I was so good at this! I winked in what I thought was a sexy way, then quickly deposited lube onto the smallest plug.
Randomperv1: get it in there.
I got in tabletop position and contemplated turning around. "Shall I turn around? How do you want me?"
He stayed silent, so I kept my face to him and tried to pull my underwear down. Oh fuck. I had hooked my garter belt over my underwear so now it wouldn't come off unless I undid all four hooks and took off the entire thing. Sigh. Rookie mistake. This is what happens when you have never worn underwear fancier than cotton briefs from The Gap.
I crouched there, trying to figure out how to operate my lingerie, when I realized I could insert the plug without even taking off my panties. I waved the plug in front of the camera in what I thought was a sensual manner, and then I turned around and bared my ass. Oh God, was this even hot? I had never put anything in my butt before. I hoped it wouldn't hurt.
"Okay, here goes."
Suddenly, the screen blinked. Randomperv1 had left the building. I sat back on my knees, holding the lubed-up plug like a confused kid who'd just knocked the ice cream off their cone.
The rest of the night was more or less the same. Viewers (who I naively assumed were all men) clicked in, said a few words, requested something, then left without a goodbye, often while I was still in the middle of completing said request. No one asked for anything more sexually explicit than the butt plug guy, except one viewer who asked to see my tits and then clicked away while I was still unhooking my bra. Another asked me to shove "the biggest dildo I had" in my mouth, and when I proudly displayed my collection to him, he quit the private too.
I signed off after a couple of hours. I ran a bath and sat in the tub. I felt gross. I held my hands under the running water. They were slippery from the lube. I felt tears coming. I was a failure. My research had promised fame and riches, and all I got was $171 and a greasy butt plug. Why had no one come to my show? Why did no one give a fuck about me? No one even wanted to tell me their secrets. I must be doing it wrong.
I got out of the bath and sat on my bed. I opened my laptop and went to Queen Molly's show on MyFreeCams.com. She was spinning a wheel full of prizes and laughing. Sure, she wasn't getting paid by the minute like the girls on Jasmin, but she earned tips. She was having real conversations with her viewers. They were saying hello and goodbye and doing other human things. She blatantly refused some requests and acquiesced to others. She bossed her viewers around. She asked them for money, for jokes, for gifts. And they happily obliged. She flirted with the camera.
Oh right. That was the key difference. Molly was the fucking boss. She had the control. On Jasmin, men started and stopped the show: they had all the power. On Jasmin, I was a body men paid for by the minute. On MyFreeCams, viewers watched for free and tipped when they wanted. But Molly called the shots. She said who, she said when, she said how much.
Why was I letting these men have all the control?
Excerpted from Camgirl by Isa Mazzei. Published by Rare Bird Books. Copyright @ 2019 by Isabella Mazzei.