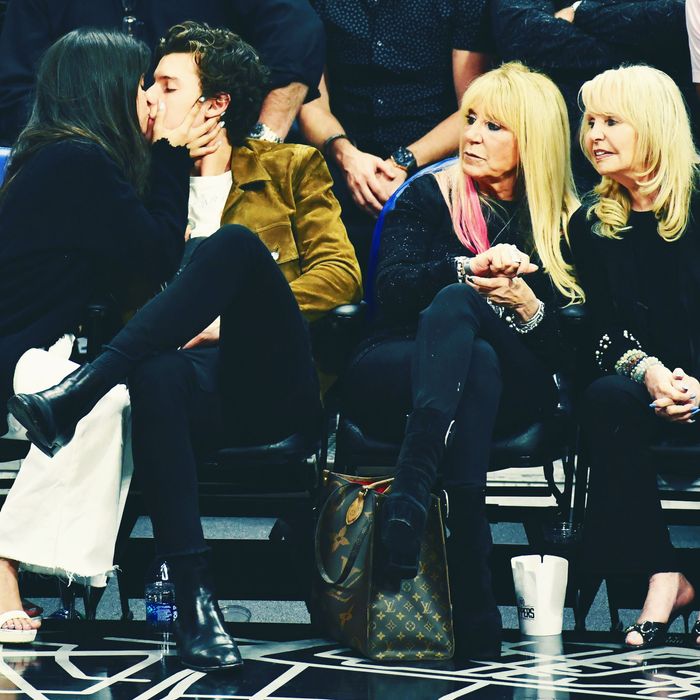 Photo: Allen Berezovsky/Getty Images
The tried-and-true celebrity rite of passage that is the courtside kiss is a beautiful, primal thing. It is a display of pure, unfettered carnal desire, a thirst for attention matched in intensity only by the sheer discomfort of those who find themselves in the kissing's immediate orbit.
Observe: Shawn Mendes and Camila Cabello at a Clipper's game [basketball, Los Angeles] last night.
These two have been dating for a while now, and engaging in incessant public displays of affection lest anyone forget it. (Most memorably, after being accused of kissing poorly — specifically "like fish" — they posted an extremely moist video of themselves making out on Instagram.) Yet no medium has the power to make people say, "Wow, look at them, they are kissing," like giving each other full-on romantic CPR while sitting next to two skeptical sports fans, who seem to be thinking, understandably, "Hm."
Compared to, say, last year's rink-side makeout between short-lived lovers Pete Davidson and Kate Beckinsale, Mendes and Cabello's display wasn't as graphic as it could have been. But it nonetheless did its job: putting to rest any questions about whether or not they're really dating, or whether or not they know how to kiss. The pair offered multiple angles, lip bites, hand and near-butt holding as if they had received special-ops training.
Nothing says, "Check out this natural and organic kissing" like locking eyes with a photographer with your lips on your partner's hand.
Sometimes it's good to keep yours eyes open to make sure people are watching.
Thinkin' 'bout kissing!!!
A job done right.