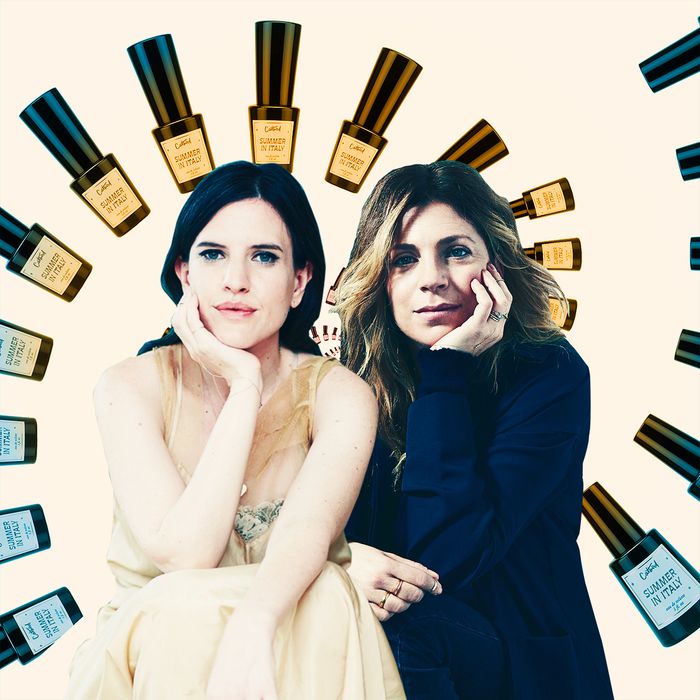 Leigh Plessner and Rony Vardi of Catbird.
Photo: Courtesy of Catbird
Scientific studies confirm that, of all the senses, smell offers the best recall. In Scent Memories, the Cut asks people about the scents they associate with different times in their lives.
Next up are Catbird founder Rony Vardi and co-creative director Leigh Plessner. The dreamy Brooklyn jewlery boutique is a destination for delicate handmade pieces, magical beauty finds, and now, personal fragrances. The brand just launched four debut spritzes modeled after their four best-selling candles; Ghost Rose, Kitten, Tarot Deck, and Summer in Italy. Each scent has been distilled into non-aerosol, water perfume form, blended and bottled upstate, and is shoppable online and in-store at their Bedford Ave. location and new Manhattan outpost. The Cut caught up with Vardi and Plessner before the launch to talk breakfast foods, baths, and ginkgo trees.
My first scent memory is: 
Leigh Plessner: Low tide. I grew up on Long Island, by the bay, right by the ocean, so it's a briny smell that is sort of beautiful and sort of … not. [laughs]
Rony Vardi: When I was little, we lived in Israel, so my earliest scent memory is the ocean mixed with diesel fumes.
Happiness smells like:
RV: A warm head of dirty hair. Like when I put my face in my kids' hair when they haven't washed it for a while, especially when it's warmed by the sun. That's the greatest smell to me.
LP: The beach, when you're deep in the day and you've gotten yourself really calm.
Love smells like:
LP: Kiehl's musk and burnt toast.
RV: Cooked oatmeal, which is what I make my kids in the morning.
Friendship smells like:
RV: Old leaves in Prospect Park.
LP: Black Orchid by Tom Ford and scotch. I started wearing Black Orchid after one of my best friends wore it. I knicked it from her. I think I have a heavy hand with perfume, and I like to hug my friends, so they always end up smelling like my Black Orchid. One time, my friend's husband came to Catbird to buy her a surprise gift, and she knew what he had been up to because he smelled like my perfume.
Heartbreak or loss smell like: 
RV: The inside of a car. I'm not giving an explanation because that's just an emotive response of what it smells like to me. It's just a gut reaction.
LP: Wet grass in June. That was the time of year that my mom died, but then my daughter was born in that same time of year. So that scent got to have a whole new meaning for me.
Success smells like:
RV: When I come home from work, my kids always hug me and tell me I smell like Catbird, and it's not one particular Catbird scent, it's the whole shebang, so there's something really nice there.
LP: Similar to happiness on the beach. Really calm, like you're on a crowded New York or New Jersey beach, but you're able to find total peace and stillness.
Regret smells like: 
LP: A boozy, sweaty morning.
RV: Cigarette smell in my hair or on my sweater. I've always wanted to be a cigarette-smoker and I never was, so that smell is a mix of maybe the night went a little bit too long, but also my regret of never really becoming a smoker. Maybe as a retirement goal. When I retire, I will finally make picture albums with my kids and start smoking cigarettes [laughs].
The worst smell is: 
RV: The ginkgo trees in the fall is really bad. I know that sounds like it'd be good, but it's really bad.
LP: Fish. Because I have a fish phobia, even though I love the beach. I was on the beach with my mom when I was little, and she was holding my baby brother, and there was a fish flopping on the shore, and she was like "Go get it! Go get it! It's going to die!" And it did die, and I've been scarred ever since.
Vacation smells like:
RV: Fire Island, which is roses, ocean, a little bit of sea salt on a ferry, and some suntan lotion.
LP: A hotel spa, very cold white wine and french fries, and the winter.
Monday morning smells like: 
RV: Coffee, the subway station near my house, asphalt, and sometimes, unfortunately, it smells like the Gowanus canal, which is one of the worst smells.
LP: Coffee, toasting Russ and Daughters bagels in our work kitchen, and the smell of whatever I'm making in the morning for my daughter's lunch.
My home smells:
LP: Clean, because my husband and our 2-year-old love cleaning. It also smells like a little bit of incense, our Ghost Rose candle, and I have those Diptyque Baies tablets in the closet. It also smells like air conditioning because my husband loves air conditioning.
RV: My home smells like winter, because similarly, my husband keeps our house freezing with our windows open. But we do have a fireplace so there's that. It smells like a rice cooker because there's often rice cooking, which is a great smell. It smells like our Our Neighbor's Fig Tree candle, because that's one of my favorites, and we have three cats, so, depending on how on top of things we are, not awesome.
If I could have one smell on my hands forever, it would be: 
LP: The smell of my daughter. Whatever she's smelling like, whenever.
RV: Orange blossom, which also smells like vacation, and also like my childhood in some ways, and also like our Summer in Italy scent.
I smell like: 
RV: Apparently, Catbird, according to everyone I know, which is a mix of all our scents together.
LP: Portrait of a Lady, our Ghost Rose, and traces of Youth Dew bath oil because I love a Youth Dew bath. And also I smell kind of like ripe armpits because I just do, no matter what [laughs].
If you buy something through our links, New York may earn an affiliate commission.