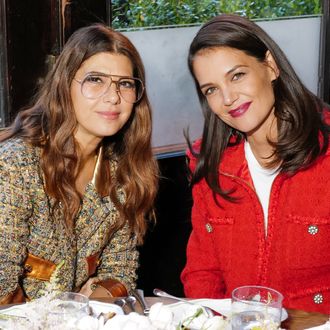 Marisa Tomei and Katie Holmes.
Photo: David X Prutting/BFA.com
"This is a call for action," the CEO of Tribeca Enterprises, Jane Rosenthal, said to a crowd of 100 female film-industry leaders at Locanda Verde Monday afternoon. "We cannot be passive as women storytellers. It is imperative for all of us to raise our voice and use our power to make change."
Her impassioned speech kicked off the luncheon for the 5th Annual Through Her Lens Tribeca Chanel Women's Filmmaker Program. The three-day workshop, in collaboration with Pulse Films, invites ten rising filmmakers to attend master classes and peer-to-peer sessions in efforts to build relationships within the industry and nurture the next generation of female filmmakers. "It is about mentorship," said actor and attendee Glenn Close. "The more producers, the more writers, and the more directors who are open to women, the more we'll be able to do, and the bigger impact it'll make."
Among the younger attendees was Booksmart and Unbelievable actor Kaitlyn Dever, fresh off a red-eye from celebrating Olivia Wilde's Breakthrough Director win at the Hollywood Film Awards. "The incredible thing about Olivia is the way she put her cast together," Dever said, referring to Booksmart. "She didn't say, 'I need a bunch of women on my movie.' She said, 'We need people who are passionate and who are best for the job, and a lot of those people just so happened to be women.' It's about equal opportunity."
Reflecting on her own start in the business, actor Zazie Beetz spoke fondly of her agent, who doubled as a mentor and support system at the start of her whirlwind breakout with series Atlanta and Easy. "It's lovely to connect with and meet other women in the industry," Beetz said. "We've all had different experiences and I just hope that I can impart what I've learned and pass it down."
See who else came out to support women in film in the photos below.