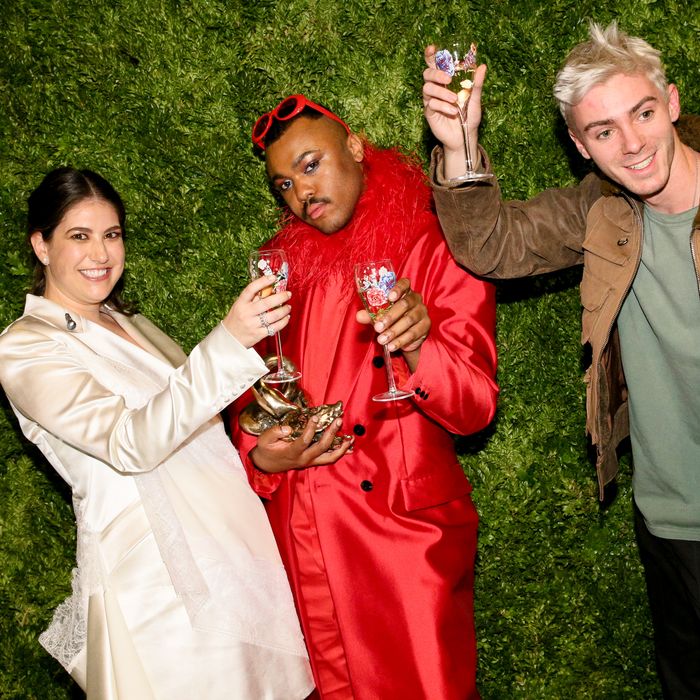 CFDA/
Vogue
Fashion Fund runners-up Danielle Hirsch, left, and Reese Cooper, right, with winner Christopher John Rogers, center.
Photo: Matteo Prandoni/BFA.com
There were no pot pies. Of all the surprises at the CFDA/Vogue Fashion Fund awards ceremony last night, that was the greatest. Every year, the prize dinner — where a cash award (this year, $400,000) is presented to a designer selected by a committee that includes Vogue editors, Council of Fashion Designers of America representatives, and a smattering of designers and industry stalwarts — serves forth Anna Wintour's favorite dish. How many starlets, Vogue-anointed, have picked at how many ramekins of creamed chicken and pastry? The fund has been going since the early aughts. But this year's, attended by Gigi and Bella, Lil Nas X, a very pregnant Ashley Graham, and dozens of American fashion designers, was held at the new Cipriani, in the shadow of the Staten Island Ferry terminal. Pot pie is American cooking for American designers, but Cipriani is Cipriani. Allora, pasta!
To the point: Christopher John Rogers, the Brooklyn-based designer whose clothes have been worn by Michelle Obama, Cardi B, and Lizzo, took the prize. Rogers's designs, which do not stint on color or volume for drama, lean toward evening wear. His shows have been gaining momentum the last few seasons of New York Fashion Week, though his operation seems still to be in its fledgling days. (In September, a Vogue runway reviewer noted that he still worked out of his living room.) As he ascended to the stage, in red coat, top, and trousers, his head emerging from a round of red feathers, with red sunglasses perched on top, he looked every bit the rare bird. "Thank you for trusting this, and me," he said from the stage, "and allowing me to take the next step."
Two runners-up, the bridal designer Danielle Hirsch (of Danielle Frankel) and Reese Cooper, each won $150,000 prizes. "Wow, I did not expect this," Cooper said. "I've said the whole time I thought we got in here sneaking in the back door and I guess it paid off."
The challenge of prizes like the Fund is that money, even in hundred-thousand-dollar increments, goes vanishingly quick. Dinner was attended by more than one designer whose labels had been recognized by the prize over the course of its history, but eventually went out of business. The spotlight shines brightly for a night, but there's always a new crew next year. It has been going on long enough that it is perpetuating itself: Hirsch was not the only designer to mention that she had watched the Fund's former TV show at school, at Parsons. "We used to huddle around the computer," she said.
For all the Instagram-bait of the ten-finalist fashion show after dinner — which included dance numbers, Stomp-ish trash-can drumming, and a live snake — and the cheers that followed Rogers's ultimate win, the Fund celebrates the kingmakers as much as the kings (and queens) made. "But enough about you. I want to talk about Diane," said Anna Wintour from the stage in an introduction, paying tribute to outgoing (now, technically, out-gone) CFDA chairwoman Diane von Furstenberg, who was given an award of her own. "Here I want to celebrate the amazing Diane, who has the kind of cool the rest of us can only aspire to." Wintour herself got a nod from Kerby Jean-Raymond of Pyer Moss, last year's winner, who introduced the fashion show, but not before rallying the assembled to wish her a happy birthday, which had been the day before. "Tonight you guys have an important decision to make," he said. "Who's your favorite Scorpio — me or Anna Wintour?"