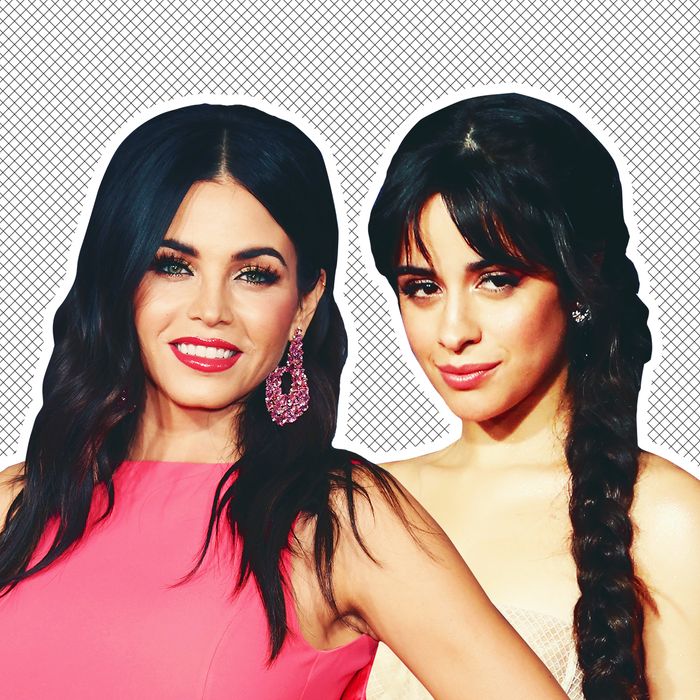 Calling a pop star "extra" is kind of like calling Elon Musk's new truck "currently broken": obvious to everyone. And yet Jenna Dewan was briefly in hot water last night for apparently being guilty of the former.
It happened at the AMAs last night. Us Weekly reports that Camila Cabello and her boyfriend, Shawn Mendes, a couple that approaches casual PDA with the rigor of Olympic athletes, were performing their single "Señorita" at the awards show when the camera panned to a radiantly pregnant Dewan and her stylist-friend Brad Goreski. In this brief moment Dewan seems to say to Goreski about Cabello, "She's always extra," and roll her eyes. The clip generated much fussing on Twitter, including defenders of Dewan who believe she actually said, "She always sounds good."
As she rode away from the AMAs Dewan addressed the gossip item on her Instagram Story, telling fans, "I'm getting a lot of text messages from people wondering if I was shading Camila. No! I love her. I love her so much. I'm such a big fan of hers. I don't understand what that's about but no, I love her, love her, love her." Goreski, also in the car with her, added, "Guys, we were bumping and grinding so hard to 'Señorita.' We're obsessed." Dewan shot back, "That's my favorite song! Anyways, clearing that up. Thank you AMAs. That was so much fun." Of course you can love something and think it's over-the-top.
There you have it, just a great concert with lovable artists where your every thrown-off comment is intensely watched and broadcasted to millions, totally normal and fun and not extra.