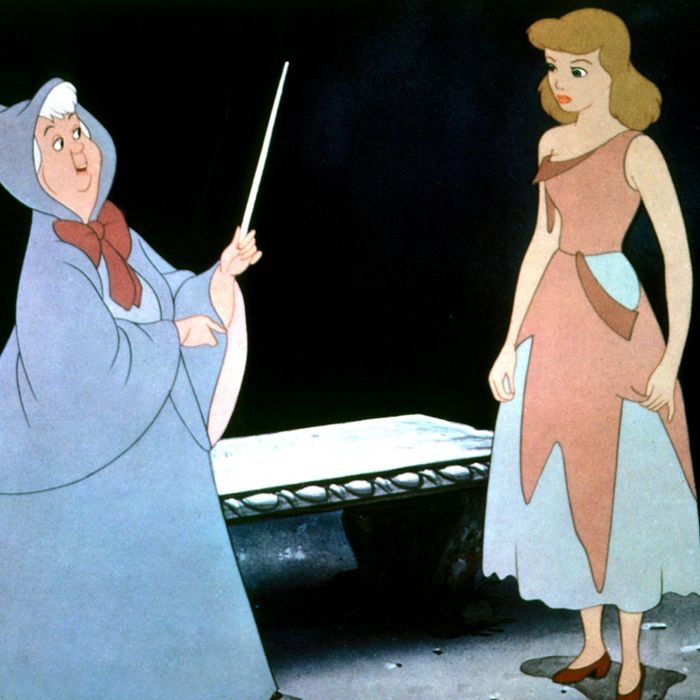 Photo: LMPC via Getty Images
Fall felt like a good time for a makeover. I'd never had one before (has anyone, though, outside of TV and teen movies?). I'd just renewed my lease, grown out an impulsive haircut, and saved some money. I had new goals, fresh thoughts. I also had only about three outfits I felt comfortable wearing to work, and I figured I should add something more Adult or Professional to the mix. Something to signal Elegant Woman on Her Way. In my makeover fantasy, someone would come to my home and give me and my closet a once-over while saying, "No, no, maybe, no, hideous, all wrong, no, yes, maybe, no." Then they'd suggest a whole new look, which they'd have conveniently brought along in a fairy-godmother carpet bag.
Since that doesn't seem to exist, or to exist within my price range, I altered my fantasy: How can I upgrade my current wardrobe? Where do people get reasonable makeovers in 2019?
My colleagues pointed me toward the celebrity stylist Karla Welch's recently launched personal-stylist app Wishi. Welch is a fashion powerhouse known for dressing Justin Bieber, Megan Rapinoe, and Tracee Ellis Ross, among many others. The idea of a stylist made me nervous at first (How would they understand my deep feelings for old sweatshirts?), but then I liked Welch's personal looks and the overall vibe of her lightly weird Instagram account.
Wishi, as I learned, digitally matches you with an actual stylist (vetted by Welch) who selects items for you based on your answers to a multiple-choice quiz and an open-ended personal questionnaire. If you like the items selected, you buy them. If you don't like them, you don't. It's all online and can be done entirely from your own home (or office). It's similar to Stitch Fix, but nothing gets sent, and it's all digital.
I figured a personal stylist experience might require lots of back-and-forth, but my part of the "makeover" took only about 20 minutes: I filled out the first quiz (selecting "Hell no," "Sometimes," or "Love it" in response to categories like "Boho," "Rock," and "Tomboy"), picked out a bunch of brands I like (Everlane, Isabel Marant, Levi's, Acne, and The Row — based largely on my colleagues at one point describing The Row as being like "fancy Eileen Fisher"), paid $90 for a "major" style update (versus the $40 "mini" and the $81 ongoing monthly versions), selected a stylist (based on her lookbooks), filled out a more personalized questionnaire (what body parts would you like to accentuate, how do you like garments to fit, what's your budget?), and then waited for E., the stylist, to get in touch with me.
Within a day, E. had assessed my quiz responses and assembled a mood board of seven looks (i.e., seven photos of models in cool outfits). To my surprise, they were all … perfect: polished but comfortable, earth toned, classy, neutral, attractive. Things I could see myself wearing, at events I'd like to go to, in a future version of my life.
From there, E. broke down each of the looks, finding items online in my budget to re-create them all. For instance, for a suede skirt and sweater look, she found a few suede (and faux-suede) skirts, as well as a few slouchy black sweaters and boots, from Zara, Everlane, Intermix, Frame, and Schutz. This is when I started wondering: Does Wishi get a cut of the clothes purchased? Because $90 feels pretty cheap for this kind of service.
I checked with a Wishi representative, and the answer is: Sort of. Wishi earns money when clients purchase items (using the Wishi link) from certain retailers — such as Net-a-Porter, Shopbop, Nordstrom, and Matches Fashion — but not from others (like second-hand stores and "unique boutiques"), and stylists don't earn a commission on what's being suggested.
Over the course of the next week, E. and I repeated this process with the rest of the looks on the mood board, which must have taken cumulative hours on her part. At each stage, I was invited to give feedback on the items (not my style, size not available, please revise it), but mostly I said "I love it!" because I did. I was also hesitant to give further feedback, in part because, again, $90 seemed like a relatively small amount to spend for multiple days of personalized recommendations, and I didn't want to add to her workload (I also didn't know then about the rev-share thing).
As fun as it all was, I haven't actually bought anything E. recommended. The outfits and individual items were all on point, but maybe I'm still in the thinking-about-it incubation period. Or maybe just seeing the items and daydreaming about them was enough. In the meantime, though, I did unexpectedly come across a green velvet jumpsuit on Twitter that I bought immediately, and for now this has scratched the "glamorous and unexpected makeover" itch. Maybe that's my makeover: Person Who Wears Velvet Jumpsuits All Winter. Or, more likely: Person Who Has One Amazing Velvet Jumpsuit in the Closet.