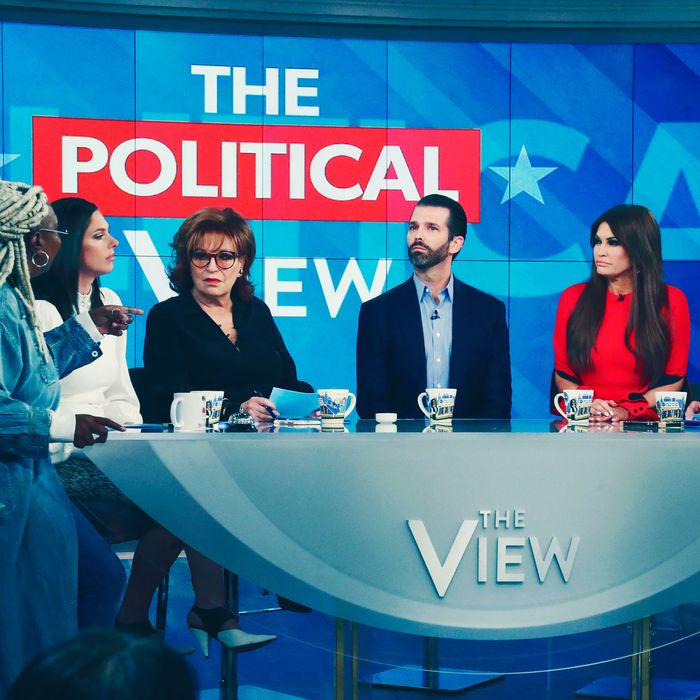 Photo: Lou Rocco/ABC via Getty Images
In an effort to promote his new book, Triggered, Donald Trump Jr. was a guest on The View, which, unsurprisingly, resulted in enough tension, yelling, and arguing to rival a Real Housewives reunion.
Co-host Abby Huntsman kicked things off by confronting Trump about his decision to retweet the alleged name of the whistle-blower at the center of his father's impeachment inquiry. "The whole point of releasing a name is to intimidate someone, to threaten someone, and to scare other people from coming out," Hunstman said, per Entertainment Weekly. Trump responded by saying he wished that "outrage would be equal" and claimed that there was none when a "white powder substance" was mailed to his family. "He asked to be anonymous; your family did not," Joy Behar countered. Trump then described himself as a "private citizen," which, according to The Hollywood Reporter was met with an audience member yelling, "You're not a private citizen!"
Co-host Sunny Hostin turned the topic to Kimberly Guilfoyle, Trump's girlfriend, who was in attendance. "Kimberly, you're a lawyer, and we've known each other," Hostin said. "You were a former prosecutor. Did you advise your boyfriend that it is a federal crime to out a whistle-blower?" Guilfoyle replied that she hadn't but that she came out of the bathroom and said, "I left you alone for 10 minutes, what happened when Mamacita was gone?" Trump and Hostin then argued about whether the tweet was considered a crime.
Trump tried to turn attention onto the recent subject of ABC and Jeffrey Epstein, and he accused Behar of doing blackface. Despite Whoopi Goldberg trying to moderate the conversation, more arguing and yelling continued, along with a whole lot of booing from the audience, which the hosts complained had been disrupting their mics. It was total chaos.
When the segment with Trump and Guilfoyle ended, an audience member apparently yelled, "Praise the Lord!" I hope everyone was gifted with Goldberg's weed products after that.