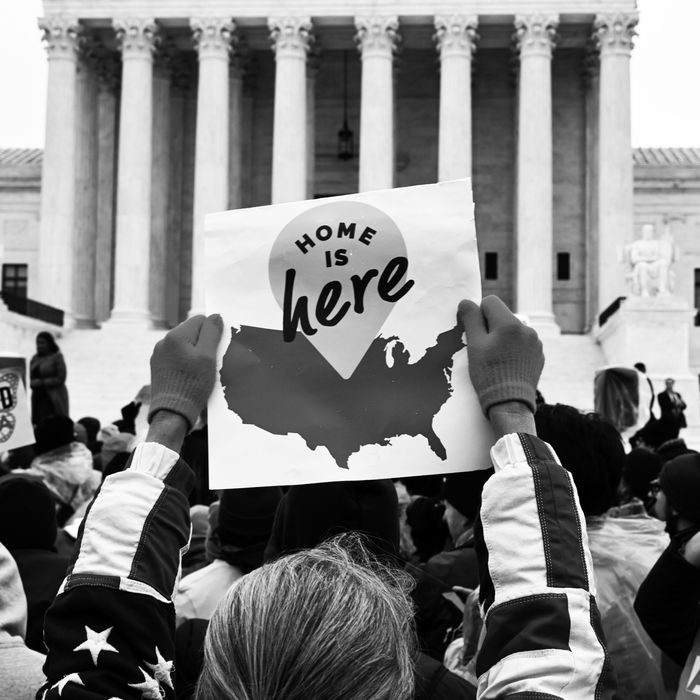 Photo: Jahi Chikwendiu/The Washington Post via Getty Images
Last week, nine Supreme Court justices heard (or at least attempted to hear) arguments about the legality of the Deferred Action for Childhood Arrivals program, which protects young immigrants who came to the United States when they were children from deportation. When they weren't talking over each other, the justices were there to consider whether the Trump administration should be allowed to shut down the Obama-era program, which currently shields about 700,000 undocumented people, commonly known as Dreamers. For communities that depend on those DACA recipients, the ripple effect could prove disastrous.
This administration has consistently maintained that the program was "illegal" and "unconstitutional" since it was put in place in 2012. Three lower-court decisions have disagreed — and pressed to more seriously consider the impact of canceling a program upon which so many people and businesses rely — which pushed the Trump administration to appeal to the Supreme Court.
The case isn't really isn't about whether the Supreme Court will end DACA, but whether DACA — and subsequently the fates of many immigrants — even falls within the Supreme Court's jurisdiction. If not, they will have to side with Trump's 2017 order to end it. Solicitor General Noel Francisco doubled down on Trump's commitment to shutting the program down and told the Justices, "We own this."
The Cut spoke to several DACA recipients from around the country, many of whom listened in on some of the justices' questions and expressed skepticism about the court serving as their lifeline. Despite ominous headlines that gesture toward the program's end, many of them remain hopeful. While the critical ruling won't come until next year, some are preparing for the worst in the meantime. We asked women who traveled to Washington, D.C. for the arguments what they would do if the Supreme Court rules in Trump's favor.
Samantha Herrera, 34, Atlanta: "Before I had DACA, I figured it out. So that's what we will do."
"Two months before my 7th birthday, I moved to the U.S. from Mexico. [Years later] I heard Obama speak about DACA and what it means to our community. At first, I was very apprehensive about it. I didn't really trust it. We've been invisible all this time, living in the shadows, and it felt too good to be true. So I didn't apply for it right away. It was really expensive, and I didn't know what the process would be. When I finally decided to get DACA, I was 28. It felt like a big weight had been lifted from my shoulders. Like, I literally felt like I could fly and I had my wings that could take me to places I couldn't go before. It's been six years since I first got DACA. If the program ends, it would be devastating.
To start, I have two businesses in the state of Georgia. Through those businesses, I am responsible for a lot of people. Many people rely on me, and they are American citizens. They rely on me to pay them every two weeks, so that would really destabilize a lot of people. Also, I have a son. It would be extremely difficult to leave him if I were to be deported, or take him to a country that he is not familiar with, and leave everything that he knows. I have so much to do in my everyday life that I don't have time to think about what I would do if DACA ended. I just have to hope that we have the power to keep pushing forward. Before I had DACA, I figured it out. So that's what we will do."
Michelle Monserrat Segura, 25, Los Angeles: "I gave them my information in good faith."
"The program was announced in 2012, and I remember hearing about it on the news and from friends. They were rushing to make the CHIRLA (Coalition for Humane Immigrant Rights) line, which wrapped around the whole office building. But, you know, I hesitated. It meant coming out of the shadows. At that point, I was very undocumented and extremely afraid. I was still in my first year of college and figuring out my identity and how to pay for school because I had just finished high school. My friends were going to four-year schools, and I didn't have the opportunity to do so. I spoke to my mom, and she told me, 'I brought you here [from Mexico] for a better future, and you can't win if you don't risk a little bit.' I don't know how she did it, but my mom was able to raise money so that my sister and I could apply for DACA at the same time. Within six or seven months, we had our permits, and I started working at my college. That changed my life. That is where my career began. I've remained at that community college, and I went from being a student to now being a coordinator of the resource center, where I am able to help more undocumented students.
Without DACA, I could lose both of my jobs. I would lose the support I give to my family, and we would struggle a lot. You know, I would also lose faith that I have in this government.
Today I took the train to the Lincoln Memorial. To me, Abraham Lincoln represents freedom and the American Dream. I sat outside his memorial, and I promised myself that next time, I would be there with either residency or citizenship. I have a lot of hope in this government. I gave them my information in good faith. I hope that the DACA program is brought back, but we need something more concrete that won't just help the 700,000 DACA recipients, but also the other undocumented students that cannot apply to the program."
Karen Cid, 25, Bakersfield: "I know people have fears because I have fear, too."
"I was born in Puebla, Mexico, and brought to the U.S. when I was 3 years old. I haven't been back since, so I don't remember much. I haven't talked to my family about what will happen if DACA ends. Once I get home, I will have to. I have a 3-year-old, so I will have to sit down and speak to him. If I get deported, my son will have to stay with my parents. I don't want to take him to a country I don't know.
My main concern is my son. I would definitely lose my job. I wouldn't be able to renew my work permit. I would still want to stay in school, but I don't know if I would lose my financial aid. I feel nervous and anxious because we don't know what's going to happen, but I know I have to be patient. I have to control my emotions. I know people have fears because I have fear, too. I have a kid and a family that I provide for."
 Deisy Gutierrez Mendez, 37, Los Angeles: "Without DACA, we will be back in the darkness."
"I work with the community, and that's how I found out about DACA. An activist told me that I would qualify. I discussed my situation with a lawyer. The thing is, back then, I didn't have any paperwork with my name on it. It was two months later before I remembered I could prove that I lived in the U.S. for several years by showing that I had applied for WIC, and also that I went to high school in California.
Before I headed to D.C., I sat down with my sons and talked to them about DACA. The little ones didn't understand what was going on. So I had to explain it to them, 'I am DACA' and 'your older brother is DACA.' I told them that having DACA gives me a permit to go to work and school. I said to them, 'because I am a single mother, having DACA is a great financial support for me as the head of the household.'
My sons worry because there's so much uncertainty. They don't know what is going to happen. Without DACA, we will be back in the darkness. The government has all of our information. My biggest worry is the trauma they would experience if we had to be separated. That's a big emotional trauma, not just for my family, but for all of us. Honestly, I don't have a plan. I have faith and hope that I will continue to fight for this. They say 'after the storm comes the calm,' so I have faith that we will be victorious after this fight."