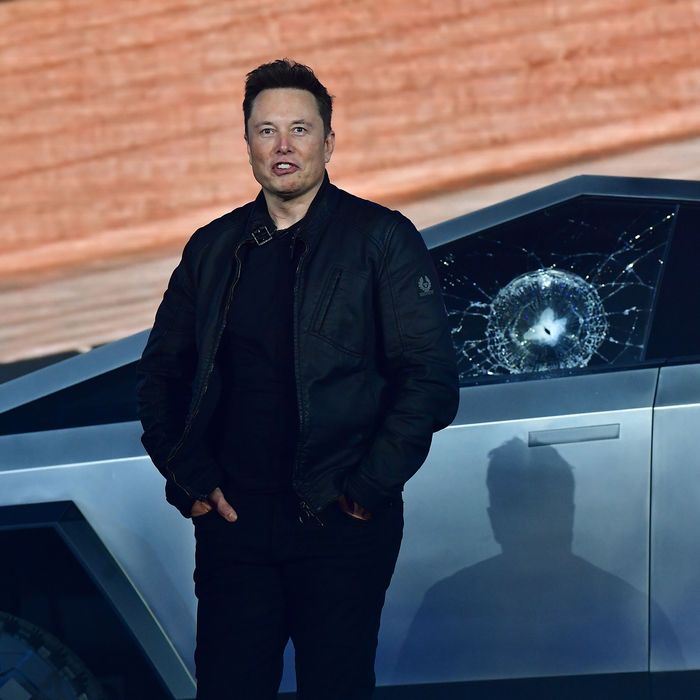 Oops.
Photo: Frederic J. Brown/AFP via Getty Images
On Thursday night, a boy proudly showed off his new, Terminator-looking toy truck to his friends, only to immediately break it. Poor little guy.
At Tesla's Design Studio in Hawthorne, California, CEO Elon Musk rolled out the company's long-awaited "Cybertruck," an electric pickup truck that looks like Axe body spray smells. Musk boasted to the assembled crowd that the vehicle, which is made from the same stainless steel alloy used on SpaceX's rockets, is "literally bulletproof" (at least against small handguns, he hedged) and that the armor-glass windows are unbreakable. He then proceeded to stage a demonstration in which the "unbreakable" glass immediately broke.
"Oh my fucking God," Musk could be heard saying when Tesla designer Franz von Holzhausen hurled a small metal ball at the window, leaving a huge crack in it.
Suggesting that "maybe that was a little hard," Musk prompted von Holzhausen to throw another ball at the back window, which also immediately broke.
"It didn't go through," Musk said optimistically, surveying his newly damaged toy.
Car experts told CNN that, unbreakable or not, the vehicle would likely be "a niche product at best" because of its unusual, Michael Bay-esque appearance.
"That body style, that is not a high-volume product," said Chelsea Sexton, an analyst who covers the electric-vehicle market.
Production on the Cybertruck is expected to begin in 2021. After that, presumably, models of the stainless steel, bulletproof vehicle will likely be seen whizzing around wealthy suburban enclaves, blasting the Joe Rogan podcast at full volume, and searching for parking outside of crowded Whole Foods Markets.