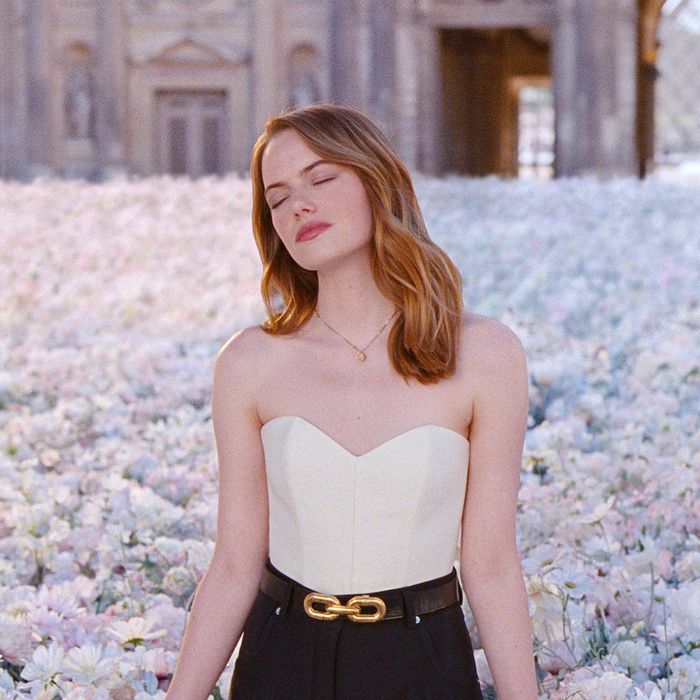 Photo: Courtesy of Louis Vuitton
Oscar winner Emma Stone is good at a lot of things, one of which includes doing things in slow motion. This unique talent is highlighted in her latest role as the lead in her second Louis Vuitton fragrance film, directed by Romain Gavras for the brand's newest women's fragrance, Coeur Battant.
Coeur Battant means "beating heart" in French, and this particular heart is a blend of pear, jasmine, ylang-ylang, and patchouli. In the film, Stone and her beating heart float to photogenic places like Casa Malaparte on the island of Capri and the Louvre's Cour Carrée. "Emma dances, dreams, and dives into the sea," a release correctly states, but it's much more impressive when you consider she does all of it (and then some) in cinematic slow motion.
She walks through a field of flowers in slow motion, dances on a couch to the Jamie xx song in slow motion, ascends and descends stairs in slow motion. She rolls her shoulders in slow motion, blinks in slow motion, and even slo-mo kisses a mystery man who took his sweet time finding her (probably via Find my Friends with spotty service and then subsequently walking to her changing location in slow motion).
Watch the whole dreamy clip below. It's a good reminder that real life moves pretty fast, but you don't have to completely stop to look around; just keep doing what you're doing in slow(er) motion.