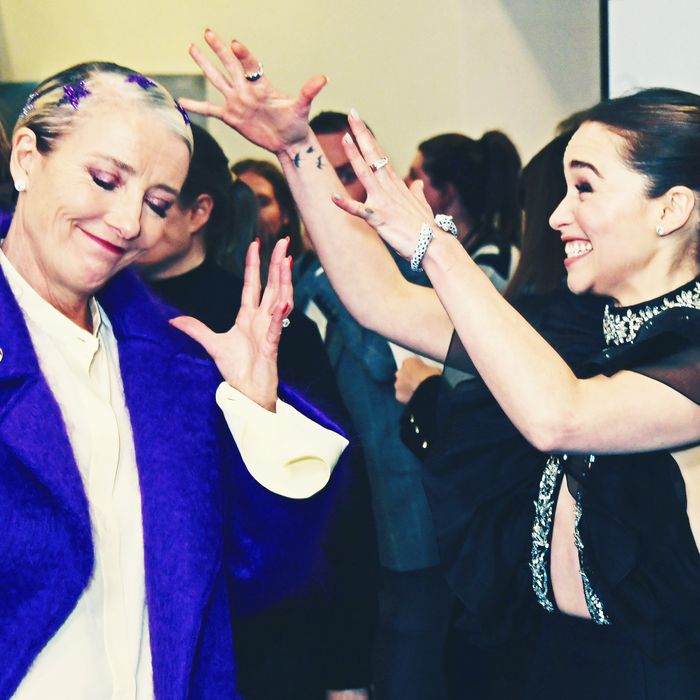 Look at it!
Photo: David M. Benett/Dave Benett/WireImage/Getty Images
It's almost that most wonderful time of the year when you can watch that British Christmas-themed rom-com on steroids from the year 2003 with reckless abandon. If you are planning to partake in said ritual, it should please you to know that Love Actually's very own Emma Thompson is starring in yet another Christmas-themed movie with a two-word title this year (Last Christmas). This is cause for celebration and her hair at last night's U.K. premiere for the new film did just that and it celebrated hard.
Hairstylist Lewis Pallet slicked Thompson's white-blonde pixie all the way back, which is all fine and good, but instead of sticking a bunch of things in it, he skipped over all those pesky barrettes and hair clips we can't seem to quit and simply stenciled impressively symmetrical, glitter stars directly onto her head for decoration. Behold: the word "festive" in human form.
If you're not down with drawing all over your eyes and glitter-bombing your face Euphoria style, drawing all over your hair with biodegradable glitter instead is now another viable option. Thompson's purple palette is a good place to start; that color should get you through holiday party season and all the way to New Year's, no problem.