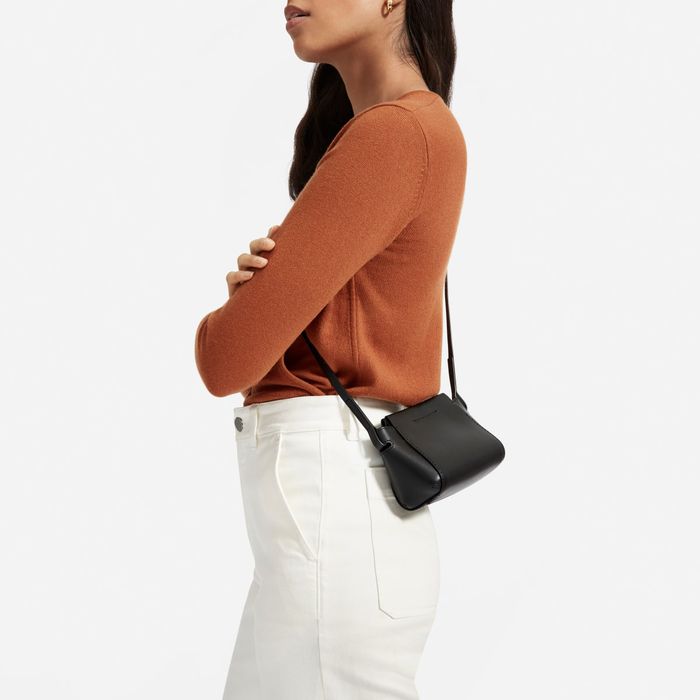 Photo: Courtesy of Everlane
Yesterday, I was walking to the subway in Soho when I overheard a woman having what sounded like a very distraught conversation over the phone. Eavesdropping on the drama of strangers is one of the things I love most about living in New York. So I sidled up next to her and tuned in. "Everyone just wants fucking miniatures!" she wailed. Then she said something about influencers, and at that point, I feared for my safety. So I ran away.
This woman was right: Everyone does want fucking miniatures. Including me, who simply cannot shut up about them, specifically my tiny Jacquemus "Le Chiquito" bag, which I bought last year. With 2020 quickly approaching, I've been emotionally preparing to leave it behind. The new year brings new possibilities and bigger things to carry. But hearing this woman on the phone, I wondered if this was only the beginning.
My suspicion was confirmed this morning when a colleague Slacked me a link to the new Everlane Micro Bag, which is currently at the top of the "new arrivals" section. At 4.3 inches tall and 6.7 inches wide, it is indeed micro. But Everlane is all about making your life easy and functional — not fashionable. As the product description claims, this bag "fits an iPhone Plus." Wow, okay. Brag! (My Le Chiquito does not.) It's also 100 percent Italian leather and not insanely priced.
"Meet your new go-to going-out bag," Everlane continues. Say no more! I'm sold. Then again, I'm probably the easiest person in the world to sell on something like this. Vive le tiny bag!
Photo: Courtesy of Everlane