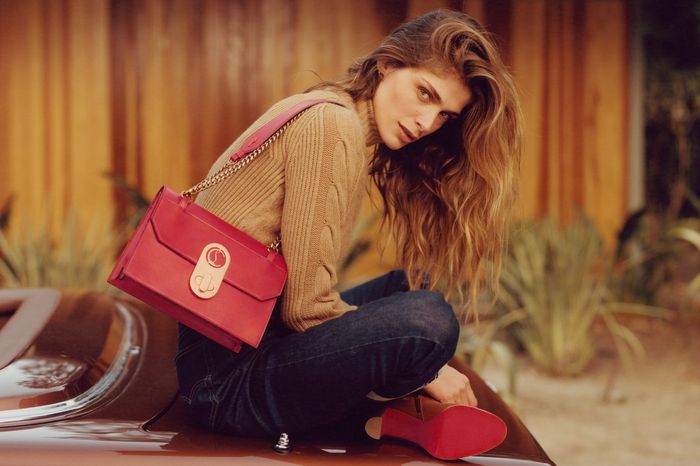 Photo: Christian Louboutin
Christian Louboutin's shoes (and their bright red soles) are absolutely iconic. But you should really pay attention to the brand's bags as well. Louboutin just designed a new bag that's sure to be a classic — the Elisa. A boxy bag with gold hardware and a thick, gold chain, it's inspired by ancient Egypt, but imbued with French elegance and Italian craftsmanship.
"When a woman holds a bag, it gives her attitude and confidence," Louboutin said in a statement about the launch. "I consider the bags the twin of the shoes, it is two people of the same family. I always felt I was different as a child, and I imagined myself coming from a far-off country — Egypt was and still is my favorite."
The Elisa comes in three sizes: large, small, and mini. And a combined gold-chain-and-leather strap allows you to carry it at different lengths. There's also a range of colors, from the classic red, gray, and beige to bolder options like leopard print and bright pink that glows and shines under blacklight.
And if you really like to stand out with your accessories, watch out for the rollout of five limited-edition small Elisa handbags that are truly stunning — one is covered in crystals in various shades of nude, like a disco ball.
If you're curious to learn more about the myth behind the bag, watch the campaign video below. Model-actress Elisa Sednaoui talks about how the bag represents her childhood in Egypt, France, and Italy, and her current life in California. She styles her Elisa with a simple white top and jeans — a great look, truly.
This is paid content produced for an advertiser by New York Stories. The editorial staff of The Cut did not play a role in its creation.