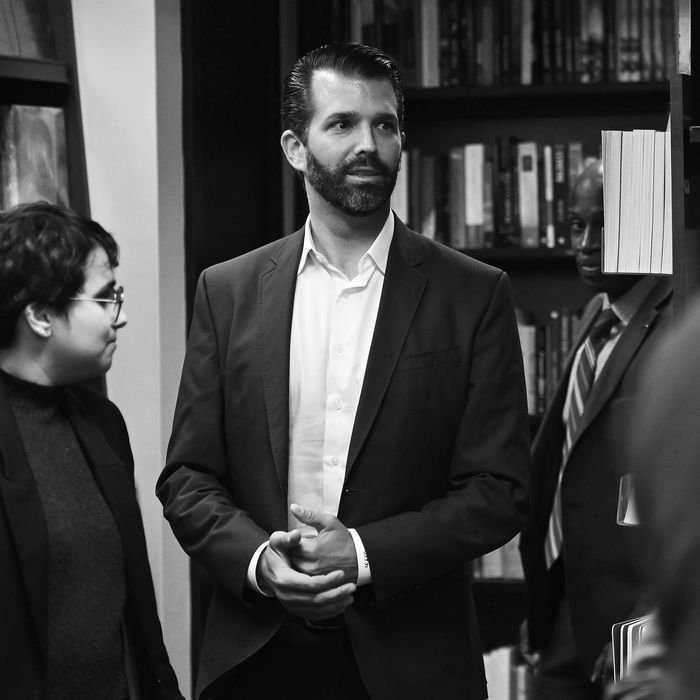 Donald Trump Jr.
Photo: Angela Weiss/AFP via Getty Images
Donald Trump Jr.'s book tour for Triggered, his treatise against the fictional "politically correct" movement to silence conservatives, has not been going well so far. And over the weekend, it somehow got even more tragic, as the author and adult son got booed, again — this time by his father's own supporters.
Perhaps Jr. was thinking that Sunday's tour stop at the University of California Los Angeles, hosted by conservative college campus group Turning Point USA, would fare much better than his appearance on The View last week. During his visit to the daytime talk show, Trump sparred with the hosts, frantically deflected several questions about his potentially illegal behavior, and was mercilessly booed along with his girlfriend Kimberly Guilfoyle, who rather unsettlingly referred to herself as "Mamacita" at one point. It was not what one would consider a media triumph.
But the View audience looked like a chorus of angels compared to the MAGA crowd at UCLA. Despite the entire premise of Jr.'s book being about liberals shutting down free speech, it was the extremely excitable far-right attendees who ended up drowning him out. A group in attendance who has been critical of Turning Point USA became furious when it was announced about 20 minutes into the event that Trump would not be taking their questions, furiously chanting "Q and A! Q and A!" and "America First!" They reportedly wanted to ask about "Christianity and immigration," and felt that the Trump administration's draconian border policy wasn't harsh enough.
Trump tried unsuccessfully to argue that his answering questions would create the opportunity for left-wing, gotcha "soundbites." Then Guilfoyle jumped in to call the booers "rude and disruptive," and to add an extremely convoluted insult about their sex lives: "I bet you engage and go on online dating because you're impressing no one here to get a date in person," she said, before she and Trump left the stage.
It's fitting that the episode took place on a college campus, considering that it was quite the educational opportunity for Trump. It was firsthand evidence that even his anti-immigrant, anti-diversity bluster, pandering to America's far-right fringe, is not sufficiently white nationalist enough for some of the people his family has unleashed on the world — people, for example who find his father, whose most notorious policy decision was to rip parents from their children at the border, too soft on immigration. Some of them were reportedly Holocaust deniers.
Perhaps feeling sensitive about the subject, Don Jr. has not yet commented.