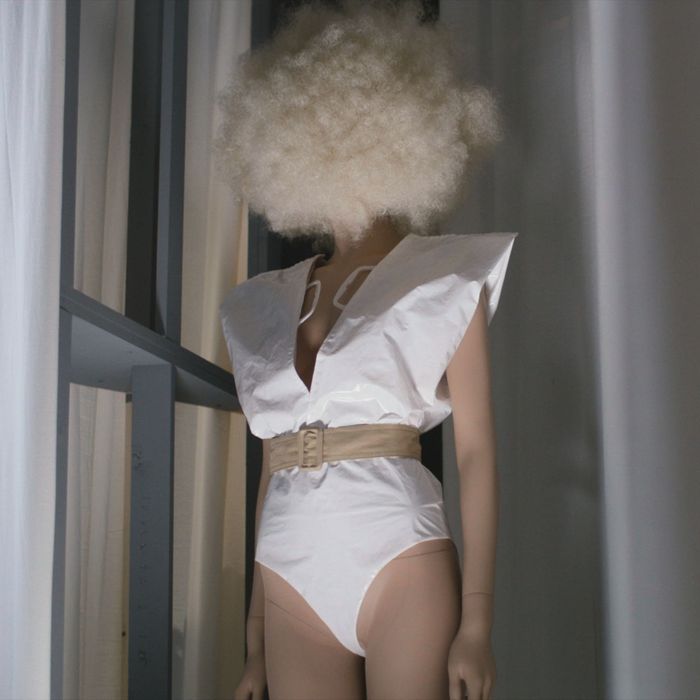 A look from the Spring/Summer 2009 collection.
Photo: Courtesy of Dogwoof
Plenty of designers have refused to grant interviews. Cristobal Balenciaga avoided them for 50 years without loss to his reputation, and Madeleine Vionnet was in her 90s when she finally agreed to a piece by Bruce Chatwin. But at least we know what they looked like. Martin Margiela, on the other hand, spent two decades reshaping fashion — with his own label as well as the women's collections at Hermès — largely refusing to speak to or be photographed by the media.
Margiela influenced everyone from Raf Simons, to Phoebe Philo, to Demna Gvasalia, who has absorbed the most from his aesthetic, including reconstructed garments, oversize fits, and the iconic split-toe Tabi Boot. But if we wanted to hear from the source of these ideas, we'd be out of luck — he was a perfect sphinx. In a rare interview from 1998, he allowed Rebecca Mead to ask him questions by fax, and she characterized his replies as "resolutely unreflective." (Question: "What does working for Hermès offer you that you didn't have before?" Answer: "The occasion to work with Hermès and their team.")
Now, more than a decade after he left the fashion business, Margiela is talking in a new documentary. Martin Margiela: In His Own Words, by Reiner Holzemer, made its debut last week at the DOC NYC Festival. The 90-minute film, shot during the first half of 2018 — to coincide with a major retrospective of Margiela's work at the Palais Galliera in Paris — introduces a trove of new material about one of the most important designers in history.
And, of course, he turns out to be anything but unreflective.
We don't see his face in the film; in fact, the only part of his body that is visible are his hands, with their long, expressive fingers — moving across a table in his studio, cutting out a pattern, turning the pages of a book of sketches (complete with actual fabrics) he made as a kid in Belgium. But the gestures are already a lot, and, anyway, that is what distinguishes true designers: They use their hands. (I am reminded that Olivier Saillard, the curator who initiated the Galliera show and played a role in bringing Holzemer and Margiela together, has created performance pieces with Tilda Swinton and others that rely heavily on hand gestures.)
And then there is the voice. It is the voice of someone who is warm, gentle, reasonable, and funny in a non-ironic way. If you expect him to be wily, after all the years of invisibility and the theorizing it produced, he is not that. In my one encounter with Margiela — though I am in the movie, our meeting took place before the producer contacted me — the sharpest impression was that I was with someone who wasn't trying to sell me something. Which is often the case with designers: They are under so many constraints and pressures that they have to close the deal before the entrée. Margiela was an unencumbered human. He was delightful company.
"It's not that I didn't want contact with the press, but I didn't always want to comment on my collections," he says in the film. "I thought [reporters] could see them and take them for what they were. I think they thought I wanted to become a mystery, which is not [the case]." Over the years, writers have wondered if the anonymity wasn't part of a strategy adopted by Margiela's business partner, the late Jenny Meirens, an innovative retailer, who met him in 1983. Formed in Paris in 1987, Maison Martin Margiela didn't play the standard fashion game (and so, of course, changed the game). It held shows in a parking lot and a playground in an immigrant neighborhood, with non-professional models, and there was no status seating. Even the phone number for the brand wasn't conventionally listed. As Patrick Scallon, the house's former PR, told the writer Susannah Frankel in 2017, "Jenny enjoyed the intrigue, the provocation, the effort required."
Still, Margiela saw the anonymity as a form of protection. It kept him "balanced," free to work. And he was stunned by press reaction to the playground show (1990) — that it was seen as slumming because it was held in a poor area, even though local families were invited and kids joined in. He stopped doing interviews. "I was not made to cope with that system as well as Jean Paul Gaultier." (Margiela worked for Gaultier from 1984 to 1987.) "He can talk in front of them, he can handle it. In a very positive way, he is a real entertainer. And Jean Paul always said to me, 'Martin, you are too serious.' And it's true. I'm probably too serious for that world."
Holzemer, whose previous subjects have included Dries Van Noten and the photographer William Eggleston, pursued Margiela after seeing an exhibit of his Hermès fashion in Antwerp in 2017. He told me that making the film was "more complicated than anything else I've ever encountered." Perhaps understandably, Margiela was shy about talking on-camera. Also, says Holzemer: "He had never done interviews, so you had to avoid the idea of doing an interview." The director and his producer, Aminata Sambe, were also winging it with the designer's biography: "Nowhere is his story written, so we couldn't even prepare ourselves for that."
The plan was to start with Margiela's training at the Royal Academy of Fine Arts in Antwerp.
"But then," says Holzemer, "we had a lunch with some other people and he was telling me about his childhood and I asked him when he decided to become a designer. And he said, 'Ah, that was very early. I was watching TV at home and there was a report about Courrèges. And I asked my mom, 'What is this? What is the man doing?' And she said, 'He's a fashion designer in Paris.'" And then he said, 'Okay, that's what I want to be.'"
He was 6 or 7.
By their next meeting, a month later, Margiela had spoken to his mother, who lives in Belgium, and she had dug out childhood sketches, Barbies, the little costumes he (or his grandmother, a dressmaker) had made for them, as well as the tiny wigs and customized boots he had fashioned. "She had kept it all," Holzemer said. "Everything he had done."
Anyone who followed Margiela's career knows that hair and wigs were a motif. He showed models with hair in their faces. In one of his most powerful shows, in 1997, the girls wore shagged wigs cut from old fur coats.
Now those visualizations have more meaning. Margiela's father was a hairdresser, and his mother, in an effort to be modish, sold wigs in the shop. "At first, my father said, 'No, no, I don't want wigs. Try to sell them after closing time,'" Margiela recalled. "I thought this was very extravagant. You know, like a night shop with wigs."
Historical fashion was always his lodestar — and not just the '60s and the revolutionary designs of Rei Kawakubo in the '70s, but back to the 18th and 19th centuries. Yet it was fascinating to see the connections between contemporary fashion and his later work. In one scene, referring to the novelty of '60s mini-shifts with go-go boots, he says, "I always knew that boots were for winter time, so having boots with a summer dress, and then with these cut-off toes, I thought, 'Wow, this is really incredible.' So immediately after I would come to my Barbies and cut off the toes of their boots."
His mother had also saved the first garment he had made on his own, a doll-size gray flannel blazer with peaked shoulders based on a '70s Saint Laurent jacket. Holding the doll up to the camera, he says, "I think she already looks like a Margiela model."
The film opened my eyes to something I had never quite seen or understood before, even after the brilliant Gallieria show. For all its high-concept overtones, Margiela's fashion was really based on the ancient principles of masculine dress. That is, a coherent look with simple lines and a muted palette. It is clearest in his Hermès designs, which is probably why the women's editors, used to color and jazz, thought they were boring. As a lover of fashion history, he would have known that the masculine suit is still the most modern and youthful thing going since 1800. Those long Margiela skirts that people loved (and imitated) in the '90s? They're a palimpsest of the sleek tailored suits that women wore in the 1910s, when, as Anne Hollander and others historians say, the feminine silhouette finally caught up to the modernity of male dress.
Here is Margiela describing his original concept:
"Fashion then was very wide, so that was my first idea — having tiny shoulder pads put closer to the neck than the natural shoulder. It became my first jacket. And I did not want short [skirts]. Everything was short then. So I made an ankle-length skirt with a huge slit in the back … For me, with a silhouette, the most important details are the shoulder and the shoe. Everything in between I fill up. The shoulder gives you a certain attitude and the shoes, of course, give you a certain movement. And when the silhouette moves in a certain way, I'm very happy."
The shoes he created were the Tabi Boot, based on a memory of seeing Tokyo street workers in their flat cotton shoes.
The question that hovers — haunts? — the film is whether its revelations have come too late to matter. They are from 1989 to 2009, and the values of that period have been largely crushed by an industry focused on harnessing the latest distribution technologies. And Margiela has himself moved on. The film's ending leaves the misleading impression that maybe he isn't done with fashion. But he is now painting and doing sculpture, and in fact, on the night of the movie premiere, his work was part of a group exhibition in Germany. He is now preparing for a solo show in Paris next year.
And, as he said in the film, "I love to be by myself, not having anyone around me. And [to work] when I want to. There are no seasons."
The film won't be in theaters anytime soon; instead, it will likely make the festival circuit. But along with the Hermès and Galliera exhibits, it's a big step in assembling the history of Martin Margiela. At some point, too, there will be another shift in values, and his seriousness — the creative example he sets — will be relevant to a young person coming up. I sense that is a reason Margiela has come out of the shadows and taken an active role in these projects — to reclaim his legacy from others but also to offer a bit of hope.
Holzemer thinks so, too, recalling that Margiela took the teenage son of a prominent museum director around the Galliera show, explaining the clothes. "The boy wants to become a fashion designer," Holzemer said. "He gave him a tour for over two hours, a private tour to the kid."