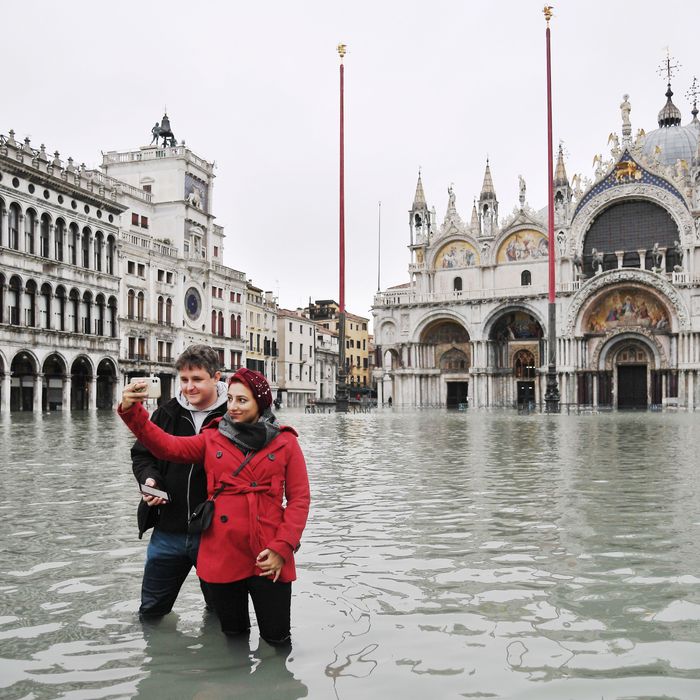 Photo: MARCO BERTORELLO/AFP via Getty Images
In the last 48 hours, flooding has sunk the floating city of Venice in over six feet of water. Greenish-gray seawater has permanently damaged some of the city's oldest and most precious historical sites, including St. Marks Basilica and La Fenice Opera House. Two people have died while attempting to pump water from their homes. On Wednesday morning, tourists climbed through hotel windows to discover designer stores shuttered, merchandise submerged; restaurants were unable to open. It is likely hundreds of millions of euros worth of damage. "Venice is on its knees," said the mayor, Luigi Brugnaro, confirming that it was the highest tide in 50 years.
More importantly, Mayor Brugnaro said explicitly what certain media and politicians have refused to admit: "These are the effects of climate changes," he wrote on Twitter.
Italians have a term for unusually high waters in Venice: acqua alta. Flooding there is a phenomenon as old as the city, which is comprised of 118 islands connected by bridges in a low-lying lagoon; this week's tide is the second-highest in recorded history. But there has been an undeniable increase in storm surges in the last few decades. Of the top ten tides, per the BBC, five have occurred in the past 20 years, and the most recent acqua alta was only one year ago. Sea-level rise and extreme weather patterns driven by ocean warming could very well be fatal for a city like Venice, despite it having survived for over 1,500 years, since 421 AD.
"Acqua alta has always been normal," Lorenzo Bonometto, an expert on lagoon ecology, told the New York Times. But the combination of strong winds and high tide made this storm "an exceptional event." The Italian government has been waiting to fully implement a complex system of undersea barriers called MOSE that will hopefully be able to limit flooding. But experts say that it will be insufficient on its own to combat rising sea-levels.
Low-lying coastal areas on islands and atolls are most at risk from rising sea levels, according to the IPCC. Many of these places are already plagued by poverty — the United States saw how economic austerity and suffering in Puerto Rico was exacerbated by Hurricane Maria in 2018. Photos from Venice have gone viral for the opposite reason: the city is an iconic center of wealth, its piazzas, palaces, and canals known around the world as symbols of conquest and prosperity. To see these spaces as undeniably vulnerable to the climate crisis, which has no signs of abating, is a stunning depiction of what the world's most powerful leaders have allowed to occur.
"Now the government must listen," the mayor said. "The cost will be high." The water level is due to rise again in the next few days.