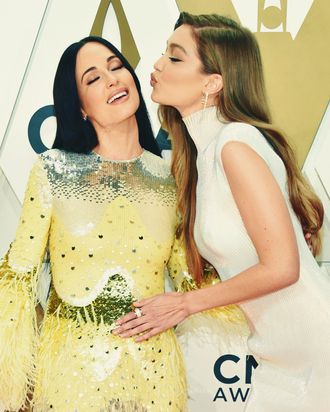 Photo: John Shearer/WireImage,
The best-dressed couple at the 2019 Country Music Awards last night was Kacey Musgraves and her friend Gigi Hadid. It wasn't much of a competition, given that one is a country star, one is a supermodel, and they apparently are good friends. Musgraves went with her signature maximalist yeehaw style and wore a yellow feathered dress by Valentino. Hadid took a more minimal route in a silver sleeveless turtleneck dress by Helmut Lang and cowboy boots — just a whisper of country style.
Hadid kissed Musgraves on the cheek on the red carpet, and the two cuddled for the camera inside. Which begs the question, when did Hadid and Musgraves become such close friends? And more importantly, how did I miss it? The earliest friend evidence I can find is from this year's Met Gala, in early May. The two were photographed together (Musgraves was playing Barbie, Hadid was playing robot Liberace), and Hadid also took a photo with Musgraves at the after party on her personal disposable camera.
Flash-forward to July. Gigi and her sister, Bella, are spotted having dinner with the country singer in New York. Earlier this month, Gigi and Bella hung with Kacey backstage at one of her sold-out concerts at Radio City Music Hall. The occasion was documented on Gigi's disposable camera Instagram account. And finally, they were both at Kendall Jenner's Halloween/birthday party, where Hadid went as the Mask and Musgraves went as a Dallas Cowboys cheerleader.
So, apologies to Gigi and Kacey for not recognizing the extent of your friendship. At the awards show, Musgraves won Female Vocalist of the Year and Music Video of the Year of "Rainbow." They sat next to Reese Witherspoon and Nicole Kidman at the awards last night, subsequently making all Big Little Lies fans jealous. Congratulations all around for friendship and really good music inspired by acid trips.