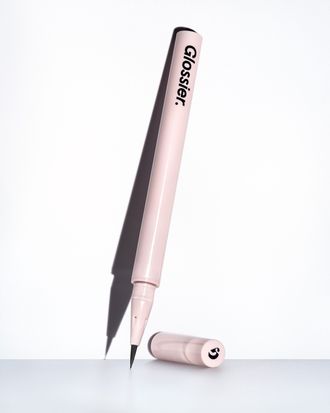 Glossier Pro Tip.
Photo: Glossier
Right on the heels of launching a skin care–makeup hybrid that makes you look moist and shiny, Glossier is back with another new product that's pure makeup this time: a liquid eyeliner pen named Pro Tip.
According to a release, Pro Tip is nice and pointy (in a very professional way) and made of flexible fibers that gently hug the lashline to avoid unprofessional skips and gaps. The formula meanwhile is a densely pigmented true black (goes with everything) that dries quickly (no eye-blinking smudges) and lasts for 12 long hours (unless you decide to easily remove it with some Milky Oil, of course.)
Pro Tip wears a Millennnial pink outfit so you don't get it confused with Brow Flick (white outfit) and it features an internal ball shaker, which "means the formula flows through evenly, giving you a smooth line that doesn't drag, every time," sure, but perhaps more importantly, means it probably makes a super satisfying sound when you vigorously shake it before each use, which the directions advise you do.
Pro Tip doesn't come in a bunch of different colors (yet?) like its Glossier Play pencil counterparts, which makes it a good choice if you're aiming for that no-makeup-kind-of-makeup-though look that the brand has started to incorporate. Case in point: the handy new Eye Trio that also dropped today, which includes a Pro Tip, a Lash Slick (black mascara) and a Milky Oil to take it all off if it looks too much like makeup-makeup.
If you buy something through our links, New York may earn an affiliate commission.