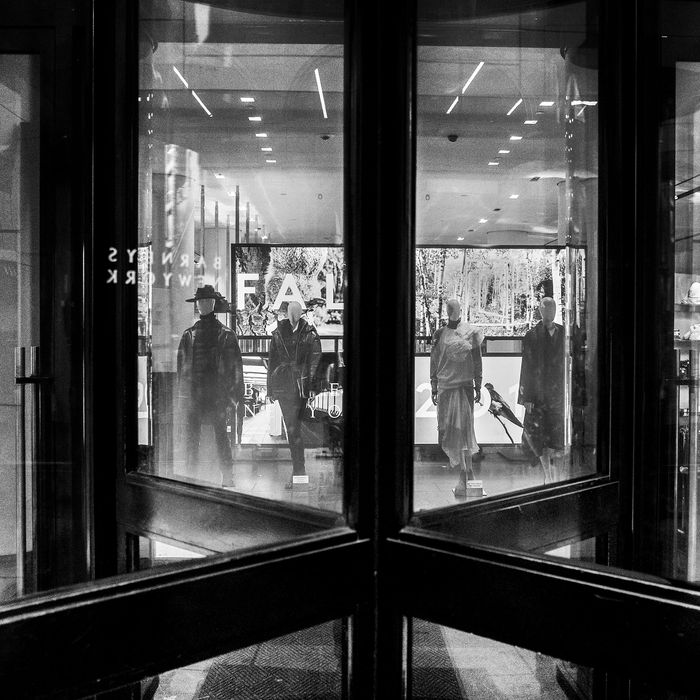 After two weeks of deadline drama, Barneys New York's future has been assured. Its next chapter will find its stores closed and new ones open — in its former competitor, Saks Fifth Avenue.
Authentic Brands Group, the licensing company that partnered with B. Riley Financial to bid on the IP and assets of the bankrupt retailer, finalized its acquisition today. After much speculation and public support-seeking from other potential bidders, the stalking-horse bid — that is, the initial one — won the day.
As expected, ABG, which controls the licenses for brands including Juicy Couture, Frederick's of Hollywood, and Nautica, announced that its first move would be to partner with Saks, once Barneys' rival, as the exclusive Barneys New York retail and e-commerce partner in the U.S. and Canada. According to ABG, the "first order of business will be to reboot Barneys New York on the fifth floor of Saks Fifth Avenue's newly renovated New York City flagship" and then launch Barneys New York at Saks as shop-in-shops across North America.
"This is an important deal for ABG," said Jamie Salter, the founder, chairman, and CEO of the company, in an interview on Friday afternoon. "It's a luxury brand. It's a retail brand that in my opinion is a real brand, that has a heartbeat, has a lot of emotion, can go in a lot of directions. It's part entertainment, it's part luxury, it's part trend, it's part experiential. It really is an incredible brand to add to the ABG portfolio. We are going to treat it incredibly carefully."
Asked about ABG's plans for the Barneys brand, Salter sketched a vision that included "a lot of Barneys stores around the globe" as shop-in-shops. "Some are going to be as big as 50,000 square feet and maybe some as small as 5 to 10,000 square feet. We're fairly confident that over the next couple years Barneys will be much bigger than it in its current state." (Among the markets he listed as being especially attractive to Barneys were Korea, China, the U.K., the Middle East, Germany, Turkey, Israel, and Russia. Barneys' Japanese stores will continue to operate as usual, maintaining an existing licensing agreement between Barneys New York and a Japanese partner.)
Earlier reports on the plan indicated that ABG would close most or all of Barneys' U.S. bricks-and-mortar locations. Salter confirmed that most of the stores would close, though Barneys' Boston store will transition to a Saks (with a Barneys at Saks inside) and that locations are being sought for a new freestanding store, possibly in Greenwich, Connecticut. ABG indicated that it would "evolve" the Madison Avenue flagship into "a pop-up retail experience, bringing together an eclectic curation of boutiques, art and cultural installations and exhibits, and entertainment that fosters creativity and community." Salter acknowledged that this would come with the loss of hundreds of jobs, a number that may understate the size of Barneys' complete, full-time staff. The company said that it would partner with the Saks Fifth Avenue management team to roll out Barneys New York at Saks; Barneys' CEO, Daniella Vitale, resigned this morning. Liquidation sales at Barneys' locations may begin as early as next week.
Daniel Levy, president of Ashkenazy Acquisition Corporation, Barneys' landlord on both Madison Avenue and on Wilshire Boulevard, where its Beverly Hills store is, said in a statement today that "We are extremely disappointed by the outcome of today's proceedings. We worked tirelessly with potential buyers and operators to preserve Barneys operations at our properties" and that "We are saddened by the loss of jobs for Barneys employees and the iconic standalone brand." Rent hikes at both locations were seen as being critical blows that pushed Barneys over the edge from troubled to bankrupt.
Among the other potential suitors for the Barneys brand, the one with most public support was Sam Ben-Avraham, the fashion investor and trade-show owner who led a group of investors hoping to — as he put it in an online and Instagram campaign — Save Barneys. He announced this morning that he had ultimately not been able to submit a revised bid. "Unfortunately, we failed to convince enough people in the business community that it made economic sense to keep Barneys alive," he wrote on Instagram, in a post that, like the @SaveBarneys account, has now been taken down. "We understood from the beginning that looking at spreadsheets and numbers, it did not make sense, but we saw a future beyond that."
Now Barneys' future is in the hands of ABG. "I'm really excited about it," Salter said. "The brands in ABG's portfolio continue to get stronger and stronger as the years go by. You can't just be a retailer anymore. You've got to be experiential, you've got to be in so many different things today. You really have to offer everything to the customer. We feel that we're off to a great start with Saks and feel incredibly confident."