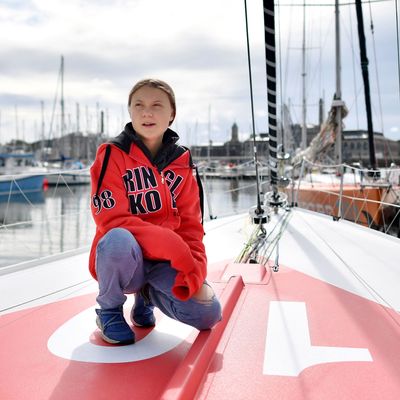 Greta Thunberg.
Photo: BEN STANSALL/AFP via Getty Images
Currently, Swedish teen climate activist Greta Thunberg is on her second transatlantic sailing trip of the year. Back in August, the 16-year-old sailed for two weeks from Plymouth, U.K., to New York City to attend U.N. climate talks, and now, three months later, she's returning home. For reasons that remain unclear, her trip enraged some adults, who mocked the teenager's travel choices on social media, and boasted about their own emission-heavy air travel. (Whatever floats your boat, er — fuels your plane.) But according to The Guardian, Thunberg's boat travel also inspired thousands of people to follow her lead — or to attempt to, at least, by joining sailboat-hitchhiking groups online.
Sailboat hitchhiking — securing free voyage on a sailboat in exchange for helping out on the boat — has traditionally been undertaken by experienced sailors looking to travel different routes, or try out different vessels. But now, more people are turning to it as an ecofriendly way to travel.
Daniel Krause, a "cruiser" who helps to run the Sailboat Hitchhikers and Crew Connection Facebook group, told The Guardian that since Thunberg's trip, the group's size had gone from 7,000 to nearly 21,000 members. "In the past couple of weeks it has skyrocketed," he said.
The arrangement can be mutually beneficial, Krause says, as some travelers with sailing experience can help crews with docking, anchoring, and boat maneuvers. Long-distance sailing is not for the faint of heart, though, and not all sail-hitchers are as knowledgeable as Thunberg.
"Many people don't understand about the movement of a boat on the ocean which can overwhelm people with seasickness and make them feel trapped because it's a very small space and you could be out there for days if not weeks — and once you're out, it's almost always too late to turn back," Krause says.
Currently, there's "no ticketed, fossil fuel–free way of getting across the Atlantic," Ross Porter, founding director of ethical travel company VoyageVert told The Guardian, so those who want to travel while minimizing their carbon footprint have to band together in online communities.
As for Thunberg, she is now on the second day of her return trip. Only time will tell whether another eco-prince will appear on this voyage.