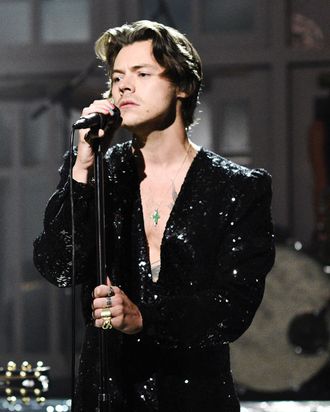 Photo: NBC/NBCU Photo Bank via Getty Images
On this week's Saturday Night Live, Harry Styles did double duty as both host and musical guest. He performed songs from his forthcoming album, Fine Line, and acted in a series of skits that featured him as a funeral DJ; an Icelandic father-to-be; a horny, comment-happy Sara Lee social-media manager; and Aidy Bryant's dog-boyfriend, Doug. Styles also brought his impressive sartorial sense to the SNL set, which, unsurprisingly, included a lot of Gucci, but some other notable pieces that I'm guessing will soon make their way to his mysterious frozen-clothes vault.
For his opening monologue, Styles wore bright-yellow pants, a blue button-down shirt and a beige blazer taken straight from Gucci's Spring 2020 show. He took things up a notch for his musical performances, choosing a cherry-red suit and black tie for the debut of "Watermelon Sugar" and a black sequin jumpsuit with a deep V-neck for "Lights Up." All of these looks were accented with multi-colored nail polish and a Walter Mercardo–esque (RIP!) ring game. But it was his outfit during the closing of the show that demanded a shining moment all its own: Styles wore a Christopher Kane "Sex" T-shirt from the designer's "More Joy" collection.
Could a shirt with the word "sex" be too on the nose for Styles? Maybe, but it sure as hell looked good with his brown Gucci trousers and open-front flannel jacket. Some fans also theorize that his choice of T-shirt may be a hint to a song title on the new album.
Unfortunately, the shirt is sold out on Christopher Kane's website, but you can still channel Styles with a "Sex" silk nightshirt or coffee mug. (Or if it comes back in stock, the "Sex tape," which is actually masking tape printed with the word sex. Brilliant, and perfect for some raunchy Christmas wrapping.)