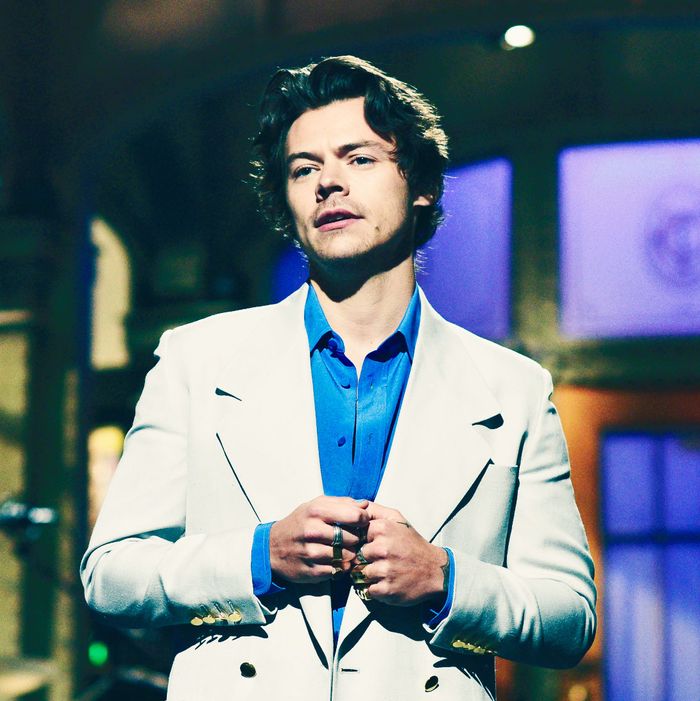 Harry Styles.
Photo: NBC/NBCU Photo Bank via Getty Images
Earlier this year, it was reported that the trendiest nail-polish color was "all of them." This weekend, the inclusive, rainbow-inspired nail trend got a high-profile endorsement, and perhaps its most pivotal yet: noted Beautiful Boy and blouse-wearer, Harry Styles. Styles sported a bright Skittles manicure through the entirety of this past Saturday's episode of Saturday Night Live, where he served as hybrid host-musical guest.
One of the recommended ways to create your own gradient manicure is to
"Look at a rainbow. Any kind," and it seems Styles did just that. If I had to guess, I'd say he probably looked at a Tropical Skittles rainbow over the OG Skittles rainbow, because his mani included some teal, magenta, and fucshia shades, rather than the primary colors you eat from the red bag.
Though Styles's wardrobe regularly changed throughout the program, his manicure was the one constant that rolled with the punches. It's an excellent reminder that this trend is still one of the most logical decisions you can make when faced with the anxiety-inducing quandary of choosing a nail-polish color. A Skittles manicure, Tropical or otherwise, will always effortlessly go with a wide range of outfits, wigs, and even accents.
Not to mention, it's a great way to stay bright and cheery now that the sun throws up the deuces around lunch time. For a double shot of energy, try pairing your gradient mani with some sparkly head stars; another excellent decorative idea from another famous, suit-loving Brit.