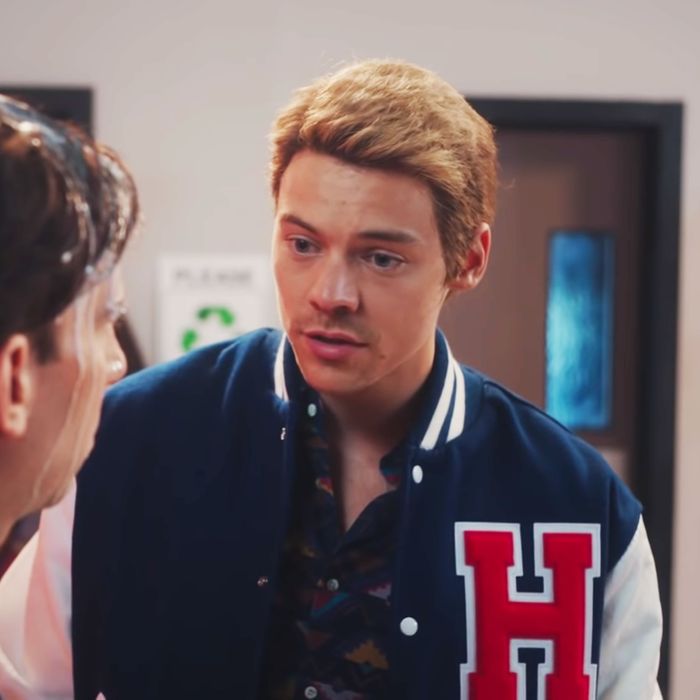 Harry Styles debuted a number of impressive voices in his inaugural Saturday Night Live hosting gig. He donned an unspecified southern drawl to play a horny Jet Blue pilot, impressed as an expectant Icelandic father, and was even convincing as a sexually repressed social-media manager for Sara Lee bread.
But in a "Cut for Time" sketch, Styles reveals yet another persuasive bit of voice acting, perhaps his best. He gives us a jock voice that puts Aaron Samuels's to shame, and I have to say: I really want it to ask me to prom.
In the sketch, Styles plays Jason, a supercool freshman with blond hair and a letterman jacket. His older brother, Scotty (Kyle Mooney), is a senior and a loser, something Scotty raps about in the sketch. In the rap, we find out more about Jason: He's on varsity wrestling, is popular, and has even tried beer.
Jason responds to Scotty with his own rap, which is mostly about having sex, and I have to say, it's a study in jock voices: It's deep and vacant, and it trips over longer words. Jason sounds like an absolute meathead, and I'm obsessed with him.
So to Styles's jock voice: I'm having a small get-together at my house tomorrow night. Regina won't be there, do you think I'm an idiot? It's just gonna be a few cool people, and you better be one of them, byotch.