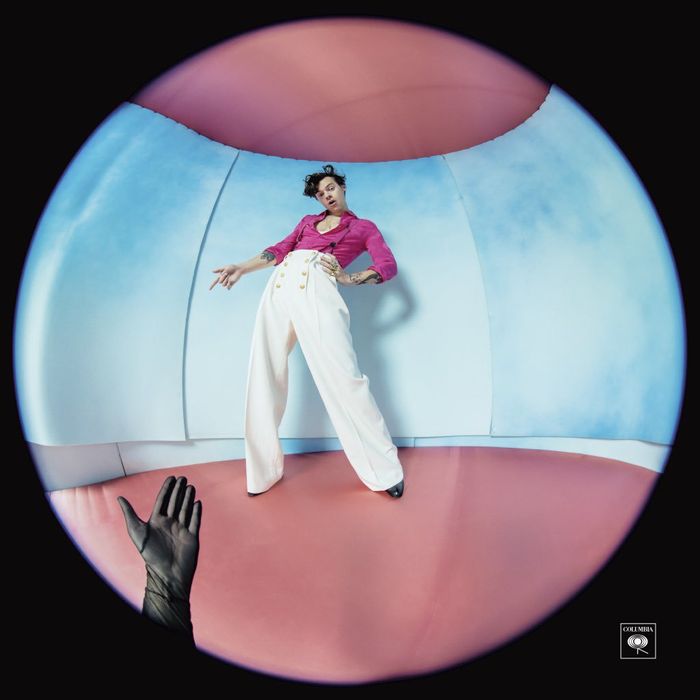 In case you've missed the memo, Harry Styles is very well-dressed. He just revealed the cover of his new album, Fine Line, which proves my point. Everyone is very excited about the music and the acid trips, but let us not neglect the fashion!
The cover art, a convex portrait of Styles, was shot by photographer Tim Walker, known for his whimsical imagery. Styles wears a magenta button-down shirt, matching suspenders, and high-waist, wide-leg, billowing, glorious white pants. Because of the angle, the pants are the focal point of the photo, which allows the viewer to be hypnotized by them. Succumb to the siren song of Harry Styles's sailor pants.
The pants (and the rest of the outfit) are custom Gucci, which makes sense, since Styles is a face of the brand and is rarely seen not in Gucci. Because it's custom-made, this outfit will likely join the rest of Styles's custom clothes in a 24-hour guarded cryogenically frozen vault. It seems like a bit of a waste, these beautiful pants just hanging in a refrigerator until the inevitable Harry Styles–themed Met Gala. But all we can hope for is that it will inspire others to wear billowing white pants and magenta suspenders and pose for Mannerist portraits.