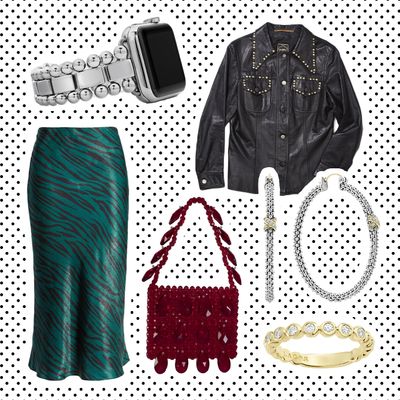 Photo: Courtesy of the Retailers
For some of us, sledding into winter means adopting a functional but lackluster look until an actual holiday creeps up and bam! We scrappily transform into some extreme version of our usual selves — bedecked in a conspicuous, specifically acquired outfit and wearing a garish red lipstick that renders us unrecognizable to loved ones. But there's more to the season than a couple of frantically asterisked calendar dates, and plenty of opportunity to infuse your days with great style that actually works for your life. For some holistic, holiday-season dressing inspiration, we consulted with a few women who strategize about fashion professionally.
Says fashion stylist Haley Loewenthal: "My M.O. is to lean in with layering and holiday colors but to do it in a less expected, quirky-chic way — with maroons, pistachios, navys, off-whites, and gold accessories for a festive twist." Former market editor Leeann Duggan says her Platonic ideal of a cold-weather outfit "reads as 'fashion' but is stealth-comfy." And for stylist Calvy Click, dressing up for the holidays means not purchasing things that can only be worn once or just during this short time of year. "I focus on pieces that have longevity and are versatile enough to wear into the New Year," she says. See the style must-haves getting these pros through the season below, including dazzling LAGOS jewelry and more.
Haley Loewenthal, fashion stylist & co-founder of Everyone Wins
Loewenthal styles for major publications, brands, and talent; consults with designers; and works as a partner in a sustainable-clothing concept brand.
(1) A black turtleneck is a staple in my wardrobe during the holiday season — it's boring and I know it. This necklace is the perfect solution for creating some interest in my everyday look. I love the length and modern yet classic shape. (2) Shirt jackets are the best, and I love the gold hardware on this one, which is made of vintage '70s leather. I'd style it open with a turtleneck underneath, great jeans, and hardy boots for a Western take on holiday dressing. (3) This Susan Alexandra bag not only has total originality and craftsmanship, but it ups your game for pretty much any holiday look. (4) It's a statement purchase and a pricey one at that, but this headband can transform any blah look into something magical — 'tis the season! (5) I love layering bracelets and this one would make a standout base. The added bling shows you made the effort for a special look. It's also the perfect gifting idea: It's a forever piece, and who wouldn't want that?
Leeann Duggan, writer & editor
When not writing essays, ads, and podcasts, Brooklyn-based Duggan can be found volunteering at 826NYC, constantly refreshing The Strategist, and trying to "get into" orange wine.
(1) This LAGOS ring feels like that unique estate piece I'm always hunting for and never finding. I also love that it's just one piece that does the layering for you. (2) I have no idea how I missed the teddy-coat boat this long, but I finally found the best one for every day. It's even thicker and cozier in person, with a collar that stands up to the wind. (3) The leopard skirt every cool girl in New York owns, only make it zebra. In lush emerald green and super-flattering bias-cut satin, and somehow under $50? What sorcery is this?! (4) I bought this brightening serum because my older sister began using it, and legit started to look younger than me. Seriously, it will make those cheeks glow. My entire winter skincare routine is: Smooth this on, top with SPF, done. (5) Recently I've noticed the cool downtown fashion kids mixing their metal jewelry, with an emphasis on weightier silver pieces, which feels really fresh after years of delicate gold everything. These LAGOS earrings get that mix exactly right — definitely not your average dainty hoop.
Calvy Click, fashion stylist
Based on the Upper West Side, Click splits her time serving editorial and commercial clients, focusing on sustainable fashion solutions, and hunting for all the vintage she can find. 
(1) I've always loved the classic diamond and gold combo for jewelry. This band from LAGOS takes it up a notch and is great for stacking. (2) Who doesn't love an oversized, cozy knit? This sweater looks great tucked into jeans or something with a little sparkle to balance out the comfy look. (3) For the special occasion, a beautiful sequined piece, like this long skirt, can take a cozy winter look to a whole new level. I love the way this pattern comes to life with the smallest step. (4) My gift of choice this year is a cozy throw. The rainbow accents on this one add a pop to a neutral that fits any room all year long. (5) A tech-savvy timepiece is a modern woman's staple. When I mean business, I'll elevate my watch with a band that has stainless steel links, like this LAGOS Caviar one.
This is paid content produced for an advertiser by New York Stories. The editorial staff of The Cut did not play a role in its creation.